Restaurant
:
Tres Agaves
Address
: 130 Townsend St. b/t 2nd and 3rd, SOMA, SF
Phone Number
: (415) 227-0500
Cuisine
: Jaliscan - Mexican Kitchen & Tequila Lounge
Date Last Visited
: August 1, 2008
Dining Partners
: Ate Di, Halle, 2 of the Doctors' Assistants, the Compulsive Shopper, and a Couple Guys from This Cool Pharmaceutical Company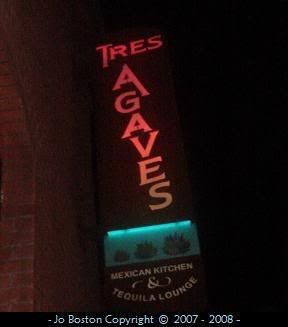 Don't you love it when you can actually hang out and get along with the people you work with? I do. I think it says a lot when you can leave drama from work at work. You know how the saying goes, "Leave your $h!t at the door." Even though we can get on each other's nerves at work, I am happy that we can have outside of our place of employment. My coworkers are awesome.
I love the vibe of this place. It's where the lowly business man goes buckwild. With all this great food and tequila, how could you NOT? That must be the sexiest thing ever: a guy on a Friday night, still wearing his shirt and tie, and taking a shot. *whew* It's getting hot in here. Speaking of HOT…
BOCADITOS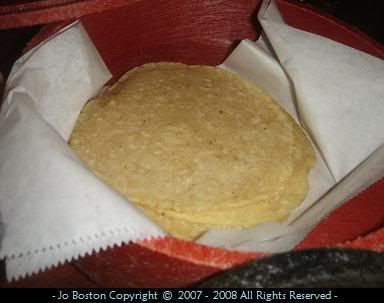 Warm Tortillas
Here at Tres Agaves, we were at the "Chef's Table," so we had a prix fixe menu. We started with a series of tortillas (warm ones and tortilla chips) and dips. I love fresh tortillas that are warm and pliable. You basically get to fill them with whatever you want and make customized tacos and wraps. I love doing that.
Dipping Sauces:
Salsa Verde, Red Salsa, and Guacamole
When Ate and I got here, these dips were already on the table. I love salsas period, so I had no problem with them. I also loved the guacamole. I liked how it was not a consistently smooth mixture. Ate Di scooped some out with her tortilla chip and she ended up picking out a huge chunk of avocado.
Queso Fresco
with Pickled Vegetables
This is my first time having cheese at a Mexican restaurant like this. I loved slicing a piece of and wrapping it in one of the warm tortillas. It kind of had a spongy texture to it, but it had this fresh milky flavor. I loved it.
Aguachile de Camarones:
Raw Shrimp, Cucumbers, Tomato and Avocado,
Tossed with Lime Juice
I love ceviche. Sometimes my family scares me whenever I consume raw fish, but chemically the shrimp are "cooked," so I was not afraid to jump into this. The shrimp were sweet and fresh and I loved the combination of vegetables mixed in. The cucumbers and tomato gave off their own sweet juices, so the flavors were very balanced even with the tangy lime and verdant cilantro. I think I'm going to try making this at home.
ANTOJITOS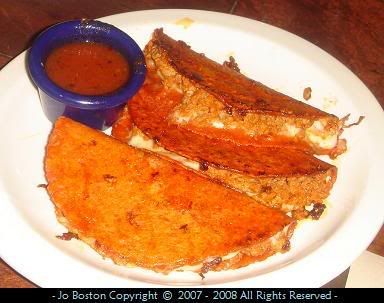 Mariachi Quesadillas:
Sausage and Queso with Red Sauce
By the time we got to the appetizers, we were stuffed. We had to wait for the rest of our party to come, so we basically got ourselves full prematurely. But let me tell you, we didn't stop eating. These are filled with sausage, and I was ready to not like these fearing that the sausage would taste too much like breakfast links (I don't do them often). But they are more like chorizo - nice spicy bite to them and the oozing cheese glued everything together. Delicious.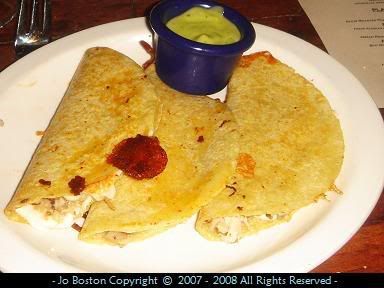 Pollo Quesadillas:
with Chicken, Queso Oaxaca and Epazote
MmMmMmMmMm…burnt cheese. These had the chicken in them and it was a bit lighter than the sausage ones. Love the cheese and love the avocado sauce that came with them. I noticed that they don't pull out the pico de gallo, sour cream, lettuce and salsa like Chevy's does. (ha!) I am usually a condiment whore when it comes to my Mexican food. You should see me and My Sweety K's Father. We have 5 salsas on the table before we start eating. They are a lot simpler here and let the fundamental components speak for themselves.
Callos de Acha Asados:
Wood-Grilled Scallops with Warm Fresno
Chile and Nopal Escabeche
Ladies and gentlemen, let me introduce you to the most fantastic scallop dish I have ever tasted in my entire life. It looks like the scallops were seared very quickly just to brown the outside, but the inside was still rare. They were so sweet! The sauce made with prickly pear cactus, mushrooms and corn was sweet as well. Overall this was an incredible dish. The sauce was not overpowering which was great because the scallops have such a delicate flavor - and you do not want to lose that for anything.
PLATOS GRANDES
Entrée Accompaniments:
Frijoles (beans), Rice, and Mexican Slaw
I like how the rice isn't red. (ha!) Simply prepared with corn. I didn't try the beans =( The slaw was acidic and spicy. Perfect sides to our entrées.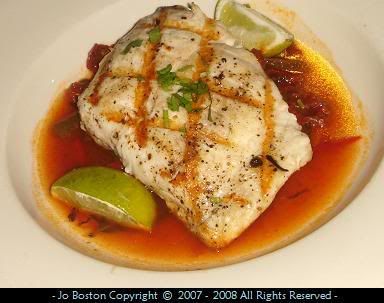 Pescado a la Parilla:
Fresh Alaskan Halibut, Grilled with Fresno Chile and Nopales
Halle let me have a little bite and the fish was fresh and mild. I love the gorgeous grill marks. Very simple dish - awesome.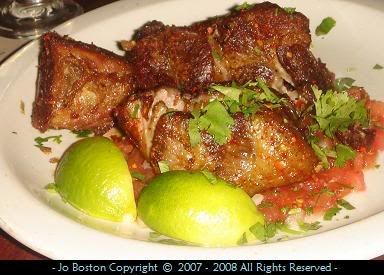 Carnitas:
Slow-Roasted Pork Rubbed with Mexican Oregano
and Chile with Classic Jaliscan Pico de Gallo
This was Ate Di's choice of entrée and it was fabulous! I wish I took a picture of the interior because it was so tender. The chunks of meat had a beautiful and flavorful crust on the outside. I do have to say that it had a little of fat on it which I saw Ate di pushing off to the side. Other than that the meat was lip-smacking good.
Pollo al Pastor Sobre Leña:
Spit-Roasted Chicken and Jalapeno Roasted Potatoes
I love roasted chicken. I stole a chicken wing from this plate and the skin had this perfect crispiness and delightful flavor to it. The chicken meat was wonderfully tender. =) I love roasted chicken.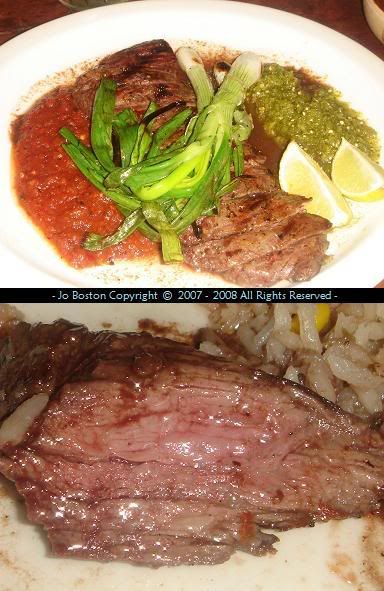 Carne Asada:
Niman Ranch Skirt Steak with Chipotle and Tomatillo Salsas
Voila! My entrée. Gorgeous isn't it? I got it medium rare, so the middle sections were a beautiful pink. The picture above was of the end piece, so not as rare as the center. I loved the jus that ran off from the meat and it went gloriously with the rice. I didn't care for the salsas because I liked the natural flavor of the meat and its juice. So tender and so delicious. It's funny because I initially ordered the carnitas, but when Ate got the carnitas, I changed my order to the pollo, but when I found out 1 of the guys got the pollo, I changed it the second time to the carne asada. I'm glad I got this in the end.
POSTRES
Dessert Sampler:
Strawberry Tres Leches Cake, Flan,
Chocolate Cake and Bread Pudding
When dessert came we were stuffed with food and margaritas. So this was over the top. The tres leches cake had the strawberries in a whipped cream in the middle of two layers of cake. While the bottom layer was soaked in the milks, the top layer was dry. I would have liked the top layer to have absorbed the milks as well. The flan is a little heavier and less sweet than the flan my family makes. It was okay. The chocolate cake was chocolate cake. Nothing too special. The bread pudding had a cinnamon taste to it and because it was a little warm, it went well with the ice cream and caramel drizzle on top. The dessert were just AIGHT. I didn't expect them to be extraordinary anyway because after all Tres Agaves is known for…
TEQUILA!!!
Time for some drinks! No, this is not your everyday Jose Cuervo or Patron Silver. TEQUILA OCHO is what we had on this night and because I had a margarita and a half during dinner, I was already starting to feel a bit warm. I was scared to drink anymore, but due to extreme peer pressure, I managed to take two shots. Hey why not? They were free. LOL.
Bottoms up!
I had so much fun, and now I understand why this is the place to hang out after work on a Friday night. Lots of fun people and lots of great food. I have come to a point in my life where getting drunk and F'ed up is not the only thing to do over the weekends. I remember when I just turned 21 (or even before that) that drinking and passing out was the cool thing. Now, it's more like getting flushed in the face, but still be conscious. (haha) I had a great time with the people who mean the most to me from work and I cannot wait for another time we can have dinner and drinks again. It was awesome.
P.S. I wasn't hungover in the morning. That is ALWAYS a good thing.