Restaurant
:
Ristorante Bacco
Address
: 737 Diamond Street, Noe Valley, SF
Phone Number
: (415) 282-4969
Cuisine
: Italian
Date Last Visited
: July 18, 2008
Dining Partner
: Halle
So I have a friend, and her name is Halle Berry. She is a beautiful African-American goddess with legs that go on forever, a beautiful smile, charm, and mad talent. Whenever Halle and I take our walks, guys are just captivated by her. Okay, so my friend is not REALLY the REAL Halle Berry of Oscar-fame, but my friend looks damn close. I gave her that name when I first met her. So Halle has a couple of friends, the Dominicis, who own Ristorante Bacco in Noe Valley. See Halle and I get along so well because we both appreciate good food. So on this Friday, Halle came to me five minutes before my shift ended and asked, "Want to go to Bacco?" Sometimes the best meals are the ones not planned.
Bacco is on Diamond just off of 24th Street. Back when I was in school, I would take the Muni from 24th Street BART to Douglass St. where My Sweety K lived at the time. I had no idea that this place was even here. It has a real neighborhood feel where you can find young couples with their children or even old residents of the area enjoying a nice glass of wine. It has a very comfortable homey ambiance, but still has a sophisticated, rustic atmosphere.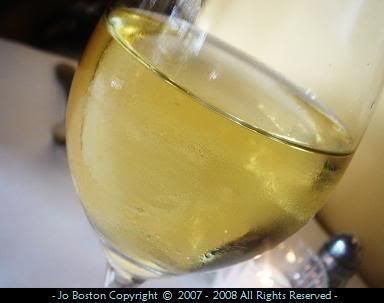 Paolo Dominici, owner extraordinaire, greeted us right when we got there are escorted us to our table in the main dining room. He recommended a nice white to start things off. Very similar to the Pinot Grigio that I was initially going to order, but since he says this was his favorite, how could I resist? I apologize, but I forgot what it was called. (ha!) So if you're there, you can ask Paolo himself. Paolo himself is very warm and welcoming and takes the time to talk with every table.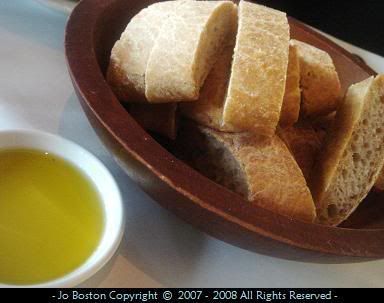 Rustic bread. Oh, rustic bread. I love rustic bread. Durable exterior, but soft interior. Dipped in an olive oil/balsamic vinegar mixture…oh dear, perfection. The oil looked like it was infused with herbs like rosemary. Halle doesn't do bread, but she ate a few of these bad boys. That's how I knew this was good bread.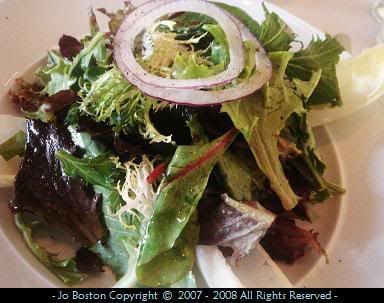 Misticanza:
Organic baby greens with Dijon dressing - $9
I know, I know. You are probably wondering why on Earth I got the simplest salad they have on the menu when they offer
pan seared calamari
and
grilled vegetable terrine
and
house cured cold cuts with Sardinian flatbread
as antipasti. BUT I wanted something light and simple, and if they were going to screw up a simple salad, who knew what else they would screw up? Thankfully this was a good salad. Perfectly dressed and seasoned. Good stuff.
Fish of the Day:
halibut
This was Halle's fish and it was FABULOUS. The fish sat on a bed of fluffy couscous and the harmony of flavors from the fresh fish, to the tang of the capers, and sweetness of the tomato sauce was impeccable. There was even a bit of a spicy undertone which we both liked. We agreed that this was the perfect dish for Halle because every component was something she favored. EVEN the couscous. She doesn't do too much carbs, but she said she enjoyed the couscous. When I see couscous on a menu, I get scared because I don't know whether it will be undercooked or overcooked. However, this couscous was perfect.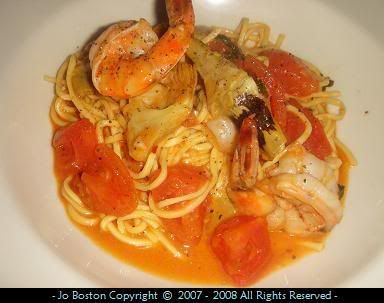 Tonnarelli:
Homemade thin noodles with wild prawn, baby artichokes and fresh tomatoes - $18
When Paolo told us that the pasta was made in-house, I knew that I had to order one of their many pasta dishes. Like Halle, I went for a seafood dish and this did not disappoint. The prawns were huge and meaty. The artichokes and fresh tomatoes were left in rather large chunks which was great because when you bite into them, a burst of flavor comes out and you can actually identify what you are eating. Have you ever had a pasta sauce where the list of ingredients is like 14 items long, but you cannot distinguish them? Not here. I love the fresh flavor of the tomato because they were sweet and the sauce seeped into the homemade pasta - incredible. The pasta I had was different from any other pasta I have tried. The texture and even the flavor is so different from the stuff I get from the grocery store or even from other Italian places. Now I know the meaning of "al dente." You really cannot "get it" with dried, packaged pasta. You just have to try homemade stuff. It is staggering that I have been missing this all my life. This dish overall was amazing.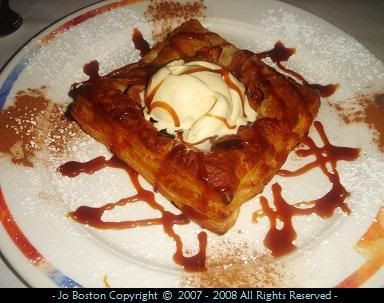 Sfogliatine di Mele Con Gelato:
Puff pastry apple tart with dulce de leche gelato and caramel sauce
Now when the dessert menus came, Halle was going to go for the Affogato and I the tiramisu. Fortunately, Paolo brought us this instead. I did see this on the menu, but for some reason it didn't appeal to me. Not much of a fruit dessert girl. Thank goodness Paolo showed this to me, otherwise I would have missed out on a fantastic dessert. The puff pastry was so light and the apple filling is not like Grandma's where there are huge chunks of apple in an overly sweetened goop. The apples were sliced incredibly thin - maybe even on a mandolin. When I put a spoonful of it in my mouth, it disintegrated like it was made of air. It was still warm so the ice cream went fab with it. Since we had this, there was no need to keep the desserts we ordered initially. This hit the spot and it was great.
So happy I finally had dinner here with Halle. Paolo was so welcoming and the food was immaculate. We were moaning in happiness all throughout the meal. If you really want to come to a real neighborhood Italian place with a comfortable ambiance, this is the place to go. It is good to know that you don't have to travel all the way to Italy and North Beach to get a great and authentic Italian meal. All you have to do is hop over to Bacco and let the chefs and the Dominici's work their magic.