Restaurant
:
Zazil Coastal Mexican Cuisine
Address
: 845 Market Street, 4th Floor Westfield SF Centre
Phone Number
: (415) 495-6379
Cuisine
: Coastal Mexican
Date Last Visited
: July 1, 2008
Dining Partner
: Rox and Jenn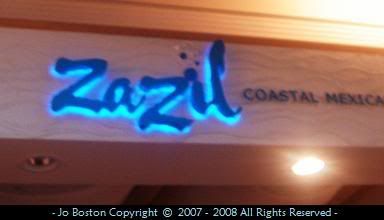 Every since Westfield was opened back in 2006, I had always wanted to check out the gallery of restaurants on the 4th floor. Now in 2008, I have become a real expert with the eateries down in the mall concourse. Seriously, the Powell Street BART station has become a home to me especially during my schooling in SOMA. Finally, after two years, I made a date with my Cuzzos to meet me under the rotunda to enjoy some Coastal Mexican.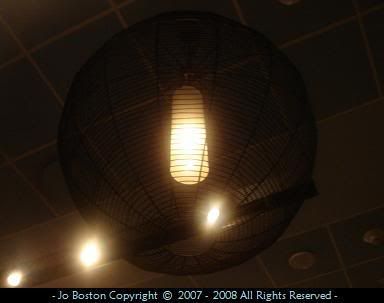 Ceiling decorations
ball thingies
Luckily for me, I found that restaurant.com has cheapo gift certificates for a fraction of the price. I got a $25 one for very little. You do have to spend at least $35 in order to use the certificate, which is very simple to do here in the place. When I try someplace for the very first time, I like to order something from each part of the menu so that I have a taste of what they have, so $35 was easy especially with my cousins here. Also when I try a new place, I have high hopes, but I do prepare to be disappointed, so anything that will lessen the price in that even helps a bit.
So we finally get there, and it was not packed, but there were a few tables taken. We were seated smack dab in the middle of the dining room (by the pillar/tree-looking thing). Since they serve Coastal Mexican, there was a blue/aqua/white motif. I usually like the blues, but the blue fishy-decals on the walls was a bit cheesy. I liked the wispy white curtains, but they really didn't help in shielding the shopping centre right outside.
Warm Tortillas
with Dipping Salsas
They serve tortillas as their "bread course" and these were so delicious. The tortillas themselves were warm and soft. From the left to the right, the salsas increase in heat. The first one was almost sweet. Not surprised if there was some sort of tamarind in it. The middle was a salsa verde. My favorite of the three. The bright one is a bit more acidic, like a Mexican buffalo-style sauce. I sure wish they kept the tortillas coming! That salsa verde was my winner.
TOSTADAS / TOPPED CRISPY CORN TORTILLAS -
TINGA DE POLLO
chipotle marinated chicken and onion
It was perfect that there were three on the plate so that there would be one for the each of us. The chicken was very tasty in a surprisingly light sauce. I didn't sense the chipotle in it, however. We enjoyed the tender meat and the crispy tortilla underneath. It is not very spicy, so it is safe enough for someone who is sensitive to hot foods. Thumbs up.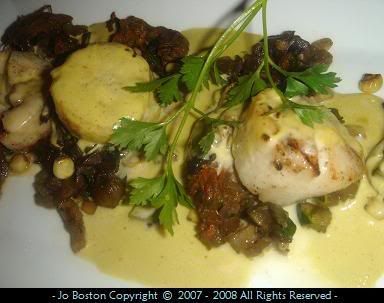 CALLOS DE HACHA / SEA SCALLOPS
pan seared scallops served with zucchini blossom and
vegetable medley, garlic-poblano chili sauce
This was Jenn's entrée. Scallops are one of those seafoods which you can mess us very easily. A second too long on the heat make them rubbery. I was interested how the flavors would be, so I took a bite and it hit me very bluntly. Scallops are supposed to be sweet and succulent, right? I believe they were cooked a bit too long and the flavor was not right. They didn't taste right at all - fishy and smoky. Are they supposed to be like that? I was thinking if they were on the grill that they'd pick up the smokiness from there, but since the menu says "pan-seared," I don't know anymore. I really liked the vegetable medley - the corn added some nice sweetness. Jenn said, "At first…they blow your mind out…after a while you get tired of it and you need something new." I wouldn't order this again.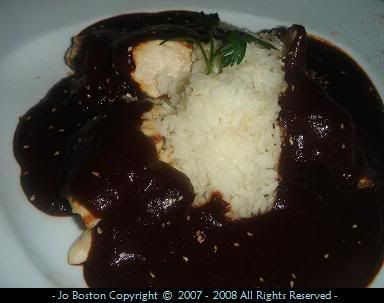 MOLE NEGRO CON POLLO/ BLACK MOLE WITH CHICKEN
traditional Oaxacan black mole, roasted
chicken breast and white rice
Rox's entrée - Well doesn't this just look like dinuguan (Filipino chocolate meat)? I stole a bite (of course) and it was something totally different from what I had expected. I knew there was real chocolate in it, but being in the mind-frame of dinuguan (which is savory, a little sweet and a little tart), I was a bit thrown off. All I can say about this is that it was DEEP. I do not know how many different types of chilies and spices they threw in there, but it was really complex. I also got a smoky component from it as well. Not something that I would order though. Rox said she liked it, but "couldn't handle too much spice."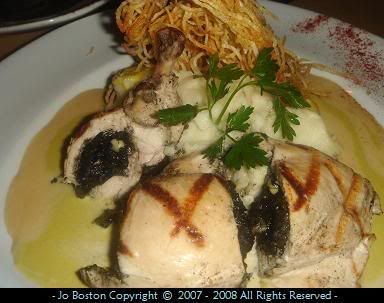 POLLO CON HUITLACOCHE / HUITLACOCHE CHICKEN
chicken breast stuffed with huitlacoche, Portobello
mushrooms, white corn-potato puree, garlic-poblano
chili sauce and crispy potato
HUITLACOCHE? 8 cars? Get it? Huit = "eight" in French and coche = "car" in Spanish. Haha. French and Coastal Mexican dialect for you there. This was one of those times when I should have looked up at the waiter and asked, "What on Earth, dear server of mine, is HUITLACOCHE?" When I was brought my platter, all I focused on was the black stuff in the middle of my chicken. What did they put in there? Black beans? I ate it anyway, but I did not enjoy the filling AT ALL. I didn't notice the Portobellos and the chicken was pretty bland. The white-corn-potato puree was bland. The crispy potato tasted like over-fried potato chip crumbs at the bottom on the bag. I didn't like the sauce. No, I didn't like the dish at all. I was so disappointed because I didn't enjoy Rox and Jenn's dishes either. So before I started writing about this dining experience, I went ahead and looked up what HUITLACOCHE was. Turns out that HUITLACOCHE is a fungus that attacks ears of corn and make the corn kernels expand up to 10 times their usual size and make them turn BLACK. Yes, those were not black beans. These were fungus-attacked corn kernels in my chicken. UGH. The fungus also makes the corn taste like a smoky mushroom. The fungus is mostly used in conjunction with other mushrooms. So if there is mushroom already in the dish, why use this? And what is up with these unnecessary smoky flavors? I didn't get it. I thought "coastal" meant fresh and airy and clean. I guess not. I am SO not doing this one again.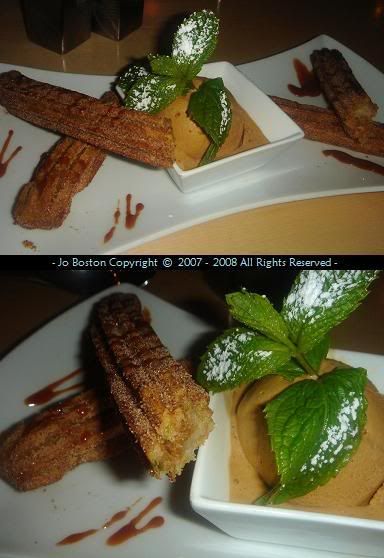 CHURROS
with dulce de leche ice cream
When the server asked if we were to have dessert, I was polite and asked for the dessert menu not having the intention of ordering it. BUT we ordered just one dessert - the churros and ice cream. I mean, how can they possibly mess this one up? Thankfully, they didn't. The churros were warm and filled with caramel. So the contrasting temperatures worked very well. I do have to say that it was too sweet for me. Cinnamon sugar on the outside, warm caramel on the inside, caramel syrup garnished the plate and luscious dulce de leche ice cream on the side. Talk about cavities. The girls loved it though.
I don't know what else to say about this place. I was disappointed for real. The appetizers and dessert were very nice, but the entrées were an extreme let-down. I don't know if Rox took her leftover mole home to be polite or if she really liked it. I honestly left everything I didn't eat on my plate. There was no point in bringing it home because it was going to go to the garbage anyway. The bar looked very nice with their array of booze and the live music was very pleasant and made the ambiance a bit more authentic, but let's be honest here: it's in the mall. I think they should put up walls to encase the restaurants. I got turned off with every turn I made with my head. I would see people walking by with their shopping bags or people across the way at Coccola bakery enjoying food that tasted a whole lot better than mine, which made me even more depressed. I don't know if I would come back here for entrées, but maybe for a drink and an appetizer. Thank goodness I had that certificate to pay for part of the check because if I had for the full amount, I would have had a cow. When it comes to Mexican, I think I'll stick with my taquerias.