Restaurant
:
Gary Danko
Address
: 800 North Point Street, Fisherman's Wharf, SF
Phone Number
: (415) 749-2060
Cuisine
: French
Date Last Visited
: April 23, 2008
Dining Partner
: Momma and SAM
So there is this lady in my life. She's my mom. Everyone is going to claim that their mom is the best mom in the world. Well, my mom is the best mom in the whole universe. I will tell you 10 good reasons why she is the best mom in the whole universe:
10.
She lied to a waiter about my age and bought me a margarita for my 19th birthday
9.
She let me blast Linkin Park in her car - I even caught her singing along
8.
She works at The Ritz Carlton and the Four Seasons Hotels in SF - yeah. Hook up!
7.
She and I do not hesitate to take the dance floor at any party
6.
She and I can go to Victoria's Secret together, talk about bras, and not feel awkward
5.
She works 16 hours a day but is still a lively woman on her day-off
4.
She watched Sex and the City as much as I did and we watched the movie together
3.
She and I like to go in front of the bathroom mirror and model our new sunglasses
2.
She knows what tartare, foie gras, crème brulee, caviar, and filet mignon and who Ron Siegel, Michael Mina, and Gary Danko all are
But the #1 reason why my mom is the best is not as shallow or superficial as anything I have listed above. She is the best because she faced adversity and surpassed everyone's expectations. When her husband tragically passed away back when I was about ten or so, she was put in a terrible position. She had to take on the role of both mother and father to two crazy girls. She took on two jobs and works as much as 16 hours in a single day. You people complain about your normal 8-hour shift - think about doing two of them. She sacrificed so much for me and my sister and all I want to do is make her proud. My mom is the youngest child, among 6, and she was the one who flew to the Philippines two times in a year to see my grandma when she was ill. Those are mad expensive plane tickets, but she worked her ass off to make that money without anyone's help (and without credit cards) to get to her mother, whom she loves very dearly. Two days after this dinner, she did indeed hop a plane to the Philippines. You would think that her working so much would drain her, but it miraculously hasn't. If you see a petite, 5'0"-tall Filipina woman walking on Market street in the middle of San Francisco with her gigantic Louis Vuitton purse, you're probably looking at my mother. She still has a sparkle in her a eye and a spring in her step. AND she is still single. (Holla!) Just kidding. Jokes aside, my mom is truly the best.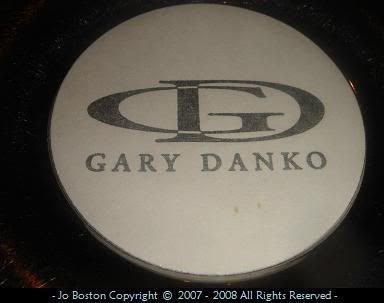 When I decided to take my mother to dinner for Mother's Day, I knew it had to be somewhere nice. No way in hell I was going to bring her anywhere where the bill amount was going to be under 3 digits long (5 digits with the cents, of course). It was only going to be the best for her. I love how my mom is so knowledgeable about the food scene here in San Francisco. She works at two of the most luxurious and expensive hotels in the City, so she knows a lot. I must get this foodie-ness from her. Unfortunately we could only snag a reservation on a Friday night even though I called a month in advance, but we were so excited that we both took that day off just so that we did not have to rush over there after work. We're funny. I knew that this was a dinner fit for her because she was with the Ritz Carlton staff when the hotel first opened back in 1991. Gary Danko was the executive chef at The Dining Room at that time, so Momma knows about him very well.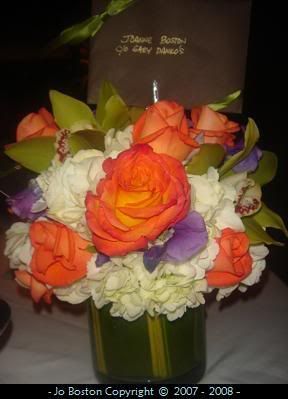 I wanted her to have a beautiful bouquet of flowers when we got there because she loves flowers - especially orchids - you should see how many orchid plants we have in our living room. The restaurant referred me to
Jun Piñon Designs
for the delivery and this bad boy cost me $100. Yeah, I know. Honestly, it is very pretty, but it was so small that we almost missed it. The most MODED part is that my mom asked where I got them and I told her about Jun Piñon. Turns out that he does arrangements for the Ritz and Four Seasons and she knows him PERSONALLY. Gaddammit. She says he even calls her "ate" (pronounced AHH-TEH, which means "older sister" in Filipino - he's Filipino as well if you didn't know already). Wow, did my face turn beet-red. Hey, it's for my mom - anything for her…*cries off to the corner* $100 *sniff*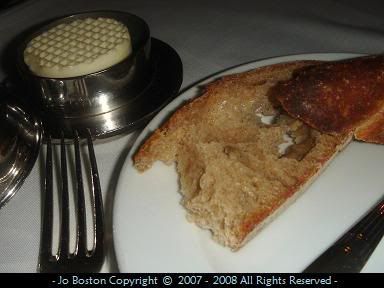 Bread and Butter
brought to us by the lovely Zoë
I must say that I preferred this bread over the ones I had at The Dining Room. They only serve one type here: crusty on the outside and chewy on the inside. Perfect. My kind of bread. Poor Zoë (one of the servers), she had to refill our plates every time she made her rounds.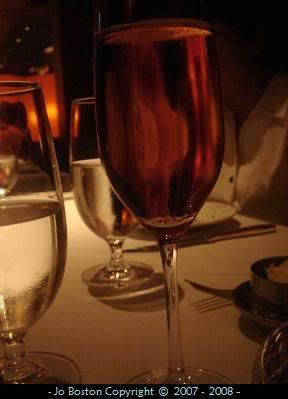 Rose Champagne
for Momma
Which I ended up taking. Ha!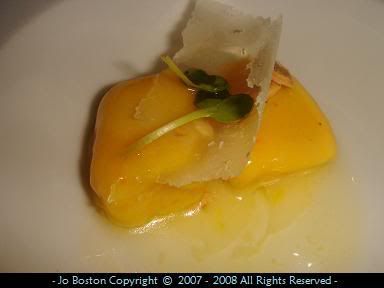 Saffron Gnocchi
with Cheese and Microgreen
Our amuse bouche was a cute little potato dumpling that was basically drenched in some sort of butter sauce and topped with shaved Parmesan. Talk about intense. It was still warm and the server even advised us to eat them as soon as possible. Yeah, our noses were in the menus for a while. I think if I had a whole bowl of these suckers, I would not even finish it. I would be lucky if I could keep 5 down. One of these is good enough for me.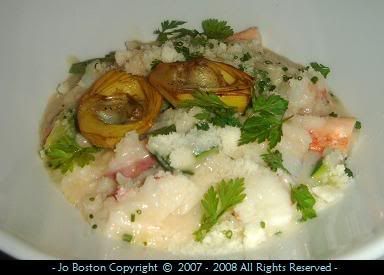 Risotto
with Lobster, Rock Shrimp, Zucchini, Crispy Artichokes and Lemon-Herb Butter
This was SAM's choice for her first course and it was pretty good. This is my real first time having risotto and while the seafood and vegetable were very tasty, I did find the rice to be a bit too al dente. OR do I have it all wrong? Is there SUPPOSED to be that little bit of raw rice in the middle of the grain? I apologize for my naïve disposition of risotto. It is just that my Inang would make Arroz Caldo (cooked down rice with chicken and ginger) and the consistency was silky without any raw bites. I guess I am just used to that texture and having my rice cooked all the way. Other than that, the seafood was perfectly cooked and the addition of grated cheese made the rice a bit more luxurious-feeling on the tongue. *thumbs up*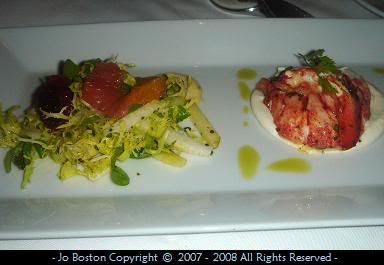 Lobster Salad
with Apple, Jicama, Celery Root and Marinated Citrus
When this was placed in front of Momma, I was seriously jealous. That portion of lobster is substantial. I stole a bite and it was indeed sweet and nicely prepared. I liked how the dressing was not covering the entire claw. Very nice. =)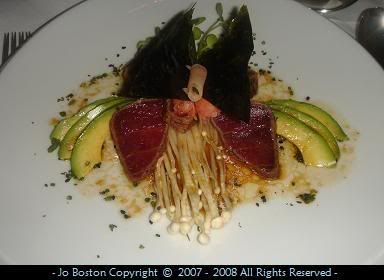 Seared Ahi Tuna
with Avocado, Nori, Enoki Mushrooms and Lemon Soy Dressing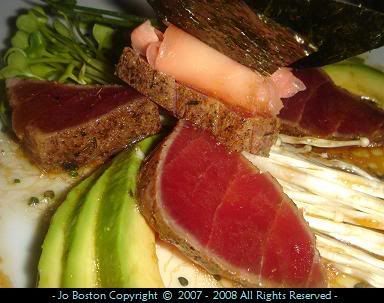 Ta-Da! This was my first course and if you like sushi, especially the raw stuff, you will love this dish. The fresh tuna was lightly seared on all sides before slicing. That color is so vivid. The overall dish was well-balanced - with fattiness coming from the avocado, protein from the fish, and freshness from the greens and mushrooms. There is a soy dressing along with pickled ginger if you like to go the sushi-eater's route. Well, think of it has a carb-free, deconstructed California roll. =) I SO thought of Star while eating this. She would LOVE this.
Roasted Loin of Bison
with King Trumpet Mushrooms, Glazed Cipollini Onions
and Herb Spätzle
I will be perfectly honest: when SAM ordered this, I thought, "Are you sure?" I would have never thought of her opting for something that is unfamiliar to her. Sure enough she left her comfort zone and she was well-rewarded. I thought that bison would have a gross gaminess to it, but betchabygollywow, it didn't. I was so surprised how lean and light this meat was. BIG surprise of the night. For my taste, I would have liked another starch to go along with it because it was, well, just a pile of animal. The Spätzle was okay…rice would have been awesome. (Ha, Filipino) Not something I would order on my own, but it was a great thing to try especially since I have ever had it before.
Seared Sea Scallops
with Salsify, Fava Beans, Frisée and Pancetta
Tell me why my eyes rolled to the back of my skull when Momma let me have a taste. These, ladies, gentlemen and everyone in between, are THE BEST scallops I have ever put my mouth to. Not overly done and served in simple, yet genius, presentation. They weren't OA with this dish and it was for the better because these scallops could sing on their own. Their sweetness was a star component and their texture was just superb - tender and delicate. Good Lord. Again, I thought of Star when I tasted this. It was fantastic.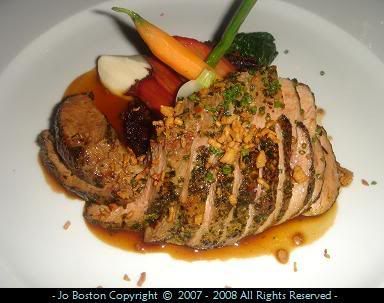 Lemon Herb Duck
with Duck Hash and Rhubarb Compote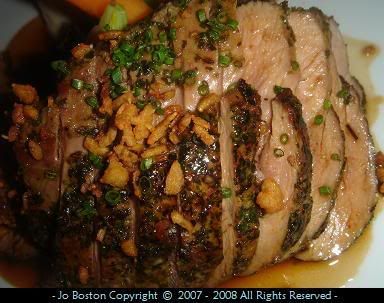 Finally my main course - DUCK. I seriously do not know why I ordered duck because that afternoon, we ate at a Thai place for lunch and guess what, I had duck. The most I can say about this dish that it was "okay." I guess I am partial to Asian-style/Peking duck because this didn't really impress me. The duck had this weird, gamey aftertaste which I did not like and the garnishes sprinkled on top are unidentifiable to me. The rhubarb compote was too sweet and the duck hash was too salty. I think the thing I enjoyed most about this plate of food were the vegetables. Even though I had A LOT of meat on my plate, I'm sorry, I was disappointed.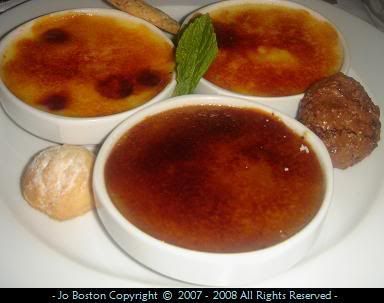 Trio of Crème Brûlée
with Cookies
This was SAM's choice for dessert and I was about to get this, but you will see why I did NOT in a little bit. There is a regular vanilla, coffee, and peanut butter. I would say that the consistency and layer of burnt sugar as perfect. I also enjoyed the different flavors! Peanut butter? That is SAM's favorite food in the world, so she was in ecstasy. Warning: these are not your wittle itty bitty ones you usually get. These are wide and very filling. SAM didn't even finish one of them. Sucks they don't do dessert doggy-bags. =) Very nice.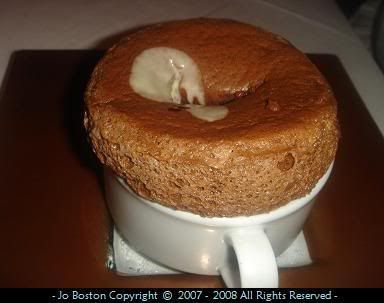 Baked Chocolate Soufflé
with Two Sauces - Chocolate and Creme Anglaise
Momma got this and I was so surprised because she usually doesn't go for very rich desserts. Hand her a mango and she is happy, but NOOO, she had to get the soufflé. I just asked her and she said she likes the warm chocolate characteristic it has. Nice. Our server poured in the two sauces tableside, but my camera is super slow and I was not able to get a decent action shot. Boo. I had a bite and it was indeed very yummy. Come on! How could it NOT be. Light and airy and chocolate-y. Sounds like Heaven doesn't it? =)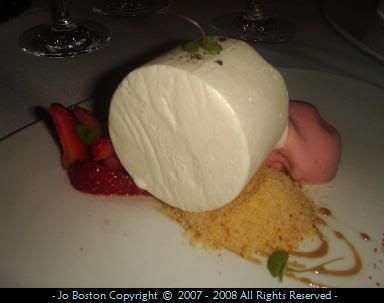 Mascarpone Semifreddo
with Strawberries and Basil, Toasted Cake, and Balsamic Caramel
Now I will tell you about MY dessert. Strawberries and cheese. My loves. I will just put it out there and say that I HAD THE BEST dessert. This one was a seasonal dessert so I don't think it's on the menu anymore. I am SO happy I was there for this because the semifreddo - which is like an ice cream in this case - was made with mascarpone, a luscious, creamy cheese. It went so PERFECT with the fresh strawberries. PERFECT. I could have done without the toasted cake and the basil. I don't know why, I'm more of a simplest when it comes to desserts. I go for the straightforward flavors of fresh fruit and creams. I don't need herbs or cake. I really don't. Just cream and fruit. =) I was so in Heaven. Seriously, I cannot think of another dessert as perfect for me as this. The most AWESOME dessert ever. I was so very happy. I still can't get over how good this was.
Latte -
Momma's Latte
I love the glass. So fancy.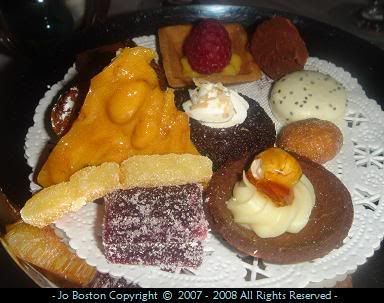 Mignardis- yummy goodies
Their presentation is not as extravagant as
The Dining Room's
, but the treats were so scrumptious. Peanut brittle, mini tarts, lemon-poppy seed cookie, truffle, candied fruit and jellies. You can say that this silver dish was empty when we left. Again, splendid.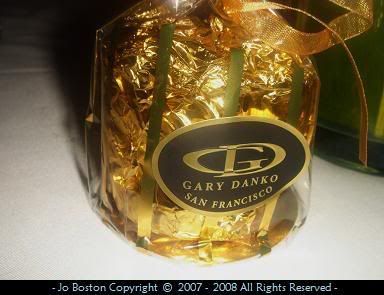 Take Home Gift- breakfast cake
Now this is so cute. After you pay the bill, they give you these treats to take home. Our server said that inside was a pineapple (I think) cake that can be enjoyed in the morning. Genius. Gary Danko for dinner. Gary Danko for breakfast. Momma gave her's to Star and SAM ate her's and she said it was really good. I haven't eaten mine yet. It's actually an embellishment piece on my desk in my "decoration corner" at work. It has an expiration date in 2009, so even if I eat it now, it shouldn't be too bad. I don't know, it's almost like a little golden trophy like, "Ha! I have been to Gary Danko!" I am just so cocky sometimes. Excuse my crudeness. =)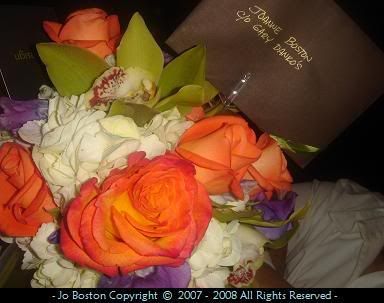 Happy Mother's Day, Momma!
This meal was GLORIOUS. I enjoyed every minute of it and I am glad that my family had a wonderful time as well. The most expensive presents and dinners can never compare to the gifts and love that mothers give to their children. My mother gave me the ultimate gift: LIFE. I am so happy to be her daughter and I am so proud to call her MOM. She is the quintessential being of what and whom I hope I can be in the future. I wanted the best for my mom on her special day and I think it was MISSION:ACCOMPLISHED.
***********************************************
Dear Momma,

Thank you for everything you have done for me. I know it must have been hard to raise me alone, but I am so proud of you. Watching you work so hard and for so long only makes me want to be more like you. You are an inspiration and I could only hope to someday be as great as a mother to my own children as you are to me. I love you so much.

Love,
Joanne
Aka Baby Damulag =)
***********************************************