Restaurant
: Goldilocks Bake Shop & Restaurant
Address
:3535 Callan Boulevard, South San Francisco
Phone Number
: (650) 873-0565
Cuisine
: Filipino
Date Last Visited
: May 7, 2008
Dining Partners
: SAM and Momma
You are NOT Filipino if Goldilocks only means the freeloading chick from the Three Bears story to you. No no no, grasshoppa, she is so much more. Does anyone remember when Goldilocks was in the present Manila Bay Cuisine spot at the Serramonte Mall food court? Whenever Inang, Momma and I would go shopping (more of the window kind), this would be the spot to get me my usual pancit palabok. That was years ago, I would say a good 20 or so, and like I mentioned before Manila Bay Cuisine has since occupied that space. Unfortunately their palabok is not up to par and I rarely go there for it, and if I have, I probably regretted it afterward. Their pork sinigang, kaldereta, and BBQ is good, though. Anyway, back to Goldilocks.
There is a full-running restaurant and store in South San Francisco near Highway 35 and the San Andreas fault line. Seriously, I think the building actually sits on it. This is a "point at what you want" type of joint. When you walk in, there will be trays, utensils, and plates for you to take and basically you put your tray on the counter and slide your way to the food.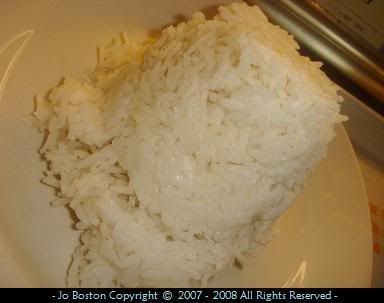 Rice. *oHhHhHhHhHh* 1 order = 1 scoop. It's cute how they scoop up the rice with mini-tabos (lol).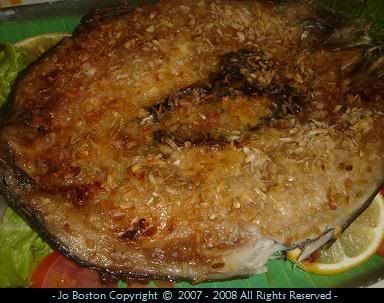 This is actually a milkfish, better known to Filipinos as bangus - the national fish of the Philippines. It is butterflied, flattened and then marinated with lots of garlic. The perfect condiment to go with this fish is suka (vinegar) and patis (fish sauce) - see below.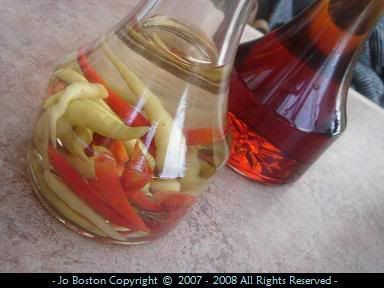 It sure did look mighty tasty, but I found the bangus to be really bland. Whenever I eat bangus in this fashion, it has more flavor because of its marinade (usually consisting of garlic, pepper, and vinegar), but I did not get that sensation here. I also found that I like my bangus to be a bit more cooked, as far as the sides being more crunchy and the skin crispy. I think this guy was sitting around for a little while, and right before service, they just popped it in the microwave and nuked it for a few seconds until it got warm - causing its slight sogginess. Admittedly Goldilocks is notorious for their microwaving because, after all, the food is not made to order so there is a lot of nuking.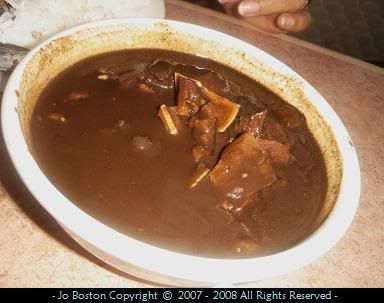 Next is that infamous dish - dun duh duh daaaaah! DINUGUAN! Chocolate meat, dinardaraan, however you call it, it's GOOD. Yeah yeah, go on talk your shmack, I don't care. =P
The dish I always get when I am here: pancit palabok - noodles with a thick shrimp sauce, topped with pork cracklins, scallions, boiled egg, and a slice of lemon for squeezing. I would have to be honest when I say that the palabok has declined. It's still good, but not as good as it used to be. Momma even commented the same. If I ever come back I'll probably still get this because it's a staple to a Goldilocks meal.
After our meal, we headed to the bakery. There is a giant glass case where you can help yourself to sponge cakes, polvoron, puto, and other desserts. Be sure to check out their cake rolls - mocha is my favorite! They also specialize in birthday cakes. Good Lord, you are not Filipino if you never had a Goldilocks cake at one of your family parties. You can get almost anything on it. Action figures? They got you. A Barbie doll? They got you. A picture of yourself? You vain b@$+@12d. They got you. My family ordered my 18th birthday cake from here for my debut (coming-out party), and it was multi-tiered, marshmallowy-white frosting with baby blue trim, complete with a sparkling-blue "18"…ohhhh, it was gorgeous. Go for the "triple delight" which is a three-layered cake - chocolate, vanilla, and mocha. YUM!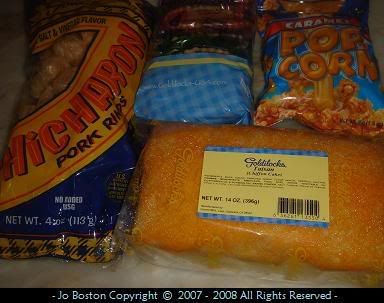 Our loot: a bag of
salt & vinegar chicharron
(pork rinds), package of
tartlets
(macapuno/young coconut, langka/jackfruit, and ube/purple yam - I think there is another one, but I forget what it was. Now that I think about it, maybe there isn't…), a bag of caramel popcorn, and a loaf of
taisan
(chiffon cake with butter, sugar, and shredded cheese on top - my personal favorite of all). Turns out when we got home, Momma copped the pork rinds and left them in her room for her to snack on, SAM stole the caramel corn and ended up eating half of the taisan, and I was left with the tartlets.
This is the jackfruit tart. They seemed to be a lot tastier before. Now they are just really dry and tough. I don't know what happened between now and when I used to love them as a kid. I guess my taste buds have matured and began to be more critical of my food.
*sigh* Goldilocks is more than just a storybook character. She's a Philippine icon to be quite honest. The food is fair to good, and I think a bit overpriced. Nonetheless, we still come here every once and a while when we are too lazy to cook. Not a "WOW, OMG, place," just okay, only because I am Filipino and I know families who can prepare food a WHOLE lot better. But if you are a newbie to Filipino food, this would be a good place to go because you have the basics like pancit, lumpia, BBQ, adobo, etc. covered here.