Restaurant
:
The Dining Room at The Ritz Carlton
Address
: 603 Stockton Street at Pine Street, Nob Hill, SF
Phone Number
: (415) 296-7465
Cuisine
: New American, French, Japanese
Date Last Visited
: April 24, 2008
Dining Partner
: Cuzzin Star
So have this cousin, and her name is Star. We grew up together and went to the same elementary school for a few years. Since she was younger than me, I made her life a living hell. I would boss her around, tell her what to do, give her attitude, yeah…I was a horrible older cousin. So we got a little older and a little wiser, and she eventually forgave me for all the terrible things I did for her. I, however, felt really bad about it. In May '08, Star graduated from the University of California at Berkeley with her Bachelor's degree and I am so proud of her. So I had a genius idea - take Star out to dinner in celebration of her graduation (with the ulterior motive of ridding my guilt of making her life so bad when we were younger). What is more contrite - er, luxurious than The Dining Room? ONLY the best for my cousin!
*sign of the cross*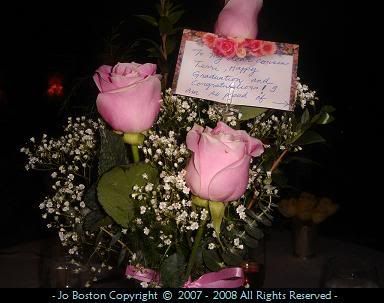 Star's Bouquet of Pink Roses
First gift of the night
I requested that there be flowers already on the table when we got there, and when we did arrive, they were! =)
Star: I was gonna cry when I got them.
Before I go on, I have to bring up something about that day:
I WAS SICK.
That $hit stank. I look back now and it was probably the most sick I had been in the year even until now. I was supposed to go to work that morning, but I called my boss to let her know I was going to be late. She could hear over the phone how congested I was that she just told me to stay home. I was also debating whether or not I should cancel the reservation for that night, but since Star had been waiting over a month for this dinner, I stayed home, took it easy and saved all my energy for that night. So if I sound a bit indifferent or if I do not even remember much detail about a certain dish, you would have to forgive me because my head was in a fog for majority of the night.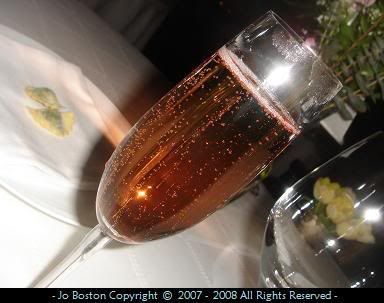 Henriot Rose Champagne
My beautiful glass - $22
The sommelier was very good at explaining what the champagne consisted of and how they would taste. When he said "strawberry" about this champagne, I knew this would be the one to get. LOVED IT. Slightly sweet, bubbly and pink. =) Such a girly champagne if you ask me. (Please excuse the lip-gloss.)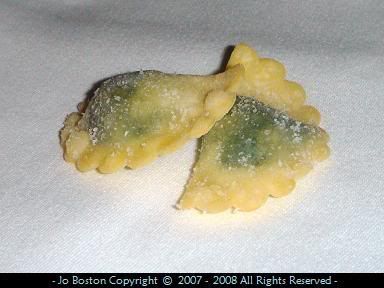 Amuse Bouche #1
Mini Spinach Pastries
These were tiny, little, one-bite, empanada-like things. The dough encasing the spinach had a rich tone to it. Not quite sure if they were baked or fried because they were that rich.
Star: those were a little too salty for my taste.
I would have to agree with Star. You can see how much salt there was on top. After tasting these, we were going back and forth whether we should go a la carte or go for the tasting menu. If the Salt and Pepper tasting menu was going to be THIS salty, we should pass, but we put our faith in the chef and went for the tasting menu.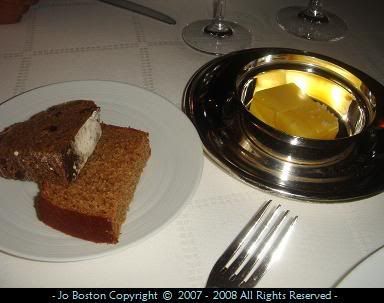 Bread Assortment
with fresh butter
Star: OhHhHhHh MY GOD! There were so many different kinds that I didn't know which one was my favorite. I kept asking for more bread because I wanted to taste all the different kinds.
Red currant. Sesame. Sourdough. A couple other flavors that escape my memory. Yeah, the bread alright for me. I am more of a rustic, crusty, country bread type of a girl. Idk, this was too "pansy" for me. Ha, cannot believe I just said that. Their bread was good, do not me wrong. But not the bread I would much on all day. Star sure liked them. She had about 8 pieces. =)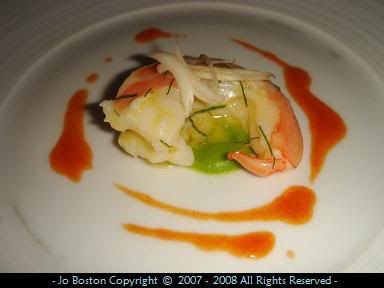 Amuse Bouche #2
prawn with fennel and carrot reduction
Star: This was HELLA good. I wanted more.
Looking at this at first, I thought, "Wow, a shrimp." I eat a lot of shrimp, so I wasn't expecting what I was about to experience. This has got to be THE best (single) shrimp I have ever eaten. "Single" because THE best shrimp DISH I have ever had was the shrimp scampi at
Giovanni's Shrimp Truck in North Shore in Hawaii
- but that's another story. This shrimp that Chef Siegel has concocted is just incredible. Perfectly cooked, plump, sweet, and too good for words. It was on the borderline of being a pre-dinner dessert it was so sweet. Extraordinary. See, that makes Chef Siegel a genius. He invokes so much pleasure with a SINGLE shrimp. I do resent that it was singular-focused and not plural dish; nonetheless, fabulous.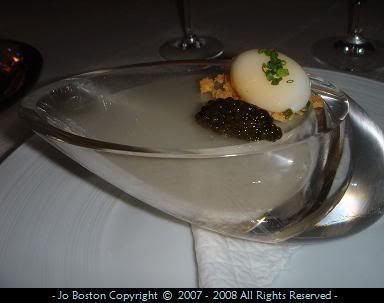 Amuse Bouche #3 - Quail Egg 64
poached quail egg, Osetra caviar, croutons,
chives, cedar essence
Star: It looked something like art. I was scared to eat it because I didn't want to ruin it.
This was one of the more interesting courses. There was a small spoon that plugged the hole in the plastic wrap that surrounded the crystal dish. When I was presented with this, I simply was flabbergasted and felt incredibly moded when I didn't know how to go about consuming it. The server was very helpful and came to my rescue. What you do is take your spoon and "tap tap" on the plastic wrap to release some of the cedar smoke and take a bite consisting of the warm egg, salty caviar, crunchy croutons and verdant chives. I loved the consistency of the egg. Silky and soft. That's what you get for poaching it slowly at 64 degrees Celsius - hence the name. The contrast with the crispy croutons was delightful. Very interesting experience and one you will ONLY get here. =) Tap tap.
server preparing our dipping sauces
What I really liked about the presentation here is that a lot of the simple preparations, such as making a sauce, is done at the table as you will see here.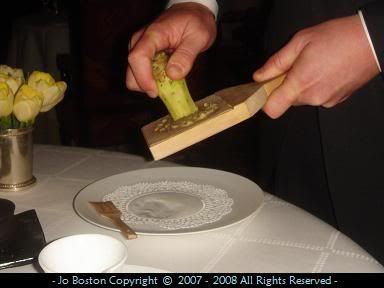 server grating fresh wasabi
Prior to this occasion, I had never seen fresh wasabi grated - let alone fresh wasabi. Star just informed me that our server was grating it on a shark fin/skin grater. OhHhHh…see, little touches like that takes the experience to a whole new level.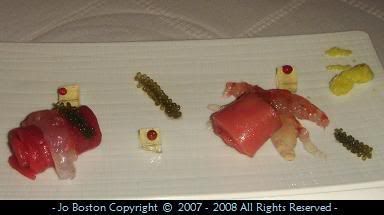 Shiso Salt & Pink Pepper
big eye tuna sashimi, spot prawn, yuzu gelée
Plating is just exceptional. The fish is fresh and various components make this dish. Yuzu and sashimi? Who knew?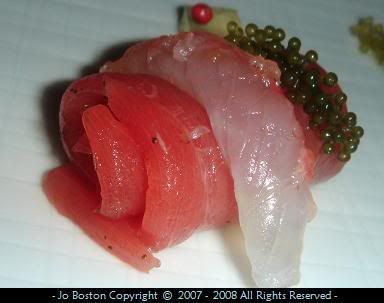 I thought the look of the dish was absolutely stunning - from the servers getting involved in the condiment preparation to the simple placing of the pink peppercorns on each tiny cube of yuzu gelée. Visually speaking, it was beautiful. The spot prawns were so clear that you see right through their little bodies. Unfortunately, I was feeling under the weather, as I mentioned before, so I didn't enjoy this dish as much as I would had if I was perfectly healthy.
Star: The shrimp was surprisingly sweet. I thought that they were going to be salty. I never thought that peppercorn would taste good with jello and the sea grapes were a bit weird. The fresh-grated wasabi is a lit lighter than the wasabi you usually get.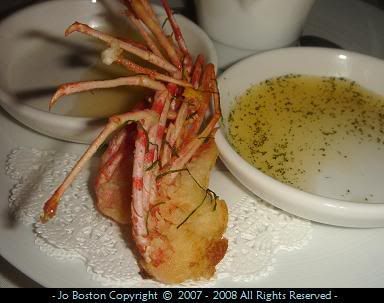 crispy prawn heads
The shrimp heads surspringly taste EXACTLY like the shrimp chips my family would buy from the Asian supermarket - but I don't like them, so I didn't like these either. Too salty and heavy on my palette. We were guessing we had to eat the whole thing - including the legs - but that didn't appeal to us either. PASS.
Star: It was okay. I didn't really like the sauces because I felt like there was something lacking…SOY SAUCE.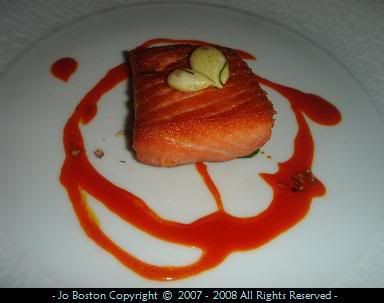 Tahitian Vanilla Salt & Sancho Pepper
salmon fillet, carrot reduction, fuzzy almonds
Star: FUZZY ALMONDS!!!
Okay, I have had tons of salmon in the past and this single piece kicked all their asses. Sorry for the colorful language, but it's true. The sear on this bad boy is fantastic. The outside was crispy, but the inside was still left a bit rare which was great because there was a whole spectrum of doneness from almost raw to seared which I could enjoy. Like the prawn, this was also sweet- must be that carrot reduction. Awesome. One of my favorites of the night. As for the fuzzy almonds that Star is all worked up about - I pass, but again, one of my highlights.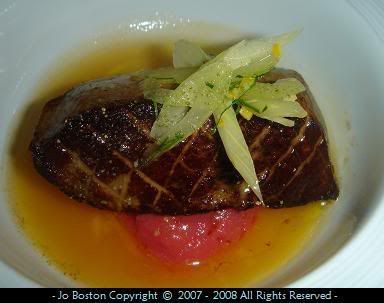 Lime Salt & Tellicherry Peppercorn
foie gras medallion, apple reduction,
brioche crouton, celery shavings
If you know me, you should already know that I do not eat liver. Well, what was set in front of me was the liver of a poor, overfed goose. Fatty, rich, and silky on the tongue indeed. I think it was a bit too rich for me. So I took a bite of it just so that I can actually SAY that I did have some, and then the rest (about ¾ of the whole thing) I snuck into Star's plate. So basically, she had almost two portions.
Star: OMG! It was the best piece of foie gras I have ever had in my life. I even stole my cousin's piece. It was the most fattiest, yet the most delicious and memorable foie gras.
Maybe it was my sickness, but this was WAY too rich. The foie sat on a crouton that sat in this golden, sweet, syrup. The crouton was crispy and soggy at the same time. Not my favorite, but Star sure loved it.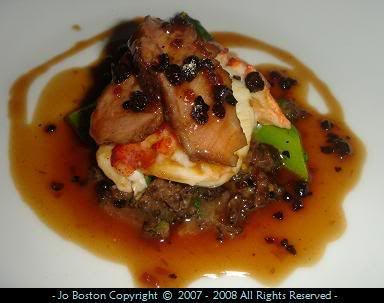 Konbu Salt & Tasmanian Pepper
lobster, veal cheeks, morel mushrooms, asparagus
Doesn't this just scream decadence? The veal cheeks were as tender as can be and the lobster piece was just huge. After this dish, I realized I am not much of a lobster person. As mush as it is delicious, I find the texture to be a bit odd - not only in this dish, but all the dishes I have had which features a big piece of lobster. I'm not hating - just not a lobster-lovin' girl. I know. I'm going to purgatory. Shame on me. Asparagus - love it. One of my favorite veggies. Now I am pretty sure this is my first time having morels. These suckers are interesting. Didn't notice anything too different about them. Just got a sense of earthiness out of them. But those veal cheeks. Wow, great to look at - like food porn - and they taste great.
Star: I really do not remember much about this one, since it came right after the foie gras. It was good.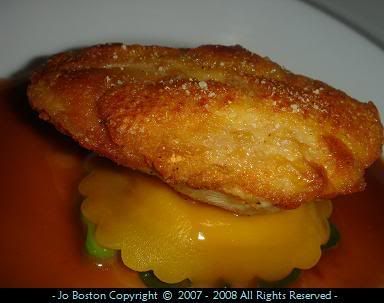 Young Ginger Salt & Longpepper
poussin, carrot ravioli, white port emulsion
Poussin is a young chicken, and from what our server told us, it is fed with milk. I really liked how the skin was crispy and the meat was tender. In all honesty, I was getting really FULL at this point of the meal. So many flavors caressed our taste buds and each fork-full of food was a delight, but I didn't know if I was able to keep going. Like the salmon dish, I loved the exterior of the poussin - blistered like fried chicken. I really feel like Julia Roberts in Pretty Woman when she brought packets of ketchup to her fancy dinner. Yeah, this poussin would have been great with ketchup and rice. =) Leave me alone, I'm Filipino. One thing I disliked was the carrot ravioli. I don't know exactly why, just didn't suit me. A good starch would have been great with it rather than a lighter than light piece of pasta.
Star: Poussin…fancy name for chicken. I guess from the name I hyped it up too much, and I expected it to taste better than regular chicken. It was nothing special.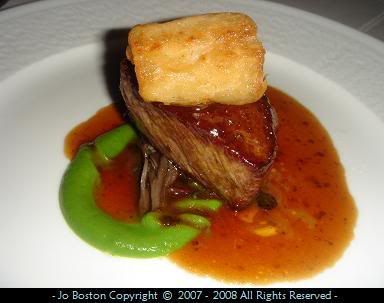 Bolivian Rock Salt & Green Peppercorn
beef ribeye, crispy bone marrow, maitake mushrooms

…And God opened the gates to Heaven
and the aroma of beef ribeye filled the air…
At this point, I was ready to blow, but I had to finish it because it looked so divine. Perfect piece of steak cooked to a medium. Juicy interior with beautiful, brown sear on the outside. I liked how the ribeye was not doused in the sauce, rather it was simply sprinkled with the salt.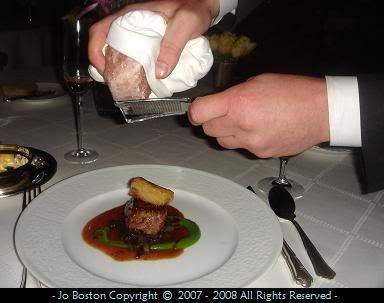 server shaving rocksalt
Love love loved the presentation. The server took out a hunk of pink salt and started grating it over our meat with a microplane tableside. Really charming I think, plus the rock was gorgeous.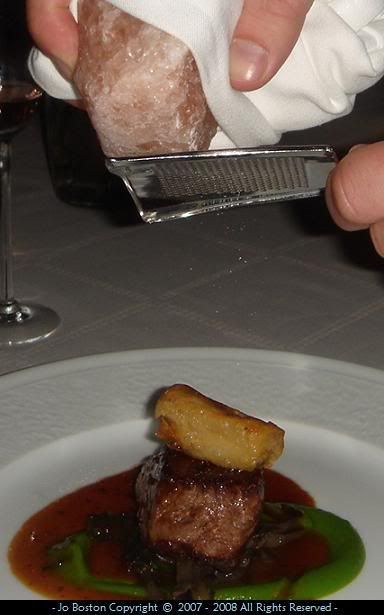 close-up - isn't it pretty?
I was a bit intimidated by that piece of bone marrow chillin' on top of the meat. I remember when I was a kid, my Tatay (grandfather) would steal the beef bones from my Inang's (grandmother) pots of hot
nilaga
(Filipino soup with beef, carrots, cabbage and potatoes) and just start sucking the crap out of them. He was searching for the bone marrow. Man, I can still hear him sucking out all the juice and see how his cheeks would pucker while doing so. =) I miss my Tatay.
Anyway, that's besides the point.
I took a small corner of it. Oh my dear Lord. How fatty. Not my cup of tea, and it has this awkward flavor that I am not too fond of. Think of biting into a crispy piece of tempura and then having a gush of hot gelatinous grease engulf your mouth. Yeah…like that.
Other than that, the ribeye was very good.
Star: This was a nicely prepared piece of meat and it paired well with the bone marrow because I never had bone marrow before. The bone marrow was so fatty that melted in your mouth and lemony.
Palette Cleanser
Rhubarb Sorbet, Taragon Gelly, and Weird Foam
(Star and I think foams are weird)
When I saw this, I thought, "Dessert?" No, just a palette cleanser. The rhubarb sorbet was actually very good. The gelly and foam, however, uh…it was okay. Haha. (Hey Star: FOAM!!!)
Star: It was good but nothing special…it did what it was supposed to do. It cleansed my palette.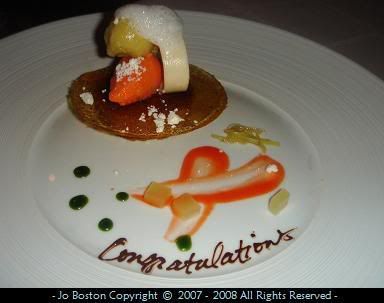 Soy Salt & Sancho Pepper
carrot parsnip cake, coconut cream, carrot sorbet,
celery apple sorbet, candied ginger, yuzu gelée
Is this Chef Siegel's way of punishing me for not eating my vegetables as a kid? Before I go into the bad, I will go into the tolerable. The sorbets sat on a sugar disc which sat on the carrot parsnip cake. The cake was like a carrot cake - nothing too special. It was actually very good. The coconut cream was very good, and it had a subtle flavor and creamy, silky texture. Again, weird foam on top and then those sorbets. Good God. I do not eat vegetables for dessert. I think the most disgusting thing on this plate was the pea reduction. Just the sound of it grosses me out. PEA REDUCTION.
Say it.
PEA REDUCTION.
Ha! No, do not even go there. Think of eating a single pea and magnifying that flavor by a thousand. Super concentrated. I usually do not like peas anyway, so that was not good at all. They also brought back the yuzu cubes from the sashimi dish which was good because they were sweet and tasted a whole lot better than anything else on this plate. Didn't try the candied ginger because I was pretty much done with this dish after only a few bites.
Star: Very interesting plate. The only things I enjoyed were the coconut cream and parsnip cake. The carrot sorbet was ok, but the celery sorbet was disgusting. The pea reduction was just yucky.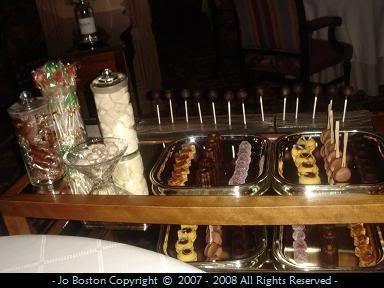 Mingardis
yay! REAL dessert!
You do not know how relieved I was when I saw this candy cart rolling our way after we had such a disaster of a dessert moments before.
Candy Cart of Heaven
You basically point and choose what you want. ANYTHING you want. I was surprised we didn't tell the server to leave the cart by our table. We were ladies in a very adult candy shop - but jumping like 4-year-olds on the inside.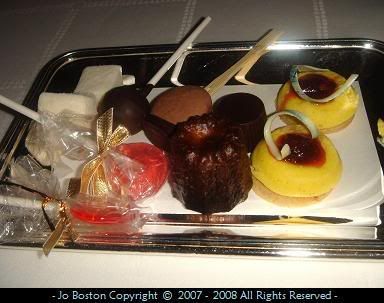 Our selections
passion fruit marshmallows, blood orange lollipops, chocolate pop, chocolate macaroon, chili-infused chocolate bon bon, canellé and individual cheesecakes
So My Sweety K insists that he thought of flavored-marshmallows before anyone else. Hey babe, someone beat you to it. These marshmallows were fresh and had that fruity flavor I like. I really liked the canellé, but more so because the server explained how it was made - something about bees wax? Ha, I don't quite remember - but the outside was extremely caramelized and crispy, while the inside was soft - almost like the texture of a churro. I swear, infused chocolates are all the rage. The server insisted there was chili in the bon bon, but I didn't get it. I don't think it's meant to singe your eyebrow hairs, but I still didn't get it. The cheesecakes were topped off with a strawberry jam, which almost tasted artificial to me, but the cheesecake itself was very good. Star asked for seconds!!
Star: I didn't like the chili chocolate at all. The passion fruit marshmallows and cheesecakes are my favorite.
Although I was feeling like crap that night, I had a great time. The service was IMPECCABLE. When Star's bread dish was empty, homeboy came by with another slice. Very attentive and they even ESCORTED us to the restroom! WTF?! That's so cute. Even though the bill was *gasp* $272.34 (for two of our tasting menus, a bottle of sparking water and glass of champagne), I knew it was all worth it.
The Dining Room is certainly somewhere that one should go to at least once in their lifetime. The food is innovative and quite good. I liked how the meats were not drenched in the sauces. The ingredients spoke for themselves - LOUDLY. One thing I regret is not quote grasping the "Salt & Pepper" concept. If you gave me a pink pepper and Tasmanian pepper in a blind tasting, I would not know the difference. I think the concept was good, but having a very naïve palette puts me at a disadvantage. If my tongue was primed to distinguish the different flavors the salts and peppers offered, then maybe I would have been more critical. I just know that each dish was fab in its own way, not necessarily depending on the salt and pepper to make them good. When we ordered the tasting menu, we were worried that we wouldn't get full, but by the third course, I knew I was going to have a major food coma after the meal.
Star: It was the best dining experience I have ever had and I would definitely go back…if I had the money.
Having growing up with the Ritz Carlton as my mother's workplace, I knew that they are always striving for the best. Though not everything we had consumed on this night was a perfect 10, the experience certainly was. If I had been my normal self, the rating would have probably been a 20 on a scale of 1-10. Quite a fantastic night, and I am so glad Star enjoyed herself. We should all be treated like super-stars every so often.
Little Black Dress from Forever XXI: $20
The Dining Room Dinner for Two: $327
The Look on Star's Face When She First Tasted the Foie Gras:
Priceless

***
Congratulations Star
c/o 2008 University of California at Berkeley
***