Restaurant
: Davenport Roadhouse at the Cash Store
Address
: 1 Davenport Ave, Davenport, CA
Phone Number
: (831) 426-8801
Cuisine
: Breakfast, American
Date Last Visited
: April 6, 2008
Dining Partners
: My Sweety K and My Sweety K's Dad
*ring ring*
Me
: *groan* (groggily) Hello?
My Sweety K
: Hey babe, what are you doing?
Me
: (half-asleep) I'm still in bed, why?
My Sweety K
: Just get ready and we're going to pick you up.
Me
: (confused) What? Where are we going? I thought I was staying home today.
My Sweety K
: I don't know, we'll be there in half an hour.
Me
: But-
My Sweety K
: Okay, love you, bye.
*click*
And then I got kidnapped. Well, not technically. I got in the car and I asked where we were going. My Sweety K asked me if I had ever been to Davenport.
Davenport? Where the hell is Davenport?
Well I guess I was about to find out.
We drove down the coastline, past Pacifica, Moss Beach, Half Moon Bay, and after an hour or so of driving, we were in Davenport. It's a small coastal town, which I really didn't see, but the restaurant seemed to be pretty well known.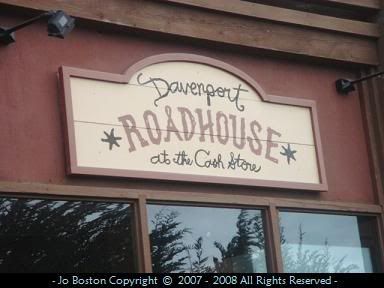 We finally got here at about 10 a.m. and let me give you some geography about this place…
This was to the left (South)…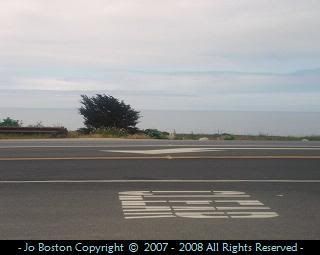 To the front (West)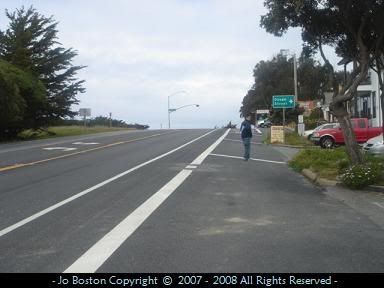 To the right (North)…and you can see My Sweety K in this picture… =) It looks like this place is in the middle of nothingness, but I liked it. Nothing but you, the road, the sky, and the water.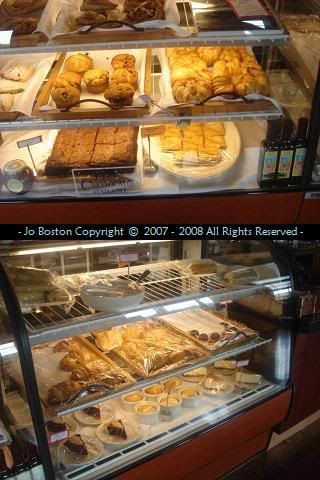 As I walked in, it reminded me of a bakery. There is a case of pastries, cakes, and sweets for those on the run. To the left of this case is a small area for those who want to enjoy a glass of vino.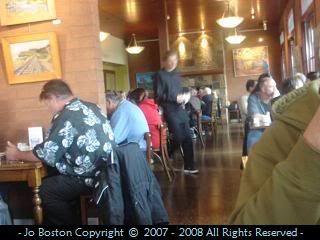 Once we were seated, I got the feeling of this place. It's very earthy with the brick walks, wooden tables, and rich brown tones. It was a weekend morning, so there were many people here that day. FYI: Breakfast is served daily from 8 a.m. - 12 p.m.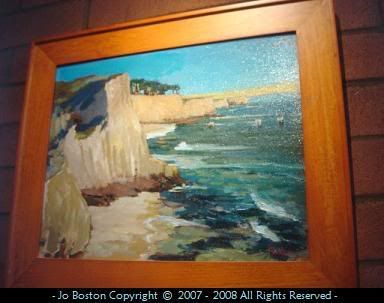 On the walls are landscape paintings created by local artists. If you are interested, you may even purchase one for your own collection…On to the grub…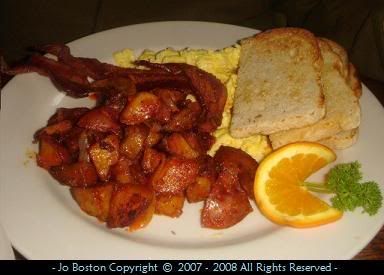 My Sweety K's Dad's
Roadhouse Classic with Two Scrambled Eggs, Bacon, Roadhouse Potatoes, and his sourdough toast ($8.95).
For this amount of food, the price is actually very reasonable. My Sweety K's Dad got his eggs scrambled, but you can have them any style you please.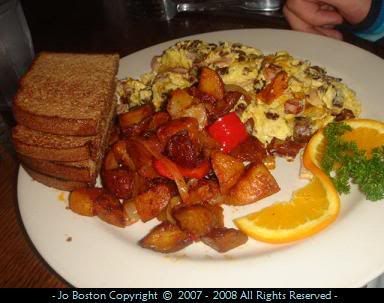 My Sweety K's
"Swanton" Scramble with bacon, ham, sausage, and cheddar cheese. It comes with Roadhouse Potatoes and your choice of sourdough or wheat toast ($10.95).
So how did I know that he was going to order this? My Sweety K is seriously a die-hard carnivore. If it has meat, he will eat it. The Roadhouse Potatoes are something special. They have a Southwest-flavor and they are mixed in with onions and red bell peppers. Very hearty plate. If this doesn't get you full, I don't know what will.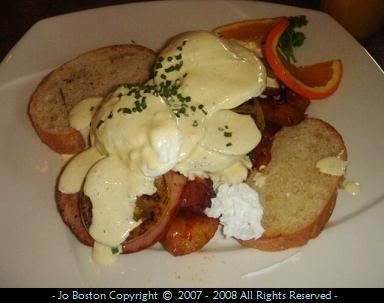 Since this was my first time here (and probably my last time for a long while), I wanted to get something that I won't be able to find easily back in San Francisco. So this looked really good:
Eggs Benedict with Canadian bacon and green tomatoes, served on grilled toast with creamy hollandaise sauce and Roadhouse Potatoes
($11.95). There was another version with smoked salmon and spinach, but since My Sweety K does not do fish, I got this one instead.
Yeah, yeah, I know you can get egg Benedict just about anywhere that serves brunch, but what I liked about this one is that it is served with grilled toast instead of the customary English muffins and they include green tomatoes!! Green tomatoes!! These were my first time having them EVER, so I really did not know what to expect. Let me just say…my first bite was full of eye-rolling-to-the-back-of-my-head, toe-curling, voice-chord-moaning, goodness. I actually prefer the toast instead of the English muffin because I think the muffin would have been too dense. The eggs were cooked, but still had a warm, runny yolk which intermingled with this heavenly hollandaise sauce. Not hatin' on the Canadian bacon because pork is great. But the green tomatoes…oh dear…who knew they would compliment this dish so well? It seemed like they were just thrown on the griddle to get a little soft and a little charred, and they had this acidic flavor going on which was awesome with everything else on this plate. The eggs were on top of the potatoes and all the flavors from the sauce, the potatoes, and yolk all came together and it was HARMONY. You best believe that there was nothing on my plate when we left. I do have to complain that the plating was a bit sloppy. The eggs were in pieces, there were clumps of egg white in various places and the saucing was sloppy. You can see that in the picture. Ack, but I'm being picky and OA…other than that I have nothing else to complain about. If I was coming back, it would be very hard for me to order something else because this was such a winner.
Off we went to Santa Cruz!!!!!
_________________________________________________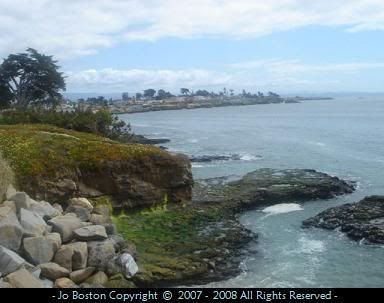 Absolutely breathtaking. We were lucky that the sun was out and it was not too windy. We made a quick stop at the University to pick my My Sweety K's cousin and we were off to the Santa Cruz Beach Boardwalk.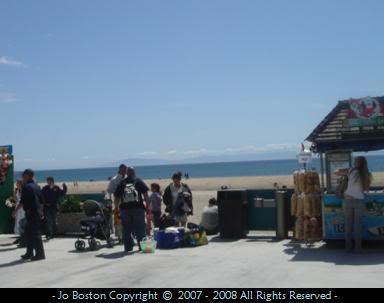 This was my first time to the Boardwalk (yes, yes, I know that I live under a rock)…BEAUTIFUL DAY. Too bad they did not tell me where we were going as I was getting dressed that morning because otherwise I would have put on some capris, flip-flops and a T instead of my pea coat, jeans and ballet flats. I just wanted to walk on the beach and feel the sand in between my toes. Alas, this was not the day to do it.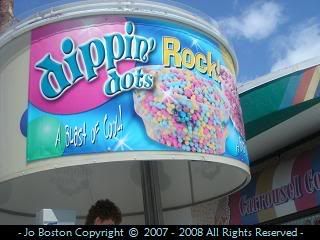 Dippin' Dots! Remember when they had these at McDonald's back in the day? I guess they discontinued selling them because they are damn expensive!!
But I sure did miss them, so we got a regular for $5.75. We got half cookies n' cream and half chocolate chip cookie dough. YUMMERS. Once you get over that initial split-second frost-bite on your tongue during your first bite, you're good.
And finally here we have the infamous deep-fried Twinkie with Chocolate Dip. Ay-yay-yay. Everything about it is so BAD. But it was SO GOOD. I really need to find a place in SF that sells these suckers. Crispy fried batter encasing the soft, warm vanilla cake, encasing that sweet goopy cream filling. Good Lord. Awesome.
I must say that this was one of the more fun days that I have had in the year so far. Hanging with My Sweety K's family was great as usual. =) I enjoyed myself very much and the food was not too bad either. =)