Restaurant
: COCO500
Address
: 500 Brannan St. @ 4th, SOMA, SF
Phone Number
: (415) 543-2222
Cuisine
: New American
Date Last Visited
: May 15, 2008
Dining Partners
: Ate Di, SAM, and BanYo
So there was this show that I spotted in the Examiner one morning called "The Cooking Show con Karimi y Castro." It's a show about food, community issues, history, social progression, which also throws in humor and smarts in the mix…but that's another blog in itself. This live show was to be performed at SOMArts on Brannan down by Showplace Square, so it was ideal to find a place to much at close by. Ate Di was rummaging through her many restaurant guides and she asked, "How about COCO500?" Of course! And right after work, we were on our way.
We got there just before 6:00 p.m. and it was still pretty empty. There were a few people at the bar, but aside from that, the seats in the dining room were bare. I was not surprised thought because this was the hottest Thursday in May and it was scorching outside. People were still enjoying their afternoons.
The interior reminds me of a chocolate bar. I loved the woods and warm browns. Very comfy and not stuffy. Hip, but still comfortable. I like the balance of the place feeling trendy, yet I didn't feel smothered by it. On to the food!!
L-R: Lemonade, the COCO500, Tanqueray Martini, Lemonade. The lemonade was exactly how it should be: tangy, sweet, and refreshing. It was so incredibly hot outside and this quenched my thirst. The alky drinks how ever probably made the drinker (Ate Di!) a bit warm in the face - they were really strong.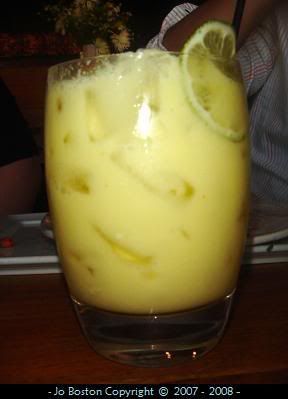 Aqua Fresca of the Day - Virgin Pina Colada - I don't do these much, but it was good.
COCOmole "tacos"
($6 - in
Small Starts
) - When I saw "tacos," I thought tortillas with a filling inside. When I saw these, I thought, "Okay, more on the nachos side, but let's try." Ladies and gentlemen, these are so delicious. That beef is mixed with a tasty mole sauce and topped with an avocado "crema." A must-try if you ever come here.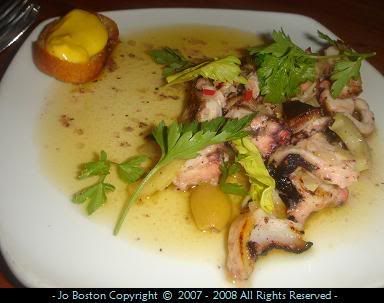 Grilled Octopus, Olives, Celery, Saffron Aioli
($12 -
Small Starts
) - Octopus? Wha?! Hey, don't hate. I love octopus. There is always a fear of overcooking octopus because once you do, you really cannot go back and what you end up getting is an inedible piece of tough fiber - almost like rubber. Thank goodness they know how to cook octopus here. The octopus was grilled perfectly and it was simply dressed with the olive oil. The aioli on the toast was so good. Sure wish the plate was bigger!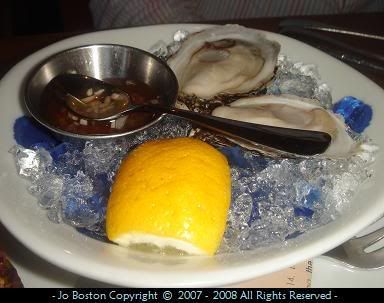 Oysters, mignonette
($2.5 -
Small Starts
) - BanYo's starter. I don't do oysters, so I let BanYo enjoy this. =)
Truffled Mushroom Flatbread
($12 -
Wood Oven
) This is a standout, for real. I could have eaten this whole thing. There was a perfect harmony of the truffles and cheese…incredible! I have read that squash blossoms have been done in the past, and I am quite interested what they'll put on the flatbread next. This is seriously some of the best stuff I have ever put my lips to. You MUST try this flatbread. You will thank me. Trust.
Duck Liver Terrine, Croutons
($7 -
Small Starts
) Oh God. Ate Di and BanYo love to gross me out. Ha, no they don't, but I don't do liver, and they do, so they got this. =/ From the looks on their faces, it appeared that they enjoyed it very much.
Organic Beets, Point Reyes Blue Cheese, Walnuts
($7 -
California Dirt
) Prior to this visit, I do not think I ever had a meal where beets was a part of the spread. Yeah, Filipino meals usually do not incorporate beets in them. I do not do blue cheese, so I skipped that, but I took a piece of beet and it was okay. I did not find it to be great, mainly because I haven't had it much, so the flavor, texture, etc. is still new to me. I'm not hating, just figuring out if I like it to the point I would like to have it again. At this stage of the game, maybe.
Delta Asparagus, Meyer Lemon, Olive Oil
($7 -
California Dirt
) I LOVE ASPARAGUS. As much as I know the "side affect" it has, I could eat them all day. These were simply cooked with lemon and oil. SO SIMPLE, yet so delicious. I do have to complain that it was a bit soft for me. I like mine with a little bit of crisp on the outside, but it seemed overcooked.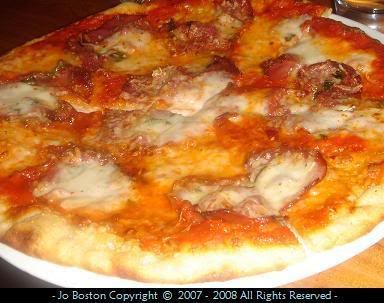 Coppa Pizza, Mozzarella, Salsa Rosa, Basil, Garlic Confit
($14 -
Wood Oven
) My sister's entrée. She's only 15, so I was not expecting her to get something out of her comfort zone. She ordered something safe, but I found it to be really tasty, fresh, and scrumptious. The crust was perfectly crispy and the sauce was perfect. =)
Pappardelle, Braised Pork Sugo, Marjoram, Spanish Olive Oil, Parmesan
($15 -
Pasta+Soup
) Ate Di's pappardelle was something familiar to me. I had pappardelle with a ground pork sauce at Incanto and Star had pappardelle with braised duck at Sociale. Both dishes were rich in their own way, so I was curious how this would turn out. Surprisingly, this dish was very light. The braised pork was very tender and the sauce was acidic and not heavy at all. I like the pasta itself because of its width - almost like free-flowing lasagna.
Whole Fish, Herb Salad, Capers, Anchovies, and Lemon
(AQ -
Wood Oven
) BanYo's entrée was the most expensive at $29 (!!!). It was perfectly cooked with the herb salad on the top, but even though it was incredibly fresh and the skin was delish, I think 29 bucks in a bit much. Honestly, if you get me a tilapia from the Oriental supermarket and have them fry it up for you (for free), I'd probably be happier. AND I probably only spent 2 bucks for it. A savings of $27! I mean, COCO's fish is good, but not great enough for me to spend $30 on it. Just okay.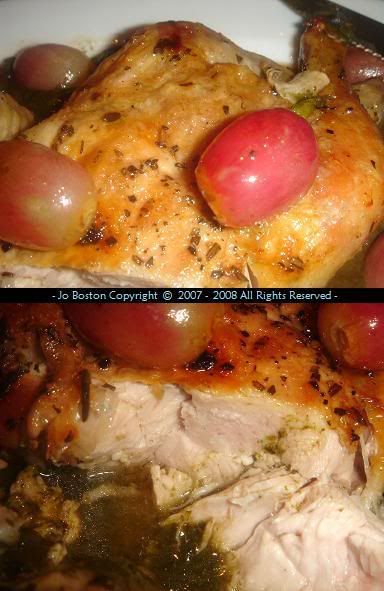 Roasted Organic Chicken, Creamed Mustard Greens, Red Flame Grapes, Ver Jus
($19 -
Wood Oven
) I got the chicken. Yeah, pretty safe, but it was awesome. I really liked how they added the big grapes into the mix. I'm not used to warm grapes, but it was surprisingly very good. I guess the one thing that I didn't like about the dish was the creamed mustard greens. Notice I didn't take a picture of the whole plate…I forgot to because I just dug in. I was REAL hungry, but you can't really see the creamed greens. It's okay though because I didn't like them much anyway. If you like mustard greens, then there you go. BanYo seemed to like them, but meh. The real star is the chicken. It was cooked PERFECTLY. I like how they took the spine out, so when you cut in that wonderfully browned, seasoned skin, all you get is juicy meat. The sweetness of the grapes went well with the savory chicken. Who woulda thunk? Great chicken.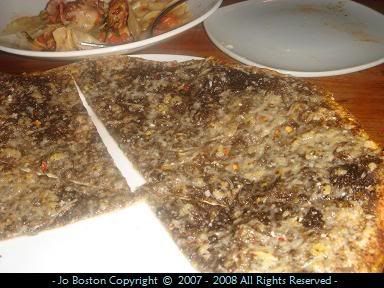 HA! Yeah, we got another one. HEFFAS! It's just THAT good. =)
Time for dessert!!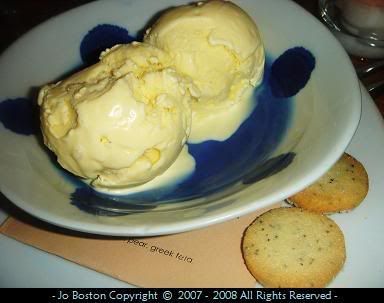 Ice Cream, Two Scoops, Cookies
($5 -
Desserts
) Sister's scoops of vanilla ice cream. I am not quite sure why of all the spectacular desserts here, she chose something so plain. She didn't have to get vanilla either. She could have gotten coffee or chocolate flavored ice cream, but no, two scoops of vanilla. Whatever floats her boat, I guess.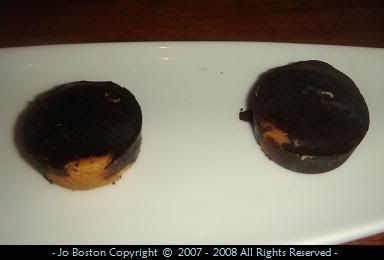 COCOcups, chocolate/peanut butter
(complements of the chef, $3 for you [=P] -
Noncommittal
) Our server brought these to us and said, "These are from Jennifer." Jennifer is COCO's chef, and I guess our server told her about how we heard about her and COCO from television. AwWwWwWwWwWw! Four of them came on the plate, but since I don't do peanut butter I gave mine to my sister. BUT not before I had a little nibble. It's a cross between a Reese's Peanut Butter Cup and a Butterfinger Bar. Pretty good!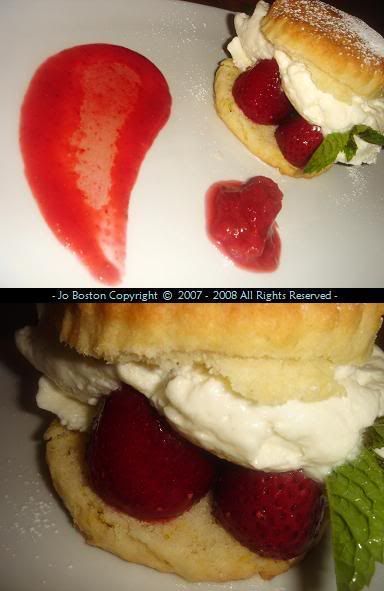 Strawberry Shortcake, Rhubarb Compote, Crème Chantilly
($8 -
Desserts
) I love me some strawberry shortcake. I remember I had a GREAT one at, of all places, The Cheesecake Factory on my 22nd birthday. I just love the fact that they use a biscuit instead of the usual pound cake or sheet cake. When I saw this on the menu, I was not quote sure if they used biscuit or not, I just knew I was definitely going to get it. Sadly, I was disappointed. Even though they used a biscuit, I was not satisfied. It was on the dry side and wasn't buttery enough for me. The strawberries were juicy and sweet and the Chantilly crème was perfect, but there was nothing special about the whole dessert. Yeah, there was a little spoonful of that rhubarb compote, but it was not that special. I ended up stealing some of my sister's ice cream and giving her half of my shortcake. =/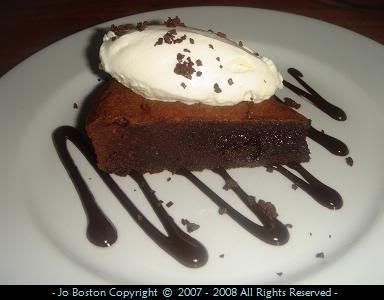 Ecstasy Cake, Whipped Cream, Chocolate Sauce
($7.50 -
Desserts
) Ecstasy it was!! I usually do not go for anything too chocolate-y because I am so afraid that it will be too bitter. I'm more of a creamy-white chocolate-strawberry-caramel-dessert girl, so I was already preparing myself that I would not like this cake. Was I surprised. It looks really dense, but it was not heavy, nor was it too chocolate-y, as I was afraid of. The addition of the whipped cream added some lightness as well. Yes, get ready for your eyes to roll back when you have a bite of this!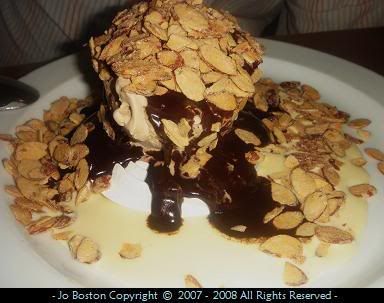 Vacherin, Swiss Meringue, Crème Anglaise, Chocolate Sauce, Coffee Gelato, Almonds
($8.50 -
Desserts
) Vacherin generally is a dessert that consists of a ring of meringue with some type of ice cream or creamy filling on top of it. I heard that this was a dessert that Loretta Keller transferred from the Bizou menu. If that is true, GOOD IDEA. It was so good. Just the combination of all the components went awesome together. The crispy ring of meringue, luscious chocolate, smooth custard sauce, frosted almonds and coffee gelato. It's like there is a lot of things going on, but they all compliment each other and even taste better together. Yes, do not leave COCO without having this for dessert.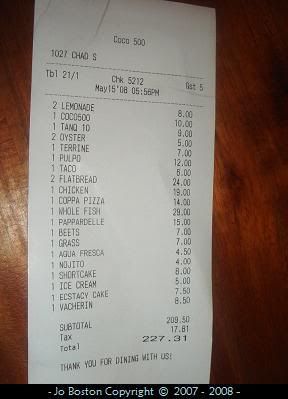 Then it was time to pay. GAH. Over 200 bucks for 4 people. Yeah, we like to spoil ourselves. =) Something that irked me about dinner was that it took forever for us to pay. We were given the check and we had the credit card ready, but no one came around to pick it up…hmmm…
Then we found out why. Chef Jennifer came out! When we got the peanut butter cups, we didn't know how to take it.
Was she NOT going to come out to meet us?"
OR
Was she just being super duper nice?
Well, she was SUPER DUPER nice. Jennifer of
Top Chef
Season 5 came out to greet us. OhHhHh, she is so cute. LOVE HER GREEN EYES. *drool* She came out and talked to us about Top Chef and she said, "Sorry I let you down." AwWwWwWw. She told us that she was leaving the restaurant, which was really sad because the food was awesome. So if you didn't get to catch her before her departure at the end of May, you have lost your chance. Jenn's great.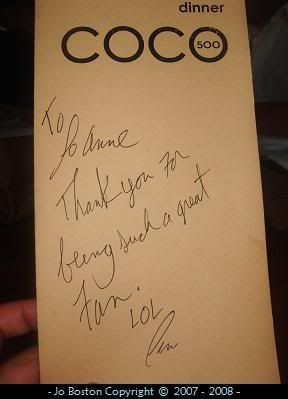 COCO500 really impressed us. The food was delicious and we had a really great time. Since Jenn has been replaced, I am not quite sure how the food is going to change, but I am excited to check it out. =) COCO, I WILL be back =)