Restaurant
: CandyBar
Address
: 1335 Fulton Street @ Divisadero, NoPA, SF
Phone Number
: (415) 673-7078
Cuisine
: Desserts, Savory Snacks
Date Last Visited
: May 1, 2008
Dining Partners
: Ate Di, BanYo, and Miko
BanYo and I were talking one night and of course we talk about restaurants. He asked me if I heard about CandyBar, San Francisco's first dessert lounge, and I did because I got info about it from Chowhound, Miss Hopper, and EaterSF. Yes, as you can see I like to keep myself informed. CandyBar opened in March, we were overdue, so we thought it was a good idea to check it out for ourselves.
We came to CandyBar after a fantastic meal over at Little Star Pizza which was just around the corner. Do not expect Willy Wonka to jump out from behind the corner and sing you musical medleys. This is seriously a dessert place for mature palettes, and you will see why.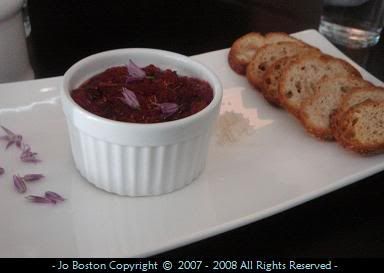 Duck Liver Mousse
blood orange marmalade / chive flowers / toast 9
BanYo and Ate Di wanted to try something from the Savory Snacks portion of the menu, and for some reason they got the duck liver. I DO NOT DO LIVER!! Ha! But it's okay. I was pretty full from the pizza, so I didn't mind at all. As long as I got to take the pictures, I was perfectly content. =)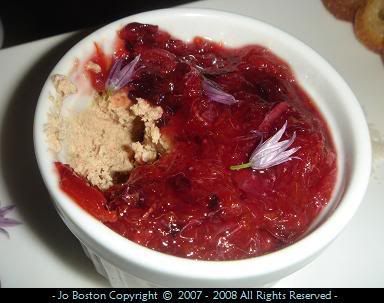 I didn't try any of it, but from the orgasmic looks on their faces, I could tell that it was delectable to them.
Sparkling Meyer Lemonaide with Mint Gelée
Now let's get to the dessert! I ADORED this shooter. I love anything with citrus, and honestly, it tasted a lot like Minute Maid bottled lemonade. I love that stuff, so I was not complaining. You can't really see it in this picture, but there are little cubes of the mint gelée sitting at the bottom of the glass. Unfortunately, I didn't taste any of the mint because of the seemingly overwhelming sweetness of the lemonaide. Other than that, I enjoyed it very much.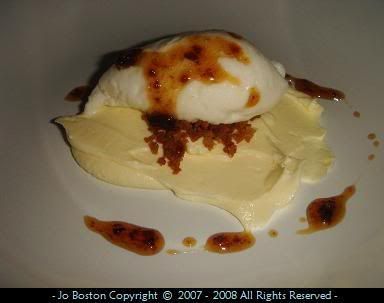 Chevre Cheesecake
coconut sorbet / nicoise olive caramel
If you know my taste, you are probably asking why in the world I ordered this. I kept asking myself in my head while looking over the menu, as I was mouthing the words to the server, and waiting for it to get to the table what in the world chevre was. I didn't ask because I asked so many questions about other desserts, that I thought I was being OA. When the plate reached me and I took my first couple of bites, it finally dawned on me what I was eating. GOAT CHEESE! Jo, you're an idiot. The first bites were great. I liked the smooth and creamy texture of the cheesecake. The combination of the coconut and caramel went really well with it. Then I got turned off. I usually don't do the goat cheese because of the awkward tanginess and that weird aftertaste it has (hey, it's my opinion). Then I realized there were minced olive in the caramel! I guess I was to preoccupied with figuring out what chevre was that I completely neglected to read everything else in the description. GAH. It was great before I realized what was in it. I guess mind over matter didn't help me here. Not something I would get again just for the fact that I don't do goat cheese and olives. Yuck. Why, Jo, why?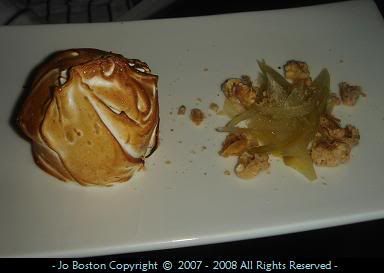 Carrot Cake Baked Alaska
candied fennel / walnuts
I never had a baked Alaska before, so I didn't really know what to expect. I took a bite and found it very good. I knew that a baked Alaska is a cold "something" (usually ice cream, but these days can be a gelato) on top of a slice of cake and then covered with meringue and then thrown in an extremely hot oven to brown the meringue. The crème fraîche ice cream nestled inside was scrumptious. (Thank you to BanYo for reminding me of the flavor, btw) I'm not a carrot cake type of a girl, but I was pleasantly surprised how much I liked it. Now, I have mixed feelings about the meringue. Miko asked what blanketed the ice cream, and Ate Di and I said meringue, but he said he thought it was marshmallow. Now that I think about it, meringue and marshmallow are essentially made with the same things: egg whites and sugar. BUT, this is my question to you all dessert aficionados: is the meringue supposed to be airy like that cloud on top of a lemon meringue pie or should it be sticky like marshmallow fluff? In this case, it was more like fluff, which I have no problem with because it was delicious anyway; however, I was just wondering if their fashion of making the meringue was "correct."
Tin Roof Sundae
brownie / vanilla ice cream / frosted peanuts / hot fudge 8
Ate Di was the only one who didn't opt for the dessert tasting menu, and ordered this lovely thing. The brownie was fudgey and just awesome. It went perfectly with the chocolate sauce, vanilla ice cream and nuts. Yes, it IS a straightforward, but some simple foods, like brownie sundaes, can easily be messed up. This was great though.
Chocolate Brioche
balsamic caramel ice cream / lime yogurt
This was Miko's first course, and I had mixed feelings about it. The brioche didn't seem like a brioche to me. A brioche is supposed to be a yeast bread, meaning a bit airy and risen, but this was more like a fudge cake. I mean, it was good, but different from what I had expected. It was moist and even a bit heavy. This was not my favorite dessert because that tangy lime yogurt mixed with the balsamic ice cream was just too much for me. Too many sour undertones going on.
Bittersweet Chocolate Sorbet
foie gras tapioca / croutons
I think this is one of the more "interesting" desserts. Okay, you have the bittersweet chocolate sorbet. Okay, not unusual at all, but then you have the crispy crouton bits on top, what seemed to be cookie crumbs under and then FOIE GRAS TAPIOCA. I popped one of those tapiocas in my mouth and it really tasted like foie gras. It was salty, so it was a bit odd. Like the dessert before this one, not my favorite because I do not do bittersweet chocolate in the first place, but the flavors, textures, and the combination of savory and sweet was weird to me.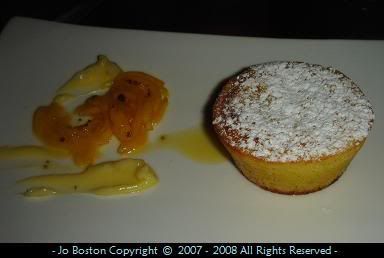 Warm Vanilla Cake
pickled mango / olive oil
This was a dessert I was contemplating about getting, but I let Miko have it. I was disappointed because the cake was way too eggy. All I tasted was egg yolk and about a couple of bites, I was turned off. I got the warm part. I didn't get the vanilla. I got egg. I did not want to eat breakfast for dessert. Being from the Philippines, I am not a stranger to pickled fruit, but the mango was not too appetizing. I mean, instead of taking a perfectly sweet and ripe mango and dousing it in acetic acid, why don't you use an unripened mango that is STILL sour? Honestly, I'm glad I didn't get it.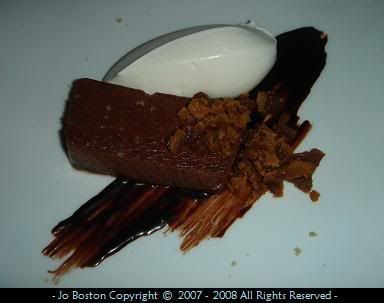 Milk Chocolate Parfait
matza toffee / smoked salt
Let me just say that I had the best dessert out of EVERYONE! When I read "parfait," I thought I would be getting a tall glass with layer upon layer of sweet goodness. In all honesty, I was disappointed that I was presented with this. THEN I took my first bite. The milk chocolate mousse paired with the toffee and whipped cream was indisputably perfect. I do not recollect the whipped cream to be sweetened at all, but it didn't matter because everything complimented each other in the most superb way. The whipped cream was light, the toffee was crispy, and the milk chocolate mousse was luscious. Goodness. I am so happy that I found this dessert. I sure wish they had this in a bigger portion!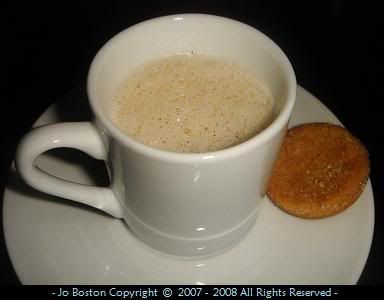 Warm Malted Milk / Peanut Butter Vadouvan Cookie
I'll talk about the peanut butter cookie first. I was the size of a silver dollar and was firm, but still chewy. The flavor reminded me more of a chai/mixture of Indian spices more than peanut butter. It had an aftertaste of a masala sauce. I know, weird. I did some research on what "vadouvan" was later on and it is actually curry. SEE! I wasn't going crazy!!!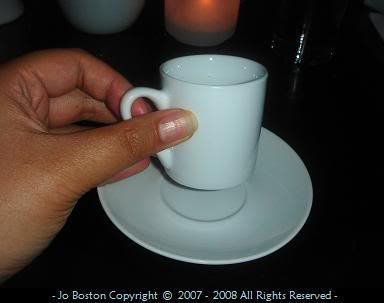 Now onto the milk…I was so elated when I saw this petite cup of orgasmic liquid. Our server said it was "milk, cream, and dulce de leche." Oh my, what is better than that? The drink was warm, thick, sweet, and so luscious. I was disappointed with one thing, however…the cup was too small!!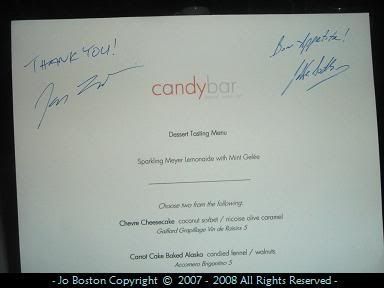 I am so happy I enjoyed this place with my friends. The server and the chefs were so good to us. They even signed a menu for each of us to take home. The space was hip but relaxed, and the desserts were awesome. I think it is best if you come here with other people so that you can taste everything. I was
so satisfied even though I didn't like a few things, but to me, it's all about the experience. C'mon San Francisco's FIRST dessert lounge? Why the hell didn't someone think of this earlier?
I am SO ready to go back!
Until then, you guys should try it. This place is awesome.