The Game
: McAfee Stadium
Post-game Restaurant
: Joe's Cable Car
Address
: 4320 Mission Street @ Silver, The Mission, SF
Phone Number
: (415) 252-7482
Cuisine
: Mediterranean and Greek
Date Last Visited
: April 16, 2008
Dining Partners
: Ate Di and Ate Di's Dad
*ring ring*
Jo: Joanne speaking.
Ate Di: Hey, it's me.
Jo: Hey, what's up?
Ate Di: What are you doing after work today?
Jo: *looks at clock* I don't know why?
Ate Di: Wanna go to an A's game with me?
And THAT, ladies and gentlemen, is how it all began.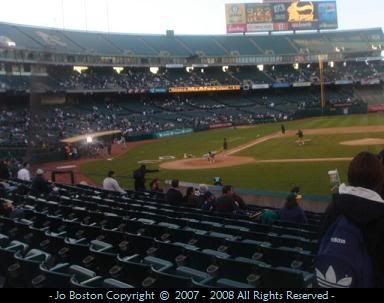 So Ate Di calls me a couple of hours before my shift is over and tells me that her dad had tickets to the game. Just 4 days earlier, I went to my first Giants Game, and now I was invited to my first A's game? Awesome blossom, I say. BUT the bad thing is that I didn't get to sport any A's gear. Ha. I was in my office wear.
This was the game that they were giving out free A's blankets, but by the time we got there, they had run out. Phooey. But the location of the seats made up for it. We were along the first base line, just behind the Seattle Mariners dugout. Yes, that meant seeing a lot of Ichiro.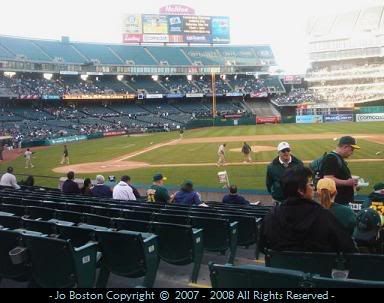 Living in the San Francisco Bay Area can be a bit frustrating especially if you like to be outside and prefer the weather to be on the calm side. We were extremely lucky that it was rainless and not cold. God was on our side.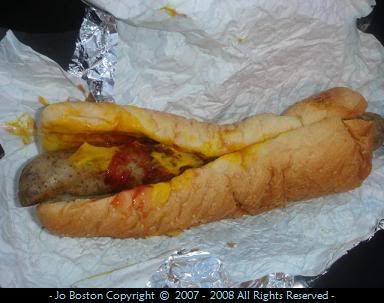 Ate Di's Dad is a DOLL. I love him. For real, he's my new uncle. He hooked it up with the grub.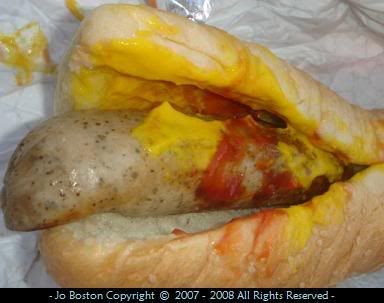 Bratwurst. Yum. These guys are long and meaty…like every sausage should be. =) What is more "baseball" than a sausage and a nice ice cold beverage?
For dessert we had the Dibs. Crunch. My fave. A bit on the soft side, but you really can't expect much more than that after the guys have been walking up and down the sections with these.
I found a new guilty pleasure…
The catcher Kurt Suzuki…he had a good game that night…I heard the two guys in back of me say, "We should sneak her into the locker room." LOL.
As we all know by now, the A's lost. What is with our teams, dagnamit? But it's okay. I'm still behind them…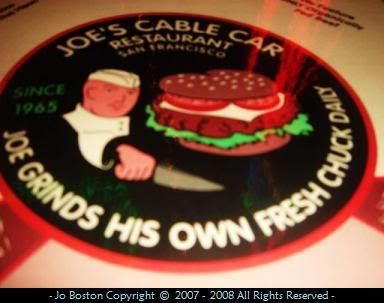 By the time the game was over, it was already 9:30, so we had to find a place that was open late, so Uncle recommended Joe's Cable Car.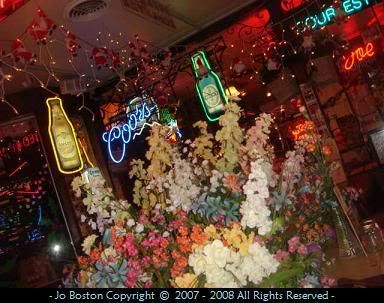 It's Joe's "Cable Car," but it's not really a cable car. I swear, the inside looks like your grandparents' basement of holiday stuff had thrown up.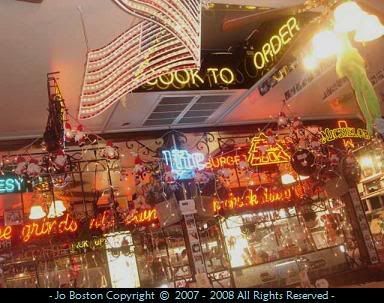 It was corny, but undeniably charming.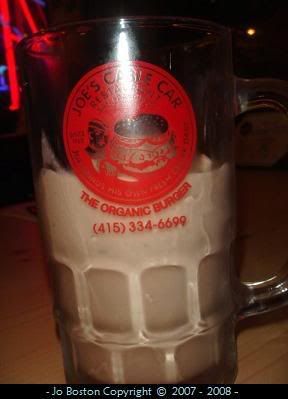 This was Uncle and Ate Di's chocolate shake. They offered me some but lactose and I do not get along especially after 8:00 p.m. I am sure it was delicious.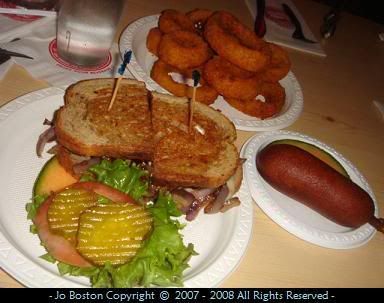 Our grub: my patty melt, Uncle's onion rings, and Ate Di's corn dog. The onions were just perfect. You cannot go wrong with them. I didn't try the corn dog, but eh, it's a corn dog.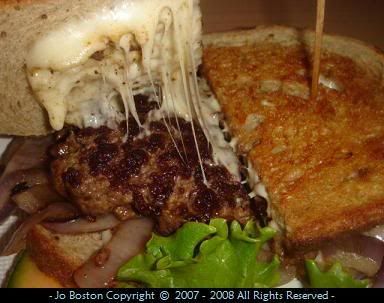 OhHhHhHhHhHh…how delectable is that?! The cheese was oozing out and the patty was juicy. Good Lord. SO GOOD. I loved the toasted bread and the fixing's. I only finished half of it, but the other half was good even the next day!!!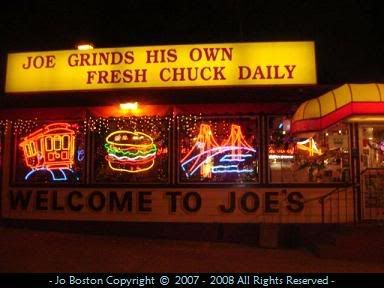 "Joe Grinds his Own Fresh Chuck Daily" Wow, my head is in the gutter. I do have to say the prices are a bit on the not-so-cheap-side, but hey, it's charming and delicious and you should try it especially if you are craving a burger at 10:00 p.m.
P.S. If you were at the game and you heard some broad screaming, "I love you Kurt!" Yeah, that was me.