Restaurant
: Top of the Mark
Address
: 1 Nob Hill at Mason, Nob Hill, SF, atop the Mark Hopkins Hotel
Phone Number
: (415) 616-6916
Cuisine
: Brunch, American
Date Last Visited
: March 16, 2008
Dining Partner
: My Sweety K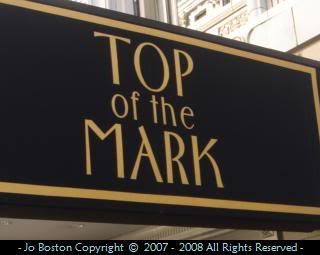 For the love of God, do not attempt to walk here. Please take the 1 California or the cable car or SOMETHING, just don't walk. Yes, My Sweety K and I walked up those steep hills on Mason, and we were SO tired…BUT it was so worth it…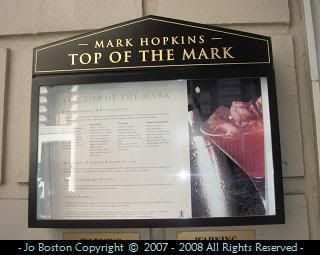 March 16 is my birthday and a girl like me wants to make it the best day of the year. What is better than having brunch with My Sweety? We actually did not confirm where we were going to celebrate until the week of my birthday, and I must say that it was the perfect choice. Every Sunday is a champagne brunch for $59 per adult. For that $59, you get to have a tour of their delicious buffet and a glass of champagne, but I do think that you get a lot more than what is printed on their signs.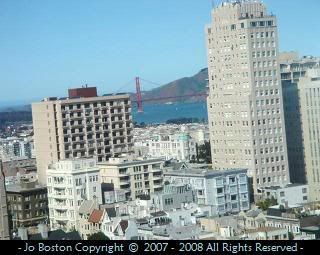 After a coworker had told me that her son took his girlfriend here, I knew it was going to be romantic; however, she added that he wished that he had requested a table by the window. As we walked in, we saw numerous tables bordering the huge windows that showed our beautiful city, and I was so happy to be here…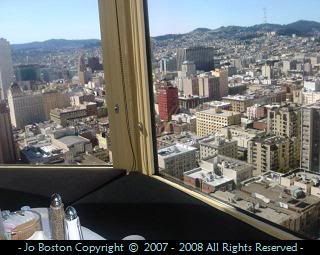 Our hostess brought us to the right side of the restaurant where the bar is and led us to a table, which was higher than the table next to us. We actually sat on stools that usual chairs which made us seem "higher" than everyone else. I looked around and realized that it was the BEST two seats in the entire house. We were right in the corner of the restaurant and we could see the freeways going down to the Peninsula, Twin Peaks, Grace Cathedral, CPMC, Lafayette Park, the Golden Gate Bridge, and Alcatraz…I'm sure other people were jealous of us. =P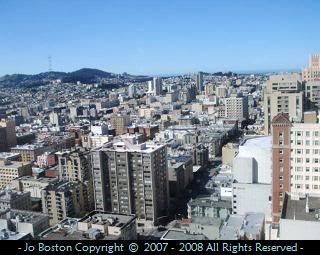 We were seated and we just sat there. No seriously, just sat there (not just because we walked up that damn hill), but because the views were breathtaking. So if you are going to make reservations on Opentable.com, make use of the "maitre d'" comments box and type in: "Best view possible…(and your occasion)" That's what we did and this is what we got…You know you have a good view when other diners come to your table to take pictures of the view. =)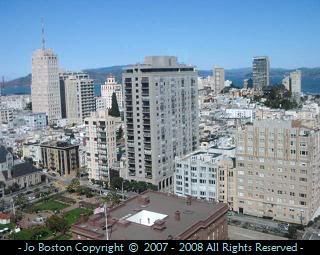 I regret not taking a picture of the actual table, but if you go there, try to get the table for two in the bar area in the right-hand corner of the restaurant…you will thank me later for it because no other table in the place had the views that we did…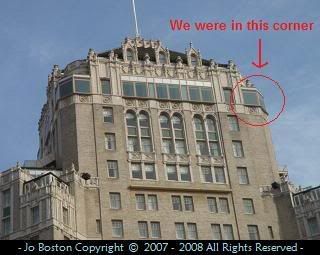 Hmmm…this IS a restaurant…so let's get to the food, shall we?
First I will show you a FRACTION of the buffet. I think My Sweety K was a bit embarrassed because I was taking so many pictures, so I held back on the flash (you can tell because the photos are a bit blurry) and didn't take pictures of every single thing that I saw, but I tried my best to take as many pictures as I could…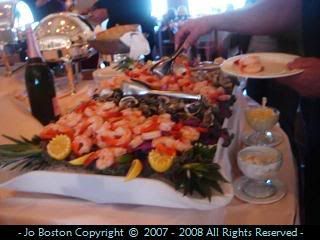 At the "head" of the buffet is a cold seafood bar. Cocktail shrimp and oysters GALORE.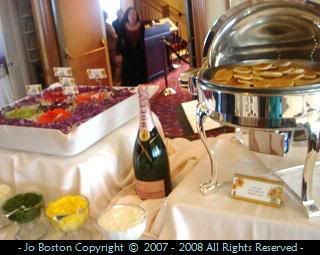 If you make a 180-degree turn, you will find the caviar station.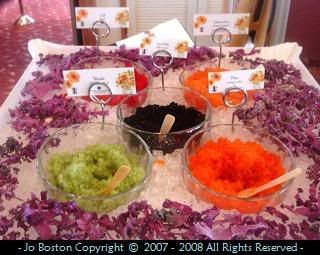 Different colored and flavored caviar/roe are offered (like black squid ink, red chili, green wasabi, etc.), as well as warm blinis for a platform and various garnishes like chives, cheese, and cream.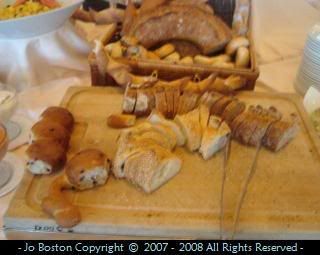 If you go counterclockwise (to the left) from the seafood bar, you will find the bread. What is brunch without bread? You have several choices of sliced loafs, rolls, and bagels. There were also different spread, like cream cheese, to the side.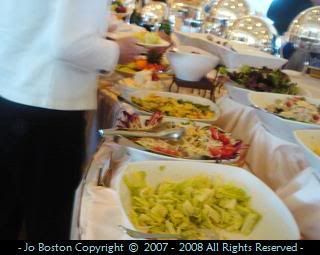 If you continue on this left-hand route, you will find a cold salad bar, which features a classic Caesar salad, celeriac salad, bowtie pasta with bay shrimp, and a creamy chicken salad.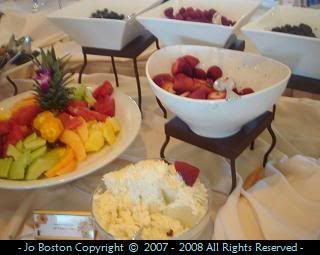 Then came one of our favorite parts of the buffet: the FRUIT! You have fresh berries, sliced melons, and my favorite strawberries and cream!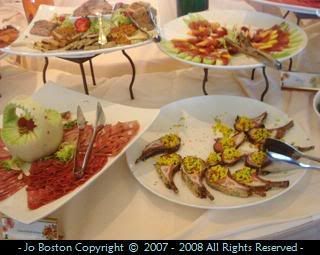 About now you are near the end of the left side of the buffet, but before you make the bend (you're at about 10 and 11 o' clock), you are at a cold meats/deli bar. Honeydew and sour mango wrapped in fresh prosciutto, pate, chops, a variety of sliced deli meats, pate, and cheese, as well as a smoked fish platter including smoked salmon, gravlax, peppered mackerel, and apple wood smoked salmon.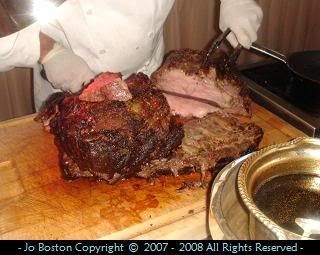 As you pass 12 o' clock, you will pass the slow roasted prime rib station on your left. There was a salmon Wellington also offered, but since My Sweety K and seafood do not mix, we skipped on it. We did try the roast beef and au jus.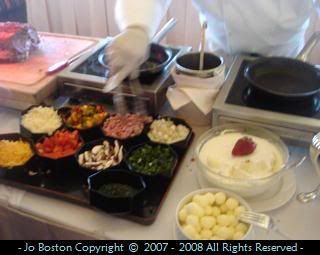 To the right of the roast station is the omelet and waffle station. You get a choice of garnishes of your omelet including tomatoes, ham, onion, scallions, herbs, cheese, etc. For your waffle, warm maple syrup, butter, and thick whipped cream are offered.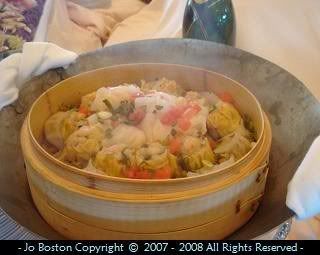 If you get back to the buffet line, you will find the hot foods, like dim sum…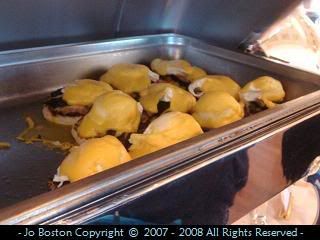 Eggs Benedict…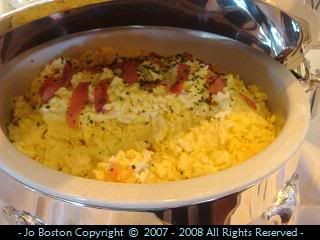 And scrambled eggs with chives and smoked salmon…Enough of the buffet spread. Let's go into what I actually ate…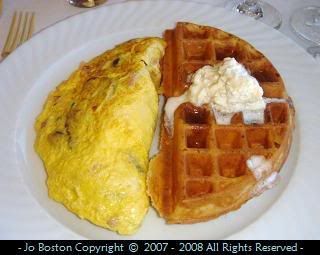 This was my omelet with tomatoes, ham, mushrooms and cheese. Alongside is my fresh and hot waffle with syrup and whipped cream. There is truly nothing like a fresh waffle. The outside was perfectly crisp and the inside was soft, pillowy, and melt in your mouth. OMG. Awesome.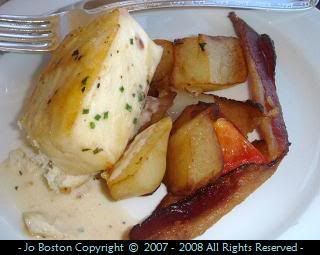 As for savory food, there was a creamy Fruit de Mer Ragout with Sea Bass, Day Boat Scallops, Prawns, Green Lip Mussels and Lobster, so I picked out the bass. There was also a dish of smoked bacon, link sausage, and Canadian bacon, so I got only the bacon and some home fries. The fish was really meaty and to me, cooked too long. It was probably sitting in the heating dish all morning.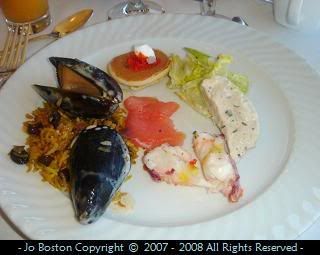 The next time I went back, I went back to the creamy seafood dish and got the mussles. Next to the creamy seafood was a "Bombay rice" and I thought it would be a god accompaniment with the seafood. I circled around and got some cold lobster, some chicken salad, Caesar salad, smoked salmon and some caviar. The Bombay rice was really good. It was curried and had raisins and nuts in it. I wish they omitted them. The rice with the curry would have been great. When my plate was picked up, there was about 10 raisins on it. No, I do not like raisins. The lobster was sweet and refreshing. The salads and smoked salmon were pretty straightforward. The mussels. Oh Jesus, have mercy on me. They were awful. They felt like mush in my mouth and were salty and YUCK. DO NOT EAT THEM!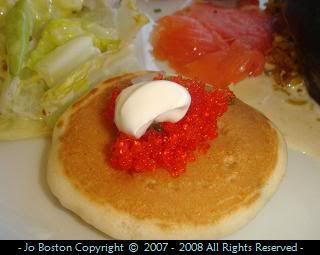 I thought this was very pretty. Basically it's plain roe on a silver dollar pancake with crème fraiche. The roe was sweet and they popped in my mouth. LOVE roe.
On my 3rd trip, I sampled some sesame bread with cream cheese, bowtie pasta, roasted eggplant and baby zucchini, prosciutto wrapped melon and mango, and the roasted beef.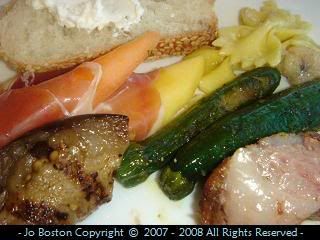 I think the roasted zucchini were my favorite things on the plate. They were tender and perfectly cooked. My least favorite would be the prosciutto. I know it's supposed to be salty, but I did not like it THAT salty. I ate the fruit without it.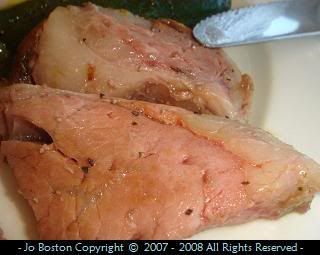 I love me my meat, so I saved the best for last. Cooked to my preferred temperature and doneness. Now it would have been perfect if I had plain steamed white rice. LOL. So Filipino.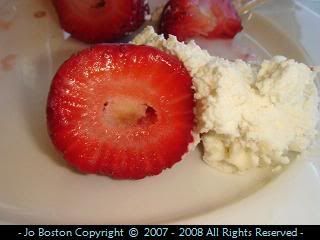 The strawberries were sweet and delicious with whipped cream. Perfection in my eyes.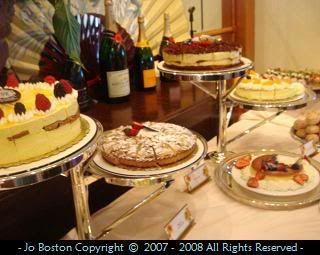 The dessert buffet is extraordinary.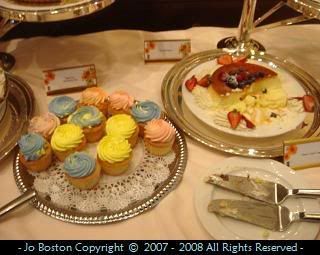 Pies, tarts, cakes GALORE.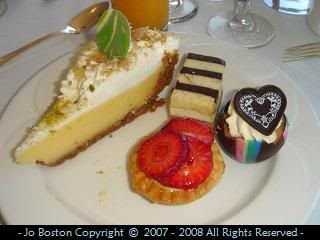 My plate included key lime pie, mini strawberry start, what seemed like a cake with a nutty filling and a pretty chocolate orb with coffee/hazelnut-ish mousse. You know I love my citrus, so the key lime pie was perfectly tart and creamy. I did not like the cake. Something in it was OFF.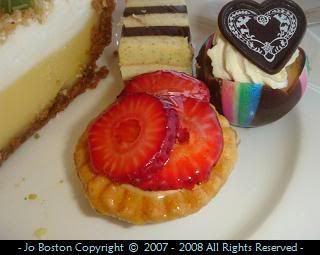 I LOVE STRAWBERRY TARTS. My fave on the plate. If you ever do me wrong, give me a strawberry tart and maybe I'll forgive you.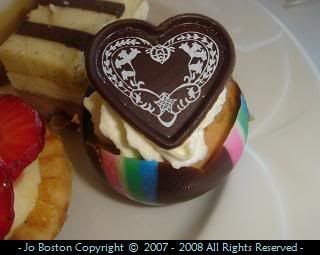 The chocolate orb was so pretty that I did not even want to eat it. I tried the filling, and I did not like it too much. My Sweety K did so I gave it to him and he killed it.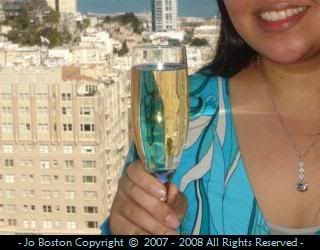 Seriously a birthday to remember for the rest of my life. Yeah, it was 59 bucks each, not cheap. I know a bunch of you are rolling your eyes because it seemed like we did not eat much, but we were really full. Yes, we could have stayed there until 2 o' clock, but I satisfied with what we had; however, you do have to keep in mind that you have to pay for the view. You ARE sitting on pricy real estate. The service was impeccable and attentive. They say that the brunch includes one glass of champagne, but in actuality, they keep refilling it, you can go all morning on champagne.
For a (bratty/fastidious/picky/demanding) girl like me, simply nothing else will do. I only deserve the BEST for my birthday, and having the glorious view, the finest table in the restaurant, the scrumptious food, the bubbly and my man celebrating with me…I got so much MORE.
Happy birthday to me!