Restaurant
: Roy's
Address
: 575 Mission St. @ 2nd, SOMA, SF
Phone Number
: (415) 777-0277
Cuisine
: Hawaiian Fusion
Date Last Visited
: March 14, 2008
Dining Partners
: Momma, SAM, Jenn, Rox, Star, and Ate Di
So the last time I went here was about a year ago with my coworkers when I still worked at the optometry office. That was the first job that got me OVER 12 bucks an hour, so I thought I was hot stuff when I could afford a 35-dollar meal. My coworkers, who were making my earnings and then some, suggested this place because one of the former employees (who I just so happened to go to high school with) came back to the Bay from spending some time in So Cal for school. That was the first time I had ever had a prix fixe and the first time I had spent that much money on myself for dinner (35 prix fixe - 50 including the tax and tip). Since then I was hooked on making money for dinners like this…besides, that Roy's famous molten lava cake was terrific. I had always wanted to go back.
Fast forward to my birthday weekend and I thought that this would be the best place to bring my family because:
1) the food genre and ingredients are safe
2) the prix fixe is affordable for the 7 of us
3) this would be the first visit for everyone except me
4) that molten lava cake was calling my name
5) I made a promise to Ate Di that I would treat her there because we LOVE Hawaii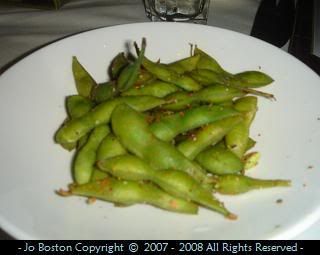 Spicy edamame - very good variation because I am not used to them being spicy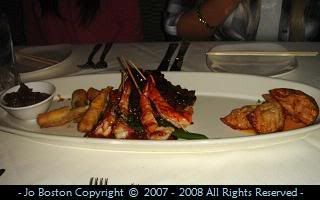 Roy's Canoe Appetizer - 1 of 2 platters on the table - comes with Ahi Tuna Poke, Kahlua Pork Lumpia, Szechuan Baby Back Ribs, Shrimp Sticks, and lobster potstickers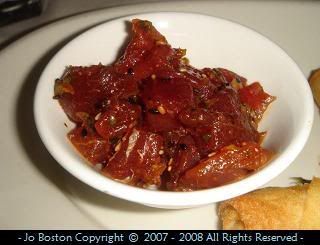 Ahi Tuna Poke: This is delectable. I knew that I was in trouble because with two Lent-I'm-Not-Eating-Meat girls at my end of the table, that they were going to jump on this. Rightfully so because the ahi was so good. I love raw tuna. I love tuna period, but this is a great poke.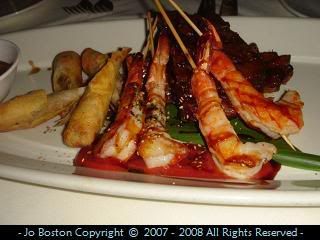 Here you can see the Kahlua Pork Lumpia on the right, the Szechuan Baby Back Ribs in the back and the Shrimp Sticks front and center. Because I had those two Lent-I'm-Not-Eating-Meat girls at my end of the table, they were going to eat the shrimp sticks only which left the lumpia and the ribs to myself. SCORE. The lumpia was nothing special because I eat lumpia all the time. I liked the shrimp sticks because they were nice and meaty and sweet. THE RIBS. Yes, I am a non-practicing Catholic and I did eat meat during Lent, but damn with ribs like these…shoot. They were tender and finger-lickin' good. The sauce was sweet with a little heat in the background. OhHhHhHhHhHhHh…I was about to suck on the bones to get every smidgen of sauce and tendril of meat off of them, but I was going to be a lady on this night.
These were the lobster potstickers and I prefer my potstickers deep fried as opposed to just being browned on the bottom. I am very familiar with these guys, so again, nothing so special I have to write about them, but they were tasty. Everything on this canoe was extremely appetizing. The canoes for the seven of us was nearly 100 BUCKS!!! GOD LORD! A little pricy, but it was good. I don't know if I would spend that much on an app again, though.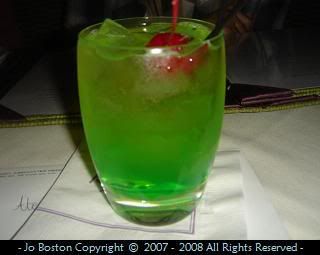 Jo without a Midori Sour on hand? Never. Thanks, Ate Di! Now back to the food…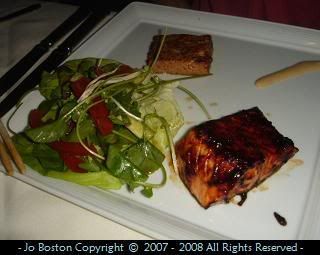 Miso Salmon and Tofu Salad with Aloha Ponzu Sauce. This was the appetizer for a few of the ladies. I didn't get to taste the salad or tofu, but the salmon was very meaty and cooked nicely. This in itself would be a nice, light entrée for most people.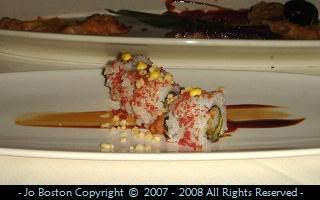 Yamaguchi Hawaiian Crunch Winter Roll - Shrimp Tempura, Avocado, Shiso, and Curry Aioli. I love me my sushi, so I was glad that this was an option for an app. It's basically a simple shrimp tempura wrapped in the nori and rice. Star, who was giving up meat, ate one and was alarmed because the magenta powder/specks/crunchy things were bacon bits. We asked the waitress and she said that they were actually freeze-dried beets that they crumbled on top. So interesting. I would never have known if we never asked. I really liked this roll, but nothing too extraordinary because you can get a shrimp tempura roll almost anywhere, but just the fact that it was sprinkled with freeze-dried beet is unusual.
Red Wine Braised Short Ribs with Celery Puree, Pearl Onions, Brussel Sprouts, Whole Grain Mustard Sauce. SAM and I ordered this. The first time that I came to Roy's I ordered the short ribs and I absolutely fell in love with them. I saw "short ribs" on the menu and automatically thought of the ones from L &L Hawaiian BBQ or Hawaiian Drive-Inn that are on the bone still, but these are boneless, meaty, and oh so tender. You seriously do not need a knife for these. Seriously.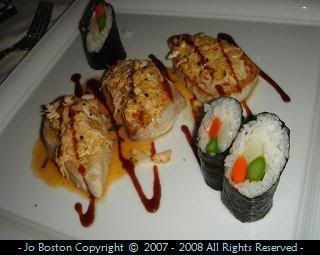 Fresh Hawaiian Ono and Crab Dynamite with a Spicy Chive Butter Sauce. Ate Di and Rox ordered this. Ono is a very meaty fish, so it almost ate like chicken to me. What I actually like most about this dish were the vegetable sushi. They were filled with asparagus and carrots. Yum.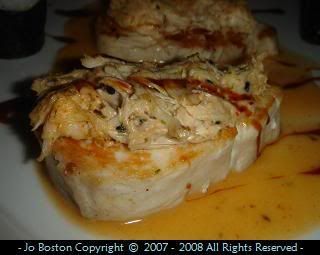 I think this "dynamite" dish wins the award for "Best Plating."
Panang Style Tiger Shrimp with Vegetable Coconut Curry and Jasmine Rice. Jenn ordered this and offered me a prawn. I tasted it and the curry flavor REALLY came through. I was almost scared that it would be too strong for Jenn, but she killed the plate.
Roy's Classic Roasted Macadamia Nut Crusted Mahi Mahi with Lobster Butter Sauce. Star ordered this because she asked the waitress what the house specialties were and she recommended this. When she took a bite, she said that it was bland and proceeded to squeeze lime juice on it. I tried it WITH the sauce and it was perfectly tasty to me. I guess she needed more of that butter sauce.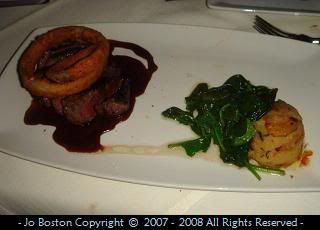 Flat Top Seared Sirloin Deglazed in Sake with Green Peppercorn Sauce. SO surprised that Momma got steak because she is usually the "fish and rice" type of a person. Actually, half of that statement was true…she asked the waiter for a bowl of plain white rice. HOW FILIPINO!! I took a bite and I liked my meat better. I know I know…mine were short ribs and WAY more tender than hers (completely different cooking methods and cuts of meat), but I wasn't too fond of the sauce that came with it. It was too salty and strong in flavor…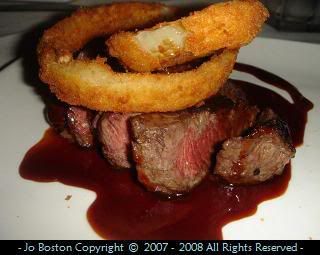 but the dish sure does photograph beautifully…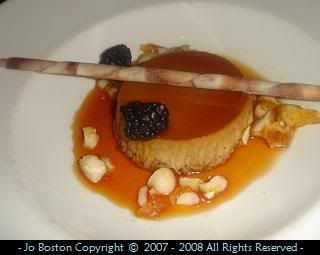 Hazelnut Praline Crème Caramel with Candied Pecans. Ate Di, who gave up cake for Lent (BOO!) was the only one at the table who got the OTHER dessert. I had a taste and it was okay. The crème caramel was indeed filled with hazelnut flavor, but more than I needed. Not something that I would order, but since she gave up cake, she really had no other choice. The candied nuts on it were really good, though.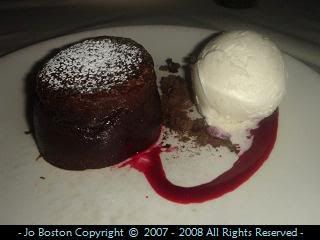 Roy's Melting Hot Chocolate Soufflé - Flourless Chocolate Cake with a Molten Hot Center served a la Mode. So this was the reason why I came here. I was somewhat disappointed because I remember it being SO good the first time. Then again, I have made lava cake at home and it tasted almost identical. It was still very good, but it didn't have the same affect as the first time. I guess my Roy's Molten Lava Cake cherry has been popped completely. We had eaten so much food during dinner that I didn't even finish it. The waitress said, "Shame on you!" Rightfully so, but you shouldn't miss out on this. The center was still hot and it went so well with the cold ice cream. We all know that combination is awesome. =)
Happy birthday to Momma, Cuzzin Jenn and Me! These were little cheesecake tartlets with candied nuts and whipped cream. I actually enjoyed these more so than the molten lava cake. Too bad that they only offer them for birthdays.
When I got home, I was really sad because I didn't get to take a picture of Roxy and Jenn. =( So I dedicate this to them…Momma told me to go to the restroom and to look at the picture of the girl on the restroom door. It SO looks like Roxanne when she was a little kid. =) So cute.
I would have to say that this dinner was a success…yeah, it was about $500 for the whole thing, but it was worth it. Everyone enjoyed themselves and that is what matters the most. =) Great way to kick off my birthday weekend!!!!