Restaurant
: Incanto
Address
: 1550 Church Street, Noe Valley, SF
Phone Number
: (415) 641-4500
Cuisine
: Italian
Date Last Visited
: March 20, 2008
Dining Partners
: BanYo and Miko
So I have this friend. And his name is BanYo. He's my soul-sistah. Yes, you read right. Soul-sistah. I met him in 2005 back in a Filipino-American Literature class in community college. Since then, we have been friends. And I love him. BanYo enrolled in culinary school last month and I am jealous. Sisters are supposed to be jealous of one another. So I'm jealous of him. Anyhow, he wanted to take me to dinner for my birthday and he suggested Incanto. INCANTO?! Hell yes! Incanto has been on my list to go to so it was perfecto! BanYo is intrigued with offal, so this was going to be a destination for him as well.
Tucked in Noe Valley, Incanto is a place that all those damn Chowhounders recommend when someone asks, "I'm coming to visit San Francisco, so where do I eat?" Far enough away from Downtown, but close enough that you can still feel the City's charm. Yes, it is Italian, but do not come here if you are expecting spaghetti with meatballs or fettuccini Alfredo. Expect dishes that let the ingredients
sing
…not doused by goopy sauces or masked by less than edible concoctions.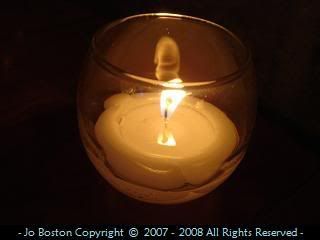 The ambiance of Incanto is rustic with rich woods and fancy draperies. The candles on each table adds a sense of romance once the sun goes down and the room grows dimmer and dimmer with each minute. The wait staff was so helpful with our questions about the menu because there were things listed that we were not at all familiar with.
Owner and Executive Chef Consentino is known for his appearances on the Food Network, in "Iron Chef America" and "The Next Iron Chef." Unfortunately, I didn't follow those shows so I was not familiar with his style until I got to the restaurant. BanYo told me that he wanted to go there because of the selection of random animal parts you can feast on. OFFAL. Random animal parts. I can't do anything but the muscle tissue of the animal, so offal? I wasn't quite sure, but since BanYo was excited, I made myself excited too…but not to HIS extent and you will see why as you read along.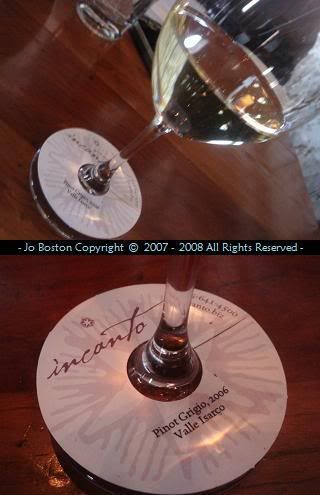 For the beverage, I took a half-glass of a 2006 Pinot Grigio, Valle Isarco from Alto Adige ($4.50). Incanto has a great list of "featured wines" and this particular one was under the "Delicate and Crisp" section. Great choice. I am beginning to think that I was a wine maker from Alto Adige in one of my past lives because for some odd reason, I go for a wine out of that region by accident. I do not realize until later that my wine was from there. =) When I went to
Sociale
, I got a wine from Alto Adige and I thoroughly enjoyed it. Alto Adige hasn't disappointed me yet.
We had some complementary focaccia, breadsticks, and baguette with an olive tapenade. I don't do olives, but the herbs on the focaccia made the slices perfect by themselves.
For my starter, I had a nice plate of Spring Lettuces with Herbs and Zinfandel Vinaigrette ($7.50). I wanted something light because I was going to indulge on the entrée. What I liked about the salad was that the greens were fresh and the dressing was tangy, but not too overpowering.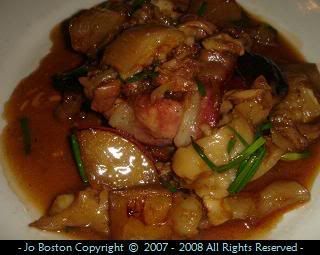 BanYo (who I knew was going to go all out) ordered the Pig's Trotter with Foie Gras, Bacon and Shinko Pear ($14). While ordering this dish, BanYo kept in mind that by 2012, whole foie gras would be banned. Say it ain't so! For some reason, they are going to pass a stupid law saying that serving a WHOLE foie gras in an establishment will be illegal. I do not know what are the parameters behind this mandate, but I think it's STUPID. Anyway, our server also joined in on the conversation and said that we can still get our foie gras groove on just as long as it is not in its whole form. We can have it sliced, diced, in a terrine, etc. etc. See, that's why I think it's stupid. ANYWAY, good Lord have mercy this was so rich. It screamed "Myocardial Infarction and Cardiovascular Accident," but did I have some? You bet your last pennies I did. Under the foie gras was a piece of toast that sucked in all of that glorious gravy, fat, flavor, and plain "sin juice." Seriously, Chef Consentino should be awfully ashamed of himself. He will surely be responsible for my raising cholesterol levels and increased heart disease risk…but the textures are so delicate. *cries in guilt* The trotters are almost gelatinous and the foie melts in your mouth. WOW. So rich and hearty. I thought I was going to fall over dead of happiness right then and there. Remarkable dish and one you can only get here.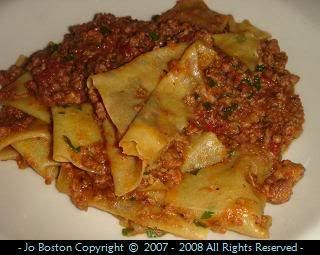 Behold my entrée: Handkerchief Pasta with Rustic Pork Ragu ($15). I thought of it as deconstructed lasagna with extra meat in the sauce but without all that ricotta cheese. It was everything I thought it would be: very tender sheets of pasta with a hearty sauce that hugged me from the inside. It was very simple and I could not have asked for anything more. I wanted to make sure that whatever I ordered that I would enjoy it and finish it all…and I did.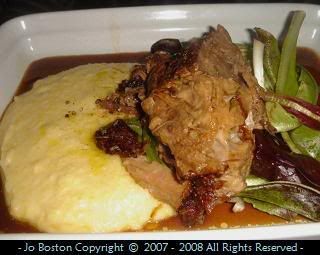 Balsamic-Braised Pork with Tardivo & Polenta ($19). This was Miko's entrée and before ordering I asked the server what tardivo was and he replied by saying that it was a bitter green and he was right. My tongue does not tolerate bitterness, so I did not enjoy the greens at all. The meat in that jus was GREAT. It felt apart with a fork and that POLENTA. I used to hate polenta because whenever I had it, it would be plain, tasteless, and goopy. I only learned later that on those occasions, it was made wrong. Now let me tell you about this polenta: it must have been the best polenta I have EVER HAD IN MY ENTIRE LIFE. Ever. Creamy and yummy. I would go back for this – minus the tardivo.
Grilled Lamb Liver with Onion Puree, Pea Tendrils & Horseradish ($21). Short and sweet: I don't do liver. AT ALL. Didn't try it. BanYo tried convincing me. I didn't because I would have probably spat it back out and insulted the chef. Not my intention, so I just let him have it to himself. Didn't care to ask him how it was…however, he did mention that it was on the grainy side. Compared to the foie gras, yes, it would be a lot more grainy, as would any other four-legged animal's liver. Ick. Sorry. No. Moving on.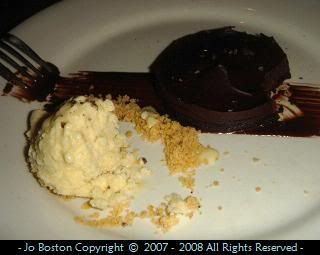 Chocolate Tarlet with Honey-Buttermilk Ice Cream ($7.50). Initially, this tart came with another type of ice cream…I'm forgetting how, but the honey-buttermilk was in another dessert and BanYo asked if we could do a little switcharoo, and they did! So great. The tart was filled with chocolate, a little too much for me, but it was great with the ice cream. =)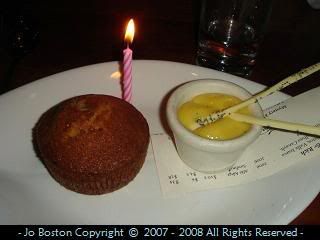 My Meyer Lemon-Poppy Seed Tortina with Lemon Curd ($6). Yes, if you have been reading my blog for a while, you should already know that I LOVE citrus. The tortina, which looked like a regular cupcake to me, was on the dry side. The lemon curd was where it was at though. Nice and tangy and creamy. Fabulous. Love how they included white chocolate into the mix. I wasn't expecting the candle at all and the servers were so attentive…=)
Happy birthday to me!! =)
After this wonderful dinner, we were getting up to leave. My bag got stuck on the chair next to me and when I got up, I knocked the chair over. Embarrassing. BanYo and Miko were already half-way to the door, but one of the servers was right behind me helping me pick up my chair. =) GREAT SERVICE. They answered all our questions without making us feel stupid. Awesome place. You will find me there again.