Restaurant
: Kate's Kitchen
Address
: 471 Haight St. @ Fillmore St., Lower Haight
Cuisine
: Breakfast
Date Last Visited
: February 24, 2008
Dining Partners
: My Sweety K and My Sweety K's Dad
I know, I know. I usually hate breakfast. Especially AMERICAN breakfasts. Yuck. The only type I would eat without reservation is probably Filipino breakfasts (silogs). I don't know why but pancakes, waffles, omelets, blah blah blah, just don't EXCITE me. Possibly because breakfast is so ridiculously easy to make. So whenever someone asks me, "Where do you want to go for breakfast?" I usually have a dumb, blank look on my face because, I'll be honest, I usually eat leftovers from dinner for my premiere meal of the day. And if I did have breakfast food in public, it's usually at Denny's after the club.
So on this day, My Sweety K and his father came to pick me up to have a nice sit-down meal. It was really windy and rainy and it was hard to think of a place to go. My Sweety K and his father were thinking Denny's, and I was screaming "NO!!!!" in my head. COME ON! Eating out to me is a religion. I live, breathe, and consume it. DENNY'S?! Psh! Then My Sweety K's father suggested Kate's. Thank God for you the wind beneath my wings! Denny's is for after the club when I'm buzzed, dehydrated from all the booze, and about to knock out. Now Kate's is for a respectable breakfast.
This was my first time coming to Kate's Kitchen and I was excited as I usually am when I go somewhere new. It was raining out so I was hoping that the usuals who go there were scared off by the downpours. It was about 10 a.m. when we got there and there were a group of people outside waiting under the canopy to stay dry from the rain, but from what I saw they were seated as we were parking. The parking gods were watching over us because we got a parking spot in front of Kate's next door neighbor.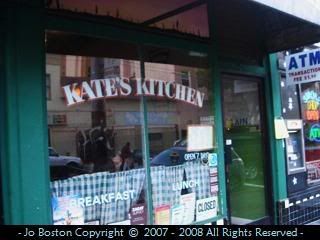 (Funny how the "CLOSED" sign was still up when there are numerous people eating inside.)
Walking in, I saw the tables covered with the red-and-white-checkered-picnic-style table cloths, the wooden chairs and huge map of the United States with cute cartoon images of each state gracing the left wall by the kitchen. We were seated at the four-person table right in front of the special's board: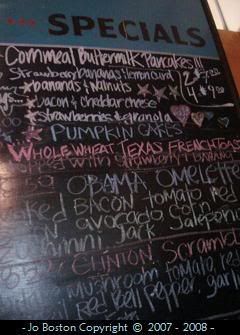 What I saw right away were the Obama Omelette and the Clinton Scramble, $8.50 each. Wow, no one can escape the election hype nowadays. What got me thinking was, "What is so OBAMA about the Obama omelette and what is so CLINTON about the Clinton scramble?" I didn't know then, and I still don't right now. Anyhow, I ordered the Obama simply because the ingredients enticed me more. The Clinton was a vegetarian egg dish, but I wanted the meat. By the way, all the breakfast plates come with home fries and toast or a green onion and cheddar biscuit. I opted for the biscuit because you can get toast anywhere.
I'm watching the Academy Awards while I am typing this, so please excuse change of style you will see right now:
BREAKFAST. Breakfast is the most important meal of the day. It gives us the energy we need to embark on our journey we call life. It awakens our foggy minds, our crusty eyes, and tired bodies. Whether it be a cup of aromatic java, a mundane toaster pastry or a regal plate of eggs Benedict, it fuels us to be who we are. These are the nominees for Best Breakfast.
My Sweety K - The Big Boys Breakfast: Bacon, sausages, two eggs in any style, home fries, accompanied with cornmeal buttermilk pancakes.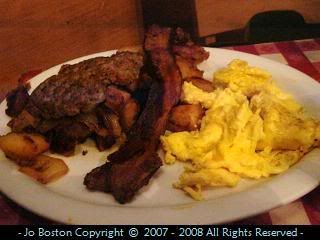 My Sweety K loves his meat, this is probably the most perfect breakfast for him. He asked me if wanted some of his sausage, and I was hesitant because I usually do not like breakfast sausage. He gave me a bite and I was stopped in my tracks. This has got to be some of the best breakfast sausage I have consumed. I don't know how to explain why. The flavors were a bit different. GAH, just go and try it.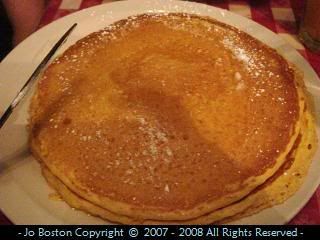 The pancakes were a pleasant surprise. I usually have plain pancakes - not cornmeal ones. They were not as heavy as regular ones, and the cornmeal added an interesting texture. I also found the flavor to be a bit different - had a slight tang to it. Well done.
My Sweety K's Dad - Whole Wheat Texas French Toast topped with fresh strawberries and bananas.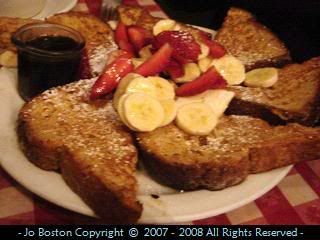 I did not have a chance to have a bite of his breakfast while we were there. How embarrassing would it be to eat off my man's dad's plate? He did let me have a slice to take home. When I did get home, I heated it up (I know it was not as good as before) and surprisingly, I still found it pretty tasty. Unfortunately I did not have some fruit, so I did not know how sweet they tasted. The toast itself was thick, had a nice little crunch from the batter and griddling, and I liked the little whole wheat kernels in the bread. This is My Sweety K's Dad's "usual," so you know it MUST be good.
Jo (me) - The Obama omelette: smoked bacon tomato, red onion, avocado, corn, zucchini, Jack cheese, and jalapeno, supported with home fries and a green onion and cheddar biscuit.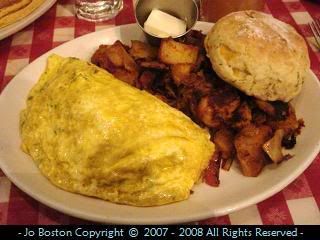 Before I go into the details about the omelette, I'm going to talk about the home fries and biscuit. The home fries were HUGE chunks of potatoes and they had some sort of Southwestern seasoning, onions, and bell peppers cooked into them. If you like that Southwest flavor, you will like these spuds. The biscuit - oh the biscuit - was a big biscuit. I picked it up and it was HEAVY. Are biscuits supposed to be heavy? I split it in half in order to smear some butter on it and I saw the little pockets of cheese and green onions throughout the dough. In my opinion, it was okay. My Sweety K took a bite and he too thought that it was okay. Someone is probably going to shoot me when I say this, but I like KFC biscuits more than this one. I did not get a major green onion or cheese flavor from it. The addition of the butter did not really add much to it either. I guess I was most disappointed by how heavy it was. Maybe they overworked the dough on the kneading table. Eh, oh well.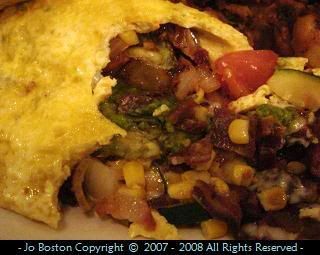 So what is so "OBAMA" about this egg dish? No clue. My choice of omelette does not necessarily signify who I would vote for by the way. =) The omelette was huge and had a whole bunch of goodies in it. BACON is always welcome in my diet. If my primary care physician saw this, she would scold me like the way my grandma would. I really like the avocado (good fat), Jack cheese (bad fat), and corn (no fat) additions. Corn in an omelette? Original. They supplied some freshness, crunch, and sweetness. Something that I did not notice was the jalapeno. A shame. One thing I would have to complain about is the texture of the egg. It was overcooked, heavy and almost rubbery. =( GAH, it's okay. Well, not really, but I'll let it slide THIS time.
And the winner is…all of the above. I guess each dish was good, but there were a couple glitches here and there. BUT I would love to come back and try out more things. A plate of pancakes came out that was topped with a mountain of strawberries and granola - oh man, it was incredible. I love the neighborhood feel of this place. It is in the Lower Haight, so a bunch of hipsters dined here with friends, solo people with a book in hand, and US. If you saw the three of us at the table, you would wonder to yourself how we were related to each other because we all look so different. This was a great suggestion made by My Sweety K's Dad, and I look forward to the next visit.