Restaurant
: Citizen Cake
Address
: 399 Grove St. at Gough St., Hayes Valley, SF
Cuisine
: American, Desserts
Date Last Visited
: February 28, 2008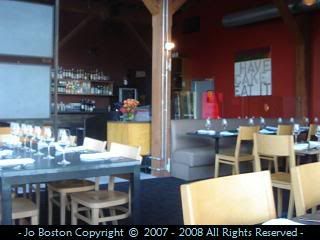 So I have ALWAYS wanted to go to Citizen Cake for as long as I can remember. The closest I have gotten to experience Chef Elizabeth Falkner's offerings is at Citizen Cupcake on the top floor of the Virgin Megastore in Downtown SF. Hayes Valley is a part of SF which I do not frequent, so the restaurants here are intriguing. After a long day at work, I decided to (finally) check it out.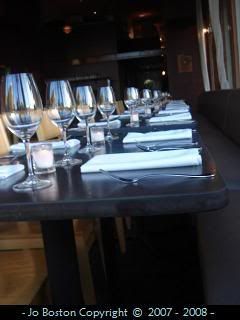 I entered through the patisserie thinking I was just going to enjoy a dessert, but I was hungry for real food, so I walked in the restaurant. I got there at around 5:00 in the evening and no one else was there. I shouldn't have been surprised because everyone else was in their transition between work and getting home.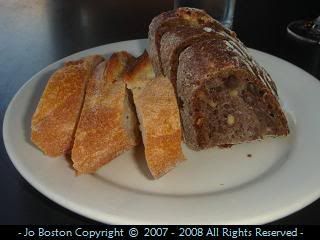 Of course, I was seated in seconds at the corner table. I had windows to the right of me and in back of me. I was thinking they did that so that whoever passed by would see what I was eating. The breads offered were a classic baguette and a walnut bread. I love baguette so I welcomed this, but the walnut bread was weird. There were the nuts, the purplish tinge (why is that anyway?), and this SOUR flavor which I was not too into.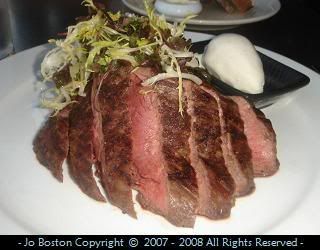 I skipped on an appetizer and went straight for the entrée which was Grass Fed Straberry Hill Flank Steak with Horseradish Ice Cream and Potato Gratin ($26).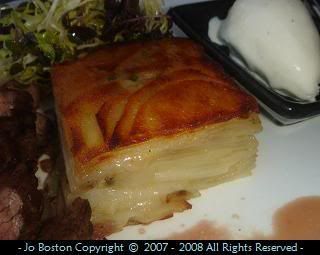 The meat came with potato gratin. There were so many layers of potatoes, but I do have to say that they were on the rawer side. I would have liked mine to be more cooked. I also would have liked it a bit richer. From what I know, gratin dishes are cooked in some sort of dairy, and I found this to be a bit bland.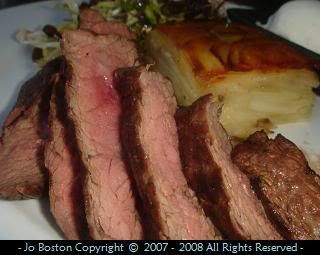 I asked for my meat medium. Mistake. Again, I would have liked this cooked a bit more. Maybe medium well? I am just so afraid that it would be overcooked, but undercooked is also a problem. Again, I found this to be bland. There was no real pan sauce or jus that came with it. I did have a bite of the dressed greens with it, and it was okay.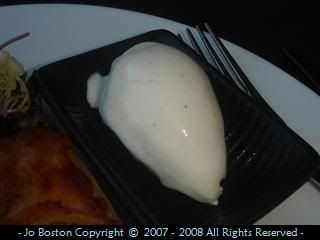 Okay…horseradish ice cream. You heard me right. HORSERADISH ICE CREAM. It was on the plate and I gave it a shot, and for some odd reason, it worked. =P The warmth of the meat and the coolness of the ice cream actually went well together and I was pleasantly surprised. I did not slather this all over the meat. Treat it just like a regular horseradish condiment, use it according to your taste.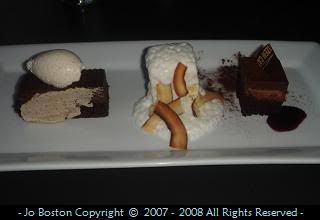 For dessert, I went for the cake flight which is 12 bucks. Each piece of cake is about 1.5-2 inches in width.
To the right is Citizen Cake's signature cake - the After Midnight Chocolate Cake - Chocolate devil's food, Scharffen Berger dark and El Rey milk chocolate glazed with chocolate ganache, finished with a huckleberry sauce.
After midnight is right because this cake is screaming dark chocolate. It's probably the most dense of all the cakes. The ganache that graced the top was fudgey and the devils food was really rich. Everyone knows I'm a milk/white chocolate girl, so this was a bit much for me. If you like the dark chocolate there is no doubt in my mind that you will like this. Don't get me wrong, great cake, but too dark for my taste.
In the middle is Retro Tropical Shag - genoise cake layers with rum and exotic passion fruit mousse covered with vanilla butter cream and coconut foam and carpeted with unsweetened coconut shavings.
I liked this one because there was no chocolate in sight. When my server brought the platter to the table, I looked straight at the middle cake because the coconut foam they squirted on there for presentation looked alive. It was running down the sides and bubbling. Entertainment. I give this one first place for appearance. This was alright for me. I found the genoise to be a bit dry unfortunately. I usually do not like coconut, but this was very good.
The one on the far left is the Mocha Mi Su - layers of cocoa genoise, mocha mousse and crème fraishe mousse, finished with chocolate ganache and coffee butter cream and a canelle of cinnamon crème fraiche on top.
I would have to say that the Mocha Mi Su was my favorite. Looking at the name, they might have gone off a tiraMISU tangent by combining chocolate and coffee. I adore this cake. The chocolate was not too dark for me. The genoise was moist and the mousse was luscious. The only thing I would have to complain about is the cinnamon canelle on top. It was tart and cinnamony. Uh, I did not make the connection on how it went with the cake. The cake was fine without it.
Citizen Cake gets 3.5 out of 5 Boston Beans. The service was attentive and friendly. I found the ambiance to be a bit cold, but probably because not many people were there yet. The food was okay. I can find better steak somewhere else, so that means that the cake gets majority of the "good" points. This is supposed to be a cake place and people should come here for the cake and not the food. I looked at my bill and realized that I managed to order the most expensive things on the menu. Leave it up to Jo to do that.
Overall, it was cool.
Not outstanding, OMG, incredible, holy cow…but cool.
Honestly, if Elizabeth Falkner was not behind this place and it was just some random restaurant in San Francisco, I don't think it would get as much attention as it does right now. Falkner's celebrity-status carries this restaurant, and without her, it would not be much.