Restaurant
: Sociale
Address
: 3665 Sacramento St., Presidio Heights, SF
Cuisine
: Italian
Date Last Visited
: February 4, 2008
Dining Partner
: Star
The first time we heard of this restaurant was on "Check Please, Bay Area!" Yes, Star and I owe a lot to that show. Ever since then, Star always yearned to come eat here. Since it was just a ten minute drive from my workplace, it was a perfect venue to have one of our dinners.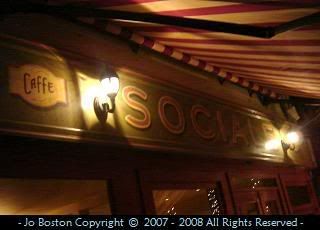 I liked how it is tucked away from the busy street. You have to find the entrance to a sketchy-looking alleyway and then walk down past the flower shop and tenant mailboxes until you see the twinkling lights. It was so cute. I can totally see couples coming here for a romantic, candlelit dinner underneath the stars. Since people were inside and no one outside, we decided to join them.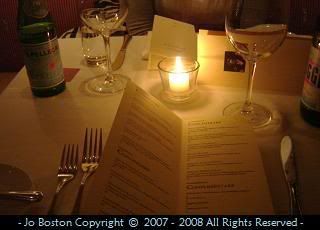 Once inside, I saw how it was romantic it was indoors as well. Each table had white napkins, shiny silverware, wine glasses and a single candle. The space was not particularly big, which I think was appealing because it felt very "homey" (how Star put it). It was very comfortable and relaxing.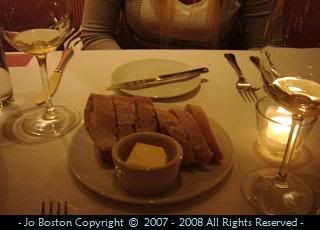 Star and I love our bread. No, seriously. We love bread. The bread here is awesome. Still slightly warm. Nice and crusty but soft and chewy interior. We slathered on the butter like no tomorrow. Now THAT explains why my cholesterol levels are through the roof. We had thirds on the bread. It was good. =)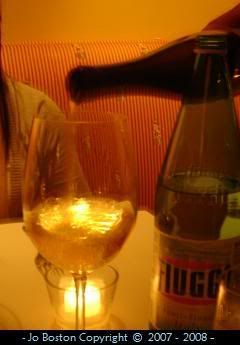 Abbazia Di Novacella 2006 - A wine out of Alto Adige, Italy made with the Müller Thurgau grape ($4.5 for half-glass/$9 glass). This is the first glass (or half, I should say) of wine that Star and I have had during one of our dinners. We both are wine novices, so we relied on our server to give us the best wine to accompany our food. It was also very nice of our server to write the name of the wine for us. She gave us a little sample of it before we decided whether to have a glass or not. I think this was one of the easiest wines I have ever drank. "Easy" meaning it was very attractive, not harsh wine with an almost syrupy feel. I enjoyed it.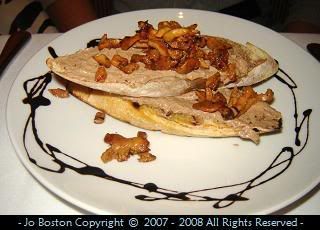 Chicken Liver Crostini with Seared Chanterelle Mushrooms and Balsamic Reduction ($10). Star decided on this starter only because bone marrow was no longer on the menu. It MUST be a seasonal thing, so she went for this. Now if you have read my blog for a while now, you should know that I do not do liver; however, Star loves soft foods, so pate, liverwurst, foie gras, are always welcome in her diet. For some reason, she always has a way to convince me to try her food, even if I detest it. I took a bite of one of her crostini, and it was okaaaaay. I DID have to wash it down with a big gulp of water, but that's only because I do not do liver. I do have to add that the texture contrast between the spread and the mushrooms was interesting. Star looked like she was in Heaven while she was eating it, stating that her S.O. Herbmeister would be jealous if he ever found out she had such a dish. So if you like the whole liver thing, this might be just the appetizer for you!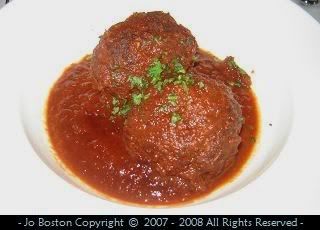 Duck Meatballs with Dried Cherry Sugo ($11). This was my appetizer. From the flavors, it almost seemed like a dessert also. Well, let me tell you first that these were HUGE meatballs. They were the size of tennis balls. No seriously, they were huge. I thought I was going to get ping-pong sized balls, but these were big balls. =) They were moist and very meaty. What I could complain about them is that they almost didn't seem like duck. If someone did not imply that these were duck at all, I would have thought they were made with veal or pork. They were still very tasty. What looks like a tomato/marinara sauce is really a cherry sauce. This is the third preparation I have had that duck and cherries were paired up. The tart of the cherries went well with the richness of the meatballs. I enjoyed this very much, and I would have to say that the portion size is exceptional.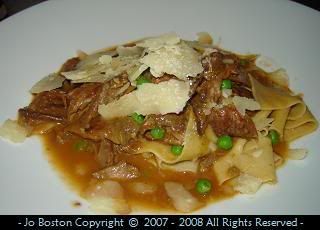 Pappardelle with Braised Duck - Rustic-Style Braised Duck, Porcini Mushrooms and Peas ($18). Now this would have been my entrée if Star hadn't chosen it. See, I'm a good cousin. I always give my cousin the first choice. =) We were talking during dinner and she said that she was almost too scared to order this because she thought that the sauced would be too strong. Duck is a very rich bird compared to your mundane chicken, but it was the complete opposite. The sauce was milder than we had anticipated. We are used to having tomato-based or white sauce on our pasta, so having a duck preparation with the pasta was a nice step out of our box that lives under a rock. Don't get me wrong, there were rich tones to it, but it was not overbearing at all. The braising made the duck meat very tender. The freshly-shaved cheese added a salty bite and the peas added little doses of sweetness. I think I should order this when I come back.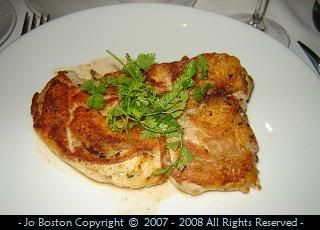 "Brick" Chicken with Eggplant Involtini, Pine Nuts, and Parmigiano-Reggiano ($20). The brick refers to the method the chicken was cooked. A heavy weight was put on top of the chicken to ensure fast cooking while keeping it juicy. This chicken was so scrumptious. The skin was crisp and so tasty. I regret not taking a picture of the eggplant and tomatoes underneath. So let me describe it. I liked how the chicken was not covered with the diced-tomato sauce to ensure that the skin remained crispy. It was not a marinara-like sauce, just a simple tomato sauté with the eggplant involtini in it. The "involtini" are thin, length-wise, sheets of eggplant rolled around a "stuffing" of the parmigiano-reggiano and pine nuts. When I read about the pine nuts, I was afraid they would be roasted too much and perhaps topped on the chicken. But they were actually inside the involtini and were very tender. As huge as the portion was, there was the right amount of everything. Not too much sauce, just enough involtini and cheese. Overall, it was a very light dish, and I loved it.
Coffee and Doughnuts - House Made Fresh Doughnuts Served with an Espresso Milkshake ($8). This was the dessert that made Star want to come here. We did have doughnuts at CIRCA (they came on the dessert platter), but IMHO, these were better. Sorry, CIRCA. They were so light. Love love love the cinnamon sugar. I didn't try the chocolate, but I did try the espresso milkshake. For my taste, the milkshake was a bit too strong, but then again, I'm a white-chocolate-mocha-frap-double-blended-with-whip-and-caramel-on-top-type of a girl, so I favor the sweet over the bitter tones. Star, on the other hand, didn't think it was strong for her taste. If you like strong coffee, this is for you.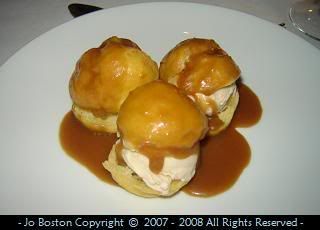 Profiteroles - Pastry Puffs Filled with Hazelnut Gelato and Goat's Milk Butterscotch ($8). While we were ordering dessert, Star said that she did not want the puffs because she was afraid that the pastry would be too heavy and tough. I thought they would be like Beard Papa's which are heavenly and light, so I went ahead and got them, even with the many "Are you SURE's?" from Star. Ugh. Should have listened to her. Though I liked the nutty hazelnut gelato, the pastry was just leaden. The butterscotch was okay, though it was grainy. Not my favorite dessert, so I do not think I will order this again. The table to my left ordered them as well and did not approve either. I think these were the only disappointment of the night.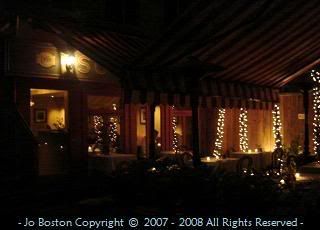 Aside from the one setback during dessert, I would have to say that this was a very successful and splendid dinner with my cousin Star. You can just see from the pictures that it is very romantic and the food is delectable. The service was very attentive. Our glasses were never empty. I swear, the staff is always watching our water glasses, making sure it never gets half-empty. Getting in our orders was a bit slow (slow maybe because I was starving); therefore, being rushed is never an issue. Be sure to get in your reservations because it fills up fast. Remarkable place. I WILL be back.
Hey Star: I Ain't Sayin' She's a GOLDIGGER, But She Ain't No Messin' With No Broke Broke…=P