Restaurant
: Sanraku
Address
: 101 4th Street and Mission St., SOMA, SF
Cuisine
: Japanese
Dining Partner
: Rox
I started this thing where I have "dates" with my cousins where we go to different restaurants and eat and talk and just enjoy ourselves. This date was dedicated to Cousin Rox and we went to a place really close to my then-school. Sanraku is in the Metreon, a place I chilled at a lot while I was still studying. I always would watch people stop into Sanraku during their lunch breaks, including faculty from campus, and I always wondered how the food was here. This was our chance to find out.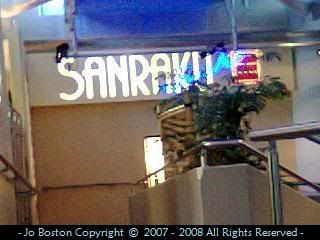 It does have that "food court-y" feeling to it because it doesn't have real walls that totally close it from the rest of the center. We were seated close to the sushi bar and were given our menus. What I remember is that it took us a long time to even get our orders in. Maybe because it was in the middle of lunchtime, but STILL. I'm the type who gets real impatient if I'm not being acknowledged AND hungry. Anyway, we both ordered our food and we got a bowl of miso soup. Nothing too special about miso soup to my anymore since I have it a lot, but it sure does feel good going down.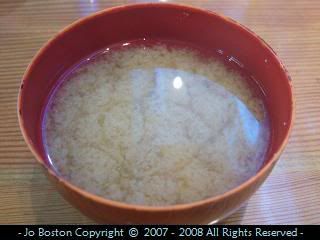 Sesame chicken - deep fried chicken breast with sesame seeds dipped in teriyaki sauce ($8.95). Rox ordered the sesame chicken and it was a huge plate of food. I did not take a picture of the bowl of rice that came with this, btw. So the chicken came with steamed broccoli and carrots and a pretty substantial salad tossed in a vinaigrette. I had a sampling of the chicken, and it was very tasty. Since it was chicken breast, there is always the fear of it being too dry, but it was coated in a crispy batter and the sauce was sweet and yummy.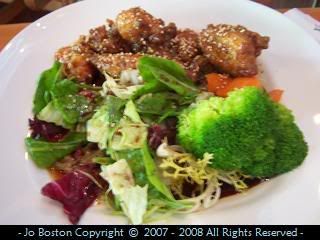 Combination Lunch - Beef Teriyaki with Tempura ($13.95). I ordered the combination lunch so that I would be able to taste two different items. My plate also came with the same steamed vegetables, tossed salad and rice. I really liked the dressing on the salad. Usually at Japanese places, their greens are usually iceberg lettuce with carrots, radish, etc. with a sesame dressing, but here they used more of a spring mix and a tangy vinaigrette. I can't really say much about the carrots and broccoli because they were simply steamed.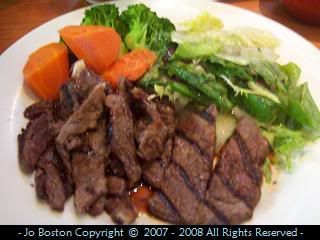 My beef came out and it was very good. I LOVE BEEF. This is a good version of beef teriyaki, though I noticed their sauce for it was a bit runnier than the usual thick goop I get. The vinaigrette from the salad mixed with the juices from the beef, which in turn dressed the steamed veggies. Very good.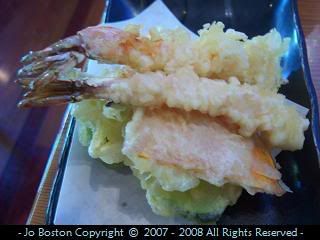 The tempura was pretty much predictable: crispy, hot, and delicious. I got two ebi (shrimp), a squash, a zucchini, and the others I forgot. I didn't eat all of the pieces because I started to get full after a few bites. Though my meal was about 15 bucks, it do give you a considerable amount of food.
Sanraku is pretty good. It is by no means a destination spot for me because I go to Japanese places all the time and they all seem to serve similar things - teriyaki, udon, sushi, tempura, etc. I haven't tried their sushi, so I can't say anything about that, but they do get a steady stream of people who want to get away from the adjacent food court and sit in a semi-private space to have some good Japanese food. Overall, tasty. =)