Restaurant:
Cordon Bleu
Address:
1574 California St. between @ Polk, SF
Cuisine:
Vietnamese
Date Last Visited:
October 17, 2007
I swear to Goddess, dining out has become my religion and Patricia Unterman's "San Francisco Food Lover's Pocket Guide" is my Bible. I know I am sounding a bit sacrilegious right now, and that I am actually condoning one of the Seven Deadly Sins of Gluttony, but maybe Chef Lucifer has taken hold of me. Living in a place like San Francisco does that to you. There are so many places to see and dishes to taste. Everyday presents something new and THAT to me is a blessing.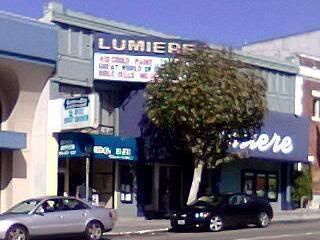 During the next few weeks, I will be working in the Pacific Heights area and traveling through the FiDi, Chinatown, Polk, and Van Ness to get there (on my chariot called the 1 California Muni). So I thought it would be a good idea to research on some places along the way to eat at in the event that I decide to grab a bite before heading home. I love how the pocket guide provides all the information I need at my fingertips. One that stuck out to me was Cordon Bleu. No, I did not see Cordon Bleu for the first time in the book, and no, it's not even a French eatery. I had actually seen it in many other guides and heard from Ate Di that it is "sOoOoOo good." So I did my ritual of going on Yelp! to see what others thought and it sounded perfect. What really pulled me in was what Unterman described as "a large dollop of rice moistened with a Vietnamese version of Bolognese sauce…" Now that's Heaven.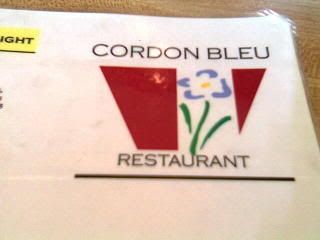 I got on my chariot and headed toward Polk by way of Sacramento Street. It is very easy to get to. All I had to do was get off at Polk, walk down to California, and make a left. Or I could have gotten off at Larkin, walked down to California, and make a right. Doesn't matter much because it's simple to get there. I got there at around 1:30 and the lunchtime rush had passed. Lucky for me because I was starvin' Marvin and I had no intention of getting take out if there was no room. There were two ladies behind the counter basically waiting for more diners to come in. I was greeted and I grabbed a seat at the counter in the corner. Perfect. The place is really tiny. There is a large counter that seats maybe 8 or so people and then two tables in the back that seats another 8. So during lunch or dinner, you can imagine how packed this place gets.
I was advised by Yelpers to get the Combo #5 which includes 1 piece of their five-spiced roast chicken, 1 imperial roll, 1 shish kebab, country salad, and meat sauce on rice ($8.25). Meat sauce…*slobber* I made my order and then she began cooking.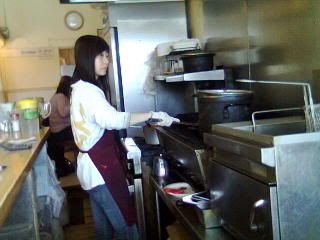 I think I caught onto their cooking method. Since I sat in the corner, I got to see what was under the counter that you wouldn't get to see otherwise if you sat right in front of the grill. There are pre-cooked chicken pieces and imperial rolls in the shelves under the counter, so when someone makes an order for them, the cook simple grabs a piece of chicken and places it on the grill to heat it up and places a precooked imperial roll in the deep fryer to crisp up. The only thing that she grills up fresh is the shish kabob, which really isn't a shish kabob because it was not on a stick. So just visualize marinated meat on a stick but not on a stick. It resembles Filipino tapa, but theirs is not pan-fried.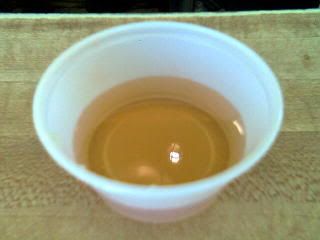 While everything is cooking, she brought out the sauce for dipping. I do not know what exactly goes into this sauce, but it is so good. I mean, it seems like every Vietnamese place has this sauce, so it's concept must be similar to our Filipino suka and bawang (white vinegar and garlic) accompaniment.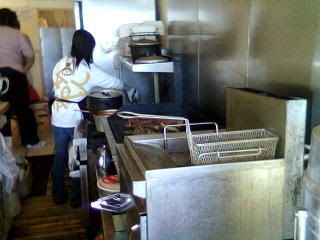 After a few short minutes, my plate was ready to be plated. With finesse, she used some tongs to pile some of their country salad on the plate, next came the rice which was heating in a large Dutch oven on the same grill the meat was cooked on, then the meat sauce was generously ladled over the rice, the chicken scooted next to the rice, the shish kebab went over the meat sauce and rice, and the imperial roll went down but was then sheared into four pieces, and VIOLA! A perfect plate.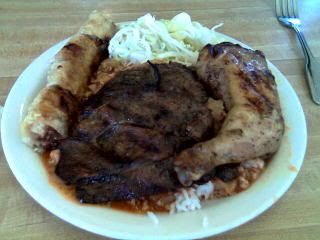 I tried the shish kebob first because it was in the way of the meat sauce, quite frankly. I loved how tender it was. It was marinated in a soy-based sauce, which is the same way I marinade my own meats at home. (MmMmMmMm…Jo Boston's Boston Butt BBQ. Yes, that's a shameless plug for my own grilled meat.) Though the flavors were very common to me, I still liked it.
Since I got real excited and ate the meat while it was still hot, I jumped for the country salad to cool my tongue down. This salad is so lovely. So simple, light and refreshing. The country salad is a very minimal mixture of salad, pepper, and vinegar. It almost had a sweet undertone to it, so maybe they added some sugar or other sweetener, but don't hold me as being definite on that. I loved how they included this cool component to the plate. It also reminded me of the slaw that is served with Salvadorian pupusas, but without the other veggies in it. The cabbage was still very crisp and not wilted at all. You can tell this was made fresh that day.
On to the meat sauce. So finally I get through the shish kebab and I get to the meat sauce. I took a bite of the chicken with it and tell me why I immediately thought of Inang (my grandma). There is something about it, maybe the canned tomato sauce taste to it, that reminded me of those tomato-based stews that Inang made me for my meals, like chicken afritada. I just felt so at home eating this. One Yelper said that this was reminiscent of something Chef Boyardee would make, but I don't think so too much. There are pieces of ground meat in it and it doesn't have the herbage that Italian Bolognese sauce does, rather with an Asian hint to it.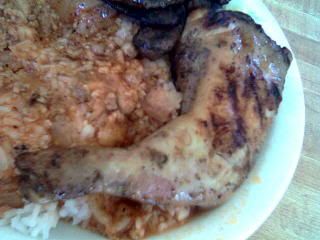 The chicken was next and I actually think that I would not have enjoyed the chicken as much as I did if the meat sauce was not there to accompany it. I mean, the chicken is good. I did find mine to be a little undercooked the closer I got to the bone, however. I do not find this chicken to be particularly special, but having it lay next to meat sauce-covered rice is its claim to fame. Though the sign out in the front says the chicken is the star of the restaurant, I think it's the meat sauce because no other place in San Francisco does that.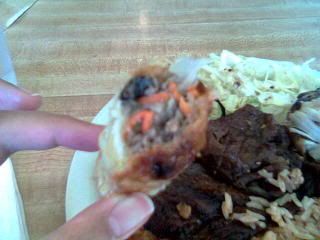 Next was the imperial roll. I have come across good imperial rolls and bad imperial rolls. This happens to be a good imperial roll. The usual suspects of shredded mushroom, meat, carrot and cellophane noodles are in there, but I think what makes this roll real good is the wrapper. Us Filipinos wrap our wrappers in a flour wrapper that gets brown real fast when fried. I noticed when she dropped this already precooked imperial roll in the oil, it did not burn for the time it was in there. It was in there for a few minutes. As I was chewing, I noticed the texture to be similar to something made with rice flour. Rice paper wrappers? Whatever it is made of, I think it's great. The sauce was divine with it.
I am so happy I left my comfort zone and decided to hit this place up. I think one of the main reasons why I liked it here is because it really reminds me of home. I remember Inang making me tapa with tomatoes and rice in the morning for breakfast. Those flavors linger in the plate I had consumed. The meat, the rice, the tomato. That's home to me. The sauce also reminds me of the times my Mom and Auntie made their own spaghetti sauce with just canned tomato sauce, onions, garlic, and ground beef. No oregano. No basil. No jarred spaghetti sauce to help it along. Though they use Prego, Ragu, and those other sauces in the jar now, I can still remember when they didn't used to years ago. That's home to me.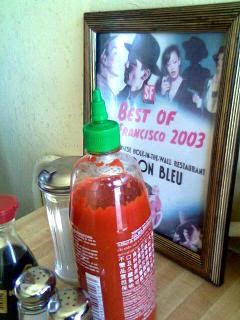 I am already thinking of people who I would bring here because I loved it so much. They are giving out their food for cheap, that's for sure. 9 bucks for a huge plate of food and friendly service. Yes, I will be back. Who wants to come with me?