Restaurant
: San Francisco Soup Co.
Address
: Crocker Galleria and Westfield Food Emporium
Cuisine
: Soups, sandwiches, and salads
-Visit 1: June something, I forgot-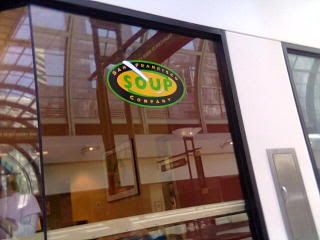 I like soup. I like sandwiches. I like salads. Sometimes I do not know why I eat more of them. One day, I was walking around in the FiDI, ended up at the Crocker Galleria, and wanted to get something to eat. San Francisco Soup Co. has a lunch deal where you get a small soup and either a salad or sandwich for about 7 dollars. Eh, why not.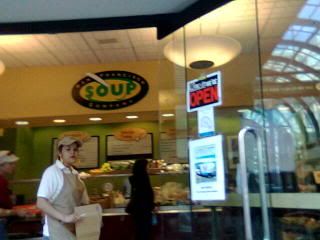 Here, you pick your own sandwich from already plastic-wrapped sandwiches. I DID NOT KNOW THAT. I thought they would be freshly made, but no. So I sounded rather stupid when I asked the server for a sandwich. Anyway, I chose a broccoli cheese soup since it was one of those soups that is not available all the time. I got that and a turkey and cheese sandwich. So I took my soup and sandwich and found a table outside.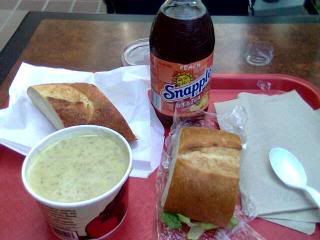 Here is the soup: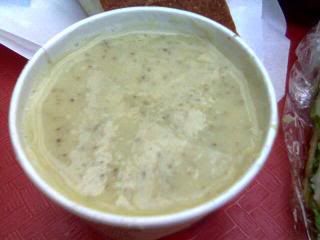 I really like a canned soup that has chicken, cheese, broccoli and potato. This soup from SFSCo. does not have the chicken and potato, but I was hoping it would be good anyway. As you can see, it really looks like puke. But really, it was pretty good. It was good to dip the sourdough bread in it to sop up some of the soup. You really can taste and see the broccoli. The cheese was good, but it has this gritty texture. Kinda like that cheese you put in the microwave, nuke it, and then it gets heated so hot that the oils come out and the cheese has this gritty feel to it. It was good at first, but after a few more spoonfuls, I couldn't take anymore.
The sandwich: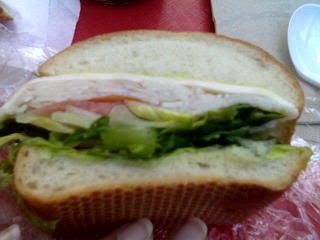 Like the soup, it was eh, okay. What really irked me was how tough the bread was. Okay, okay, I KNOW that it's sourdough, but in the process of gnawing through the bread, the filling slipped out. I love turkey and cheese and all that, but it was pretty bland and ordinary. Not your Little Lucca's sammie at all. Eh, they tried. I wasn't impressed that much.
-Visit 2: June 27, 2007-
On this day, I felt sucky. I really had a f*cked up day. Someone let me down real bad. I went walking for something to eat, but the thought of food made me want to yak. Yeah, it was THAT bad. I went here to get a salad because I didn't want to walk anymore. I wanted something light so I opted for the Cobb salad, around 8 bucks.
They mixed it for me and I went to the 4th floor of Westfield to eat it. Though I was in a really depressed mood, this made things okay for the time being. Hey, at least I was eating. Wasn't about to turn into those psychos who would starve themselves because of their sadness.
Forgive the picture quality, the lighting was not all that up there under the rotunda, but the salad had bacon, blue cheese, egg, and little tomatoes in a nice light/tangy dressing. I probably would have enjoyed it more if I wasn't so sad that day, but it was good. You can't go wrong with a Cobb.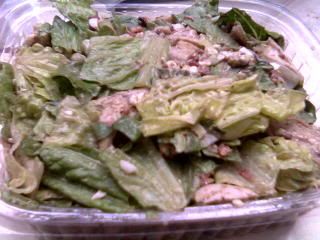 Would I come back? Eh, I don't know. It was okay. It didn't excite me. But it is reliable for all those FiDi people who want a quick lunch. It's just okay to me. If I had the craving to chew on a piece of sourdough until my jaw hurt, maybe I'll come here.