Restaurant
: Picante Cocina Mexicana
Address
: 1328 Sixth Street, Berkeley, CA
Cuisine
: Mexican
Date Last Visited
: November 23, 2007
Dining Partners
: My Sweety K, K's Momma, K's Poppa
After spending the afternoon looking for a jacket for My Sweety K in both San Francisco and Berkeley, we all got hungry and decided to eat. Since we bought his jacket at The North Face store, K's Poppa suggested a taqueria that was very close by.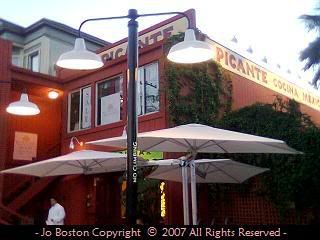 The inside reminds me of a Chevy's, but a little more casual. Somewhere between a Taco Bell or Del Taco and a Chevy's. You go to the cashier to order first and THEN you are allowed to sit down. That is an interesting way of doing things.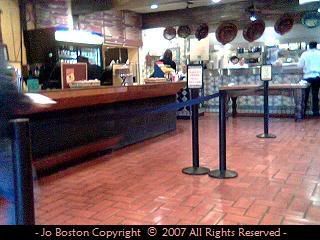 The menu is like your usual Mexican taqueria's. The burritos run about 6 dollars, so it is very affordable. After we finished ordering, I caught one of the ladies making tortillas by hand. She used a press to flatten the dough balls and then she proceeded to put them on the griddle. She did not have any spatulas or any other tools. She did all the cooking with her fingers. I looked so amazed and she smiled, but she was probably thinking, "Oh this dumb Asian girl. Does not know anything about Mexican food." Hahaha. If I saw myself through her eyes with that gawking look on my face and taking pictures like a damn tourist, I would probably agree with her.
As opposed to Chevy's or Taco Bell, the décor was more tribal Mexican. There were idols and masks hanging on the walls that looked something from the Aztec city of Tenochtitlan. Even the napkins had that type of art.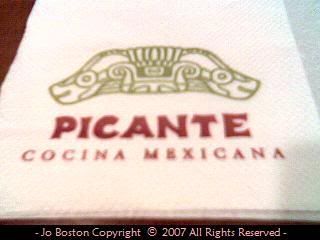 The dining area was huge. We came in right before dinnertime so it was not very busy. But I can imagine families coming in and having a nice casual dinner. There was lots of color, but it did not scream, "You will get a sombrero if it's your birthday," which I appreciated.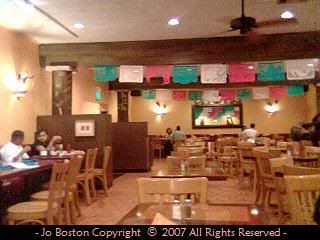 What I thought was totally dope was the refrigerator containing the different salsas. There were three kinds: Habanero (fiery hot - the spiciest), Chipotle (smoky flavor due to the smoked jalapenos) and Salsa Verde (the mildest out of the three). I chose the Salsa Verde because it's my favorite, quite frankly. I love the use of tomatillos, and though it does have some spice and heat, it refreshes my palette rather than burn it. It had a nice clean flavor and fresh quality which I enjoy about salsa verde.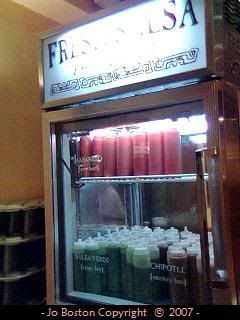 Below is my watermelon agua frescas and K's Poppa's horchata. I would have loved to have a whole pitcher of the watermelon agua frescas for myself. It was sweet, but not too sweet. It really tasted fresh and not artificial. It is my favorite thing to drink while eating Mexican food.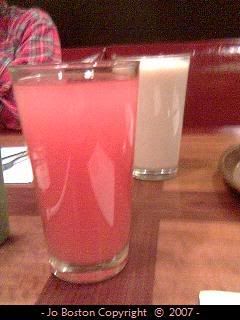 I took a picture of the stickers because I love how organized they are. I worked at places where stickers are an integral part of the business: shoe size stickers for the clearance shoes at my retail job and surname stickers for my patient charts at the doctor's office. Seeing the stickers here was so amusing to me for some odd reason. Yes, I am a square. This was my Super Pollo Asado Burrito with Refried Beans.
This was My Sweety K's Super Carnitas Burrito with Black Beans. My Sweety K L-O-V-E-S his black beans.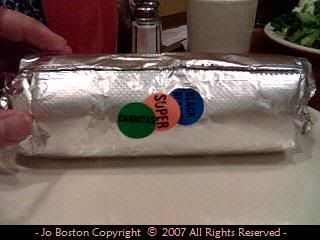 My Sweety K and I agreed to split our burritos and share them, so his was to the left and mine was to the left.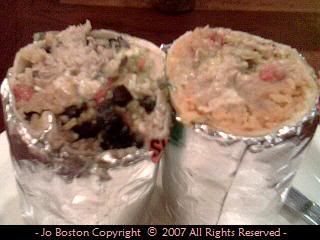 Let's start with his. I found the beans to be a bit too al dente, meaning I would have liked them a bit softer. His had pork in it so it had a deeper meaty flavor. We both had the same rice, cheese, crema, and guacamole thing going on. Mine was a bit mushier because I had refried pinto beans and chicken. Mine did not have as much flavor as his, but I think I liked mine better anyway. Good burritos. The only thing I would complain about is I could barely detect the cheese, and we both missed the lettuce. Other than that, not bad.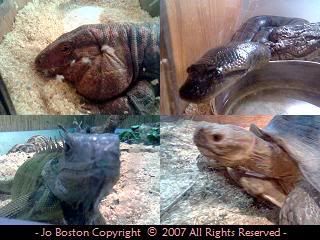 You're probably thinking why these guys are here. After supper, we went to the East Bay Vivarium (1827 5th St., Berkeley) which was not too far from Picante. The guys from Myth Busters came here on an episode that we saw a few days after we visited it ourselves, and you should have seen me squeal, "Oh! Oh! We went there!" This was a place My Sweety K frequented when he was a lot younger, so it was nice to see this with him now that he's turning into an old man. Just kidding! 25 isn't old! That's Boo Boo on the upper left hand corner. He was my favorite.