Restaurant
: Johnny Rockets
Address
:
Location 1
: 1946 Fillmore St., Pac Heights, SF
Location 2
: 2201 Chestnut St., The Marina, SF
Cuisine
: Diner, Hamburgers, Shakes
Dates Last Visited
:
Location 1
: October 26, 2001
Location 2
: November 18, 2007
Dining Partners
:
Location 1
: Dev and Halle
Location 2
: My Sweety K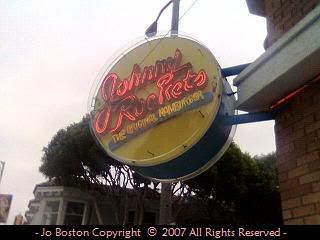 -Visit 1: October 26, 2007-
So it was lunchtime and my coworkers were hungry. To make myself feel part of the office bunch, I took them up on their offer to take a walk to Johnny Rockets on Fillmore to grab some grub. From time to time we order from the numerous menus we have stashed away, and a designated person or persons goes to a place nearby to pick up some food we ordered since two people have to be at the front desk at all times, including lunch hour. It was just my first week at this establishment, so I thought it would be good for me to include myself in the lunchtime activity. So Dev, Halle and I walked down to Fillmore to grab the food.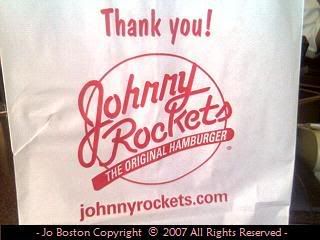 I ordered a Route 66, which is a cheeseburger with sautéed mushrooms, grilled onions, Swiss cheese, and mayonnaise: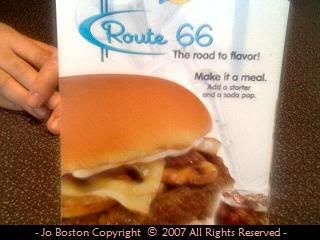 I did not want to admit it to anyone in the office at the time that I am a complete restaurant skank, but I was a bit disappointed that we had to bring the food back to the office. You should probably tell by now that I relish in the restaurant environment, and that an eatery is not always about the food, but the ambiance as well. Johnny Rockets is not by any means a romantic place with a particularly titillating atmosphere, but I would have enjoyed to have the food made fresh and eating it right when it came off the grill.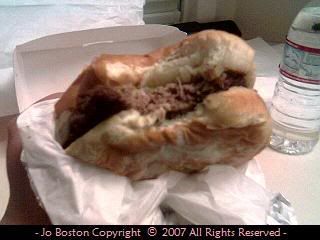 But no. By the time I got back to the office my cheeseburger was getting cold. I mean, it was still pretty tasty, but not fresh. I was also surprised on how bare it was. Sure there was a mass of juicy mushrooms that made the bread all soppy toward the ending bites, but there was no ketchup or mustard from what I saw. The menu states that there is mayo in it, but I did not see or taste it. I am a complete condiment whore, so that kind of turned me off. The grilled onions were a very nice touch. I prefer those over fresh ones any day. However, I think I would have liked it if the burger as a whole were fresher.
I also ordered the Half and Half, which is half an order of onion rings and half an order of French fries: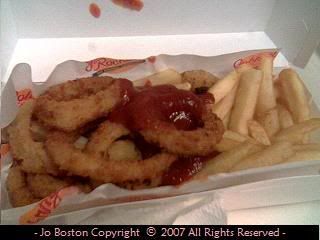 Again, since we picked up the order and had to walk it back all the way to the office, the fries and onion rings were getting cold and were starting to lose their crisp. I think I started eating them in the nick of time because they were okay. Other than that, what else can you say about rings and fries? They are always a good thing!
-Visit 2: November 18, 2007-
Okay, so this is not my first time at this particular location on Chestnut in the Marina. This was my second time here with My Sweety K, and coming back here brought about a lot of memories of when we first started seeing each other. He brought me here about 4 years ago. It was one of our first dates as an official couple. Oh, I'm getting all mushy over here, but when he suggested coming here again, I was glad he remembered.
On this occasion, we were actually having a day trip together to celebrate our 3-year-11-month-anniversary. (Yes, I still count the months because we aren't married yet, and each month is a blessing!) Anyway, we went to the Exploratorium to act like little kids because I think the last time either of us went there was when we were a lot younger. So going to all the exhibits, learning and relearning things together was a lot of fun.
Eventually we got hungry (when are we not?) and decided to take a walk to Chestnut Street to grab a bit to eat. But not before we got to feed the birds and taking some photos of the breathtaking rotunda!
So we finally make it to Johnny Rockets and since it was a Sunday, there were a lot of people there. I would not say that it was packed, but popular enough for people to spend their Sunday there.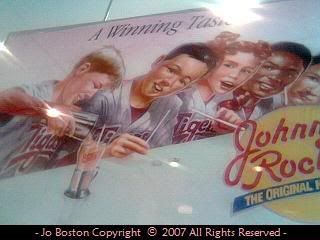 Coming back here made me reminisce and it was nice.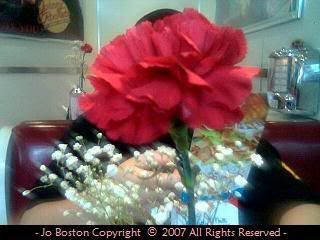 Thanks, K…ha! (Inside thing.)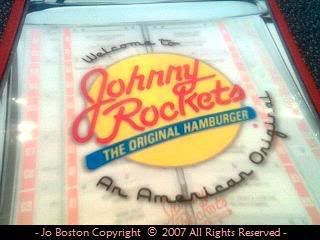 I knew what I was going to order even before we got our menus. To commemorate our return to one of our early date places, what is better than to order the same thing I order on that very same date? So I got the St. Luis cheeseburger.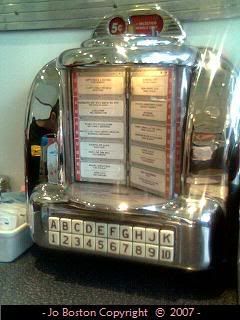 As we were waiting, I simply could not help myself. I dropped in my nickel to hear Otis' "On the Dock of the Bay." =) Our fries came out rather quickly, less than 5 minutes after placing our order, which we were happy about because we were starving!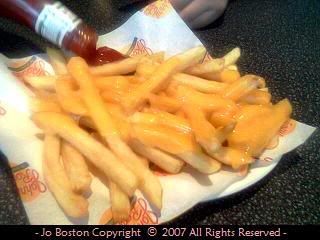 That's right, ladies and gentlemen, cheese covered French fries. I was afraid that there were going to use some type of gloppy nacho style cheese, but to my delight, they used some good cheddar. Dipped in ranch and ketchup and I was a happy woman. Then the burgers came out. Good thing because we were on those fries like white on rice. We had to tell ourselves to stop eating them before we got too full.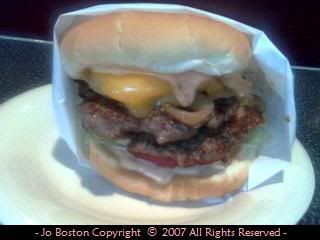 The photo above is My Sweety K's Rocket Double: two fresh patties, two slices of Tillamook cheddar cheese, fresh lettuce, ripe tomato, grilled onions, and special sauce. The default Rocket Double has onion slices, but My Sweety K upgraded to grilled onions.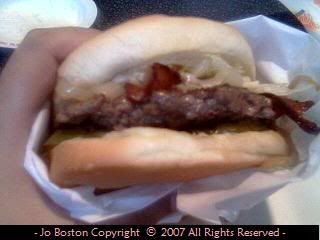 Above was my burger, significantly smaller than My Sweety K's. However, he DID give me his tomato slice, which made my burger a little bigger. The St. Louis burger has a single patty, grilled onions, Swiss cheese, thick bacon, St. Louis sauce (whatever that means), pickle and lettuce. I would have to say that this is the messiest burger I have ever eaten in my life. There is a reason for that paper it is wrapped in. My dumb self took the paper off and all of the component on the inside just fell out. They did not have forks and spoons on the table, so I had eat the fallen grilled onions with my fingers. The onions were so juicy. Real messy eating, but it was so good. I highly recommend this burger.
Johnny Rockets is so cute. There is a nostalgic feel to it, and it is so amusing when the waiters bust out with the "hustle" when "Last Dance" comes on. I felt so bad for our waiter because I guess he was the only one there and he had to dance it all by himself. Our lunch cost 25 bucks and I added extra tip because his performance deserved it. =) Since My Sweety K and I have good memories here, you can be sure that you will see me here again. =)
Oh oh I need you,
By me,
Beside me,
To guide me,
To hold me,
To scold me,
Cuz when I'm bad,
I'm so so bad…
So let's dance,
The last dance,
So let's dance,
The last dance,
Toniiiiiiiiiiiiiiiiight…
Do the hustle!