Restaurant
: Bittersweet Café
Address
: 2123 Fillmore Street b/t California and Sacramento, Pacific Heights, SF
Cuisine
: Chocolate, chocolate, and chocolate
Date Last Visited
: November 14, 2007
Dining Partners
: Dev and Elle
Chocolate is seriously the food of the goddesses. My coworker Dev suggested we go check out this chocolate café for lunch. I was excited because it was listed in one of my books, so I was ready to go. I really did not know how great this place was until I stepped in the door.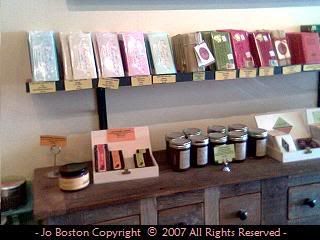 They seriously have almost every chocolate that has been concocted. There many various types of chocolate bars from your standard milk, dark, and white to your fruit, nutty and chili-infused chocolates.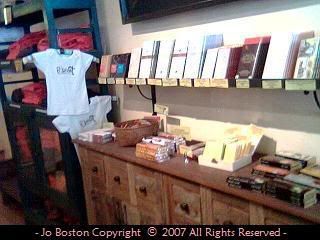 Bittersweet presents several fine chocolatiers such as: Scharffen Berger, Cote d'Or, Caffe Tasse,Valrhona, E. Guittard, among many others. They even sell their own "B'Sweet" t-shirts and baby onesies. I should grab one of them one day.
Though the chocolate bars looked heavenly, I think I was most enthralled by the desserts and confections behind the glass. Of course, chocolate ganache truffles are on the menu…they have flavors such as the classic dark and milk chocolate with fleur de sel…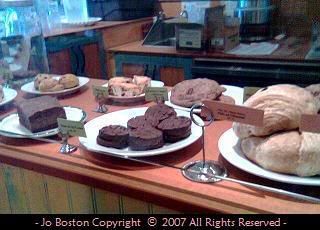 Chocolate chip cookies, chocolate pudding, chocolate croissants, brownie bites, cupcakes (peanut butter and German chocolate are the flavors available)…And Bitterweet's specialties: Cinnamon Hot Chocolate Cake, Chocolate Nib Scones, Pear Chocolate Ginger Muffins, Chocolate Dulce de Leche Pudding…good Lord…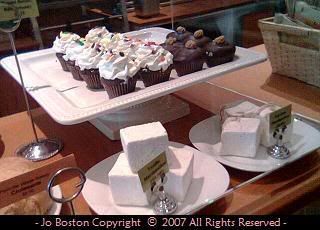 The thing I HAD to have were the homemade marshmallows. No, these are not those spongy marshmallows you buy in those plastic bags at the supermarket. No, no, no, Grasshoppa, this is the real thing. They have both vanilla and espresso flavors for your taking.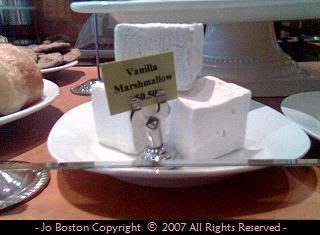 I came here for the Hot Chocolates; however, there are several varieties of drinks hot AND cold (taken from the menu):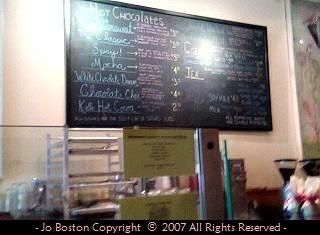 The Bittersweet
: A deeply chocolate experience. Non-dairy, rich and wonderful.
The Classic
: The classic, sweet and creamy chocolate delight.
Spicy!
: Hot and spicy, a kick of pepper and a hint of cinnamon and rose.
Mocha
: Chocolate, espresso, milk: Bittersweet's signature chocolate latte.
White Chocolate Dream
: Venezuelan white chocolate infused with cardamom and exotic spices.
Chocolate Chai
: Wonderfully spiced chai with our unique blend of chocolates. Yum.
Bicerin
: A classic Turino-style dark mocha drink, layered and topped with a dollop of fresh whipped cream.
Chocolate Thai Iced Tea
: Sweet, floral, cool, and refreshing.
Chocolate Milk
: What could be better? For kids of all ages.
I wanted to start off at this place on the safe side (I know, I'm a wimp.), so I ordered "The Classic" with a vanilla marshmallow and a mini chocolate chip cookie. It ran me about 5 bucks.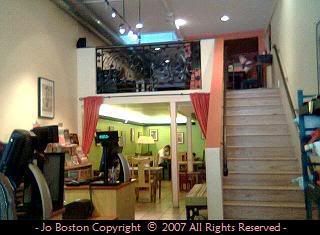 There are two seating areas: one up the stairs where you can look down on the café and a lower area where the bright green walls are. We chose the lower area for now (and my bad knees are grateful). So we sat down and while my companions got their orders, I had to wait for mine. Meanwhile, I munched on my cookie.
I love my cookies chewy. Have you ever had a Mrs. Fields cookie and noticed that the edges were a little chewier than the soft center? The edges are my favorite part of the entire cookie. It must be the brown sugar because it almost seems caramelized. Now this cookie is the epitome of what I had just described. Chewy and nutty. Awesome Now if I only had my hot chocolate to enjoy it with.
I waited and waited and I got up and asked the boy at the espresso machine where my drink was. Since Dev ordered the same thing I did, he probably got mixed up and thought he made mine already. Punk.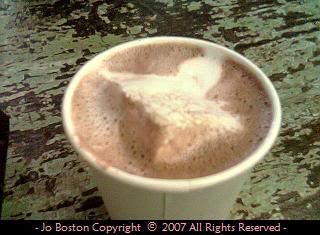 Since we were already pressed for time, I asked him to make it to-go, so there is no picture of my hot chocolate in a pretty cup. Boo-hoo. Let me tell you though: the first sip is equivalent to soft-core porn. It was so luscious. No seriously. I felt the warmth of the rich chocolate and creamy milk caressing my lips and then hugging my tongue. My taste buds were having orgasms. It was like silk, so luxurious and almost sinful. Having it going down my throat was satisfying. See, I warned you. The consistency of the hot chocolate was viscous, but not too thick. It was not thin either like those Swiss Miss packets you can make at home. No, it had the perfect texture. The marshmallow lent its own creaminess to the drink. As it sat in the liquid, it melted down into it. By the time I got to it, it was warm and soft. It basically melted in my mouth. Awesome. The chocolate taste itself was so good. It was not too bitter and not too sweet. All hot chocolates should be like this.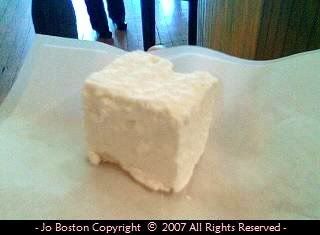 I grabbed another marshmallow for the road. Plus I wanted to eat one that has not been sitting in hot chocolate. They make them from scratch and they keep them separated by coating them in potato starch. I bit into it and I heard singing. It was like eating a cloud. It was so light. Seriously, I can eat these forever, but I shouldn't because I would definitely need major tooth repair.
I felt like I was a kid in a candy shop, but this my friends, is a woman's candy shop. You know the saying, "Just give me my chocolate and no one gets hurt!"? If this lady got her chocolate from here, I would totally understand. I would love to try their chocolate pudding and pastries. As a female, I am so happy there is a place like this in The City because when I want chocolate, there are no if, ands, or buts. If it is chocolate I crave, I will not be happy until I satisfy that craving. Damn, now I'm craving The Classic with a marshmallow. See what I did to myself? Even though I am not a chocoholic, I can fully enjoy their offerings. Now if you ARE a chocoholic and have not tried this place yet, what the hell are you waiting for?
Oh yeah:
I should really start on conserving napkins...