Restaurant
: Wrap Delight
Address
: 426 Larkin St., Tenderloin/Little Saigon, SF
Cuisine
: Vietnamese Deli
Date Last Visited
: August 14, 2007
Dining Partner
: Nikkah
Oh, bahn mi. One of my best friends in high school, Bungster, was like the only Vietnamese person I knew. And to this day, I don't even think I know very many Vietnamese people. That's a shame because I would love to go to their place for dinner. I heard that homemade pho is out of this world, but I digress. Bungster and I were in many classes together throughout our four years at Weakmoor, and I remember during first period, which was Physics, Bungster would offer me a sandwich that his mother made him. I remember eating the sandwich and I immediately fell in love. There was bbq pork, cilantro, pickled veggies, and chili peppers. To die for. I wondered why he would give them to me all the time, and he told me that he simply got tired of them. Wow, if my momma made these for me every morning, I certainly would not mind because they were awesome.
Bungster and I remained friends the summer after high school just before he had to head out of town for college. I remember on the day of our graduation, he brought me to a Vietnamese pho place that was just a few blocks down from my house. I still go there to this day, even though the management changed. I also remember him bringing me to Saigon Sandwiches on Larkin and Eddy for the first time. When a Vietnamese person brings you to a Vietnamese place, you know it's good. So my love of Vietnamese food is all because of Bungster. Thank you.
Now on to bahn mi. If Bungster never offered me his sandwiches in the morning, I would not be as hooked as I am today. Banh mi is my favorite sandwich in the world! Well, maybe it's a close race between bahn mi and Little Lucca's, but it's up there. When I got comfortable, I ventured into the Tenderloin area, aka "Little Saigon," on my own. I always went to Saigon Sandwiches because it's reliable and good. But there is a wait. Everyone and their momma seems to know about this place, so I wanted to see if there were any alternatives to Saigon Sandwiches.
I did my research on Chowhound and saw that there are many bahn mi places up and down Larkin. Some people commented that they preferred the sandwiches at Wrap Delight over Saigon's. It's a mighty bold statement to say considering that Saigon's are the best bahn mi that I have ever put my lips to. So I decided to give them a shot. Nikkah and I took a trip to Larkin, and while she went to Saigon for her bahn mi, I went to Wrap Delight.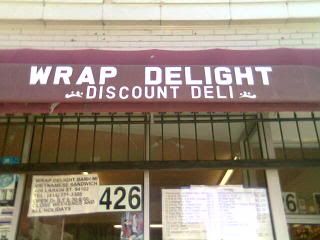 Since I didn't want to leave her at Saigon alone, I waited with her. It took about 10-15 minutes to get her bahn mi. That's pretty much by default if you come by at lunchtime. All the Civic Center personnel trek over here on their breaks, and the line is usually out the door. So once she got her bahn mi, we took the block-long walk down to Wrap Delight. Right away, I could tell the difference. There was no line.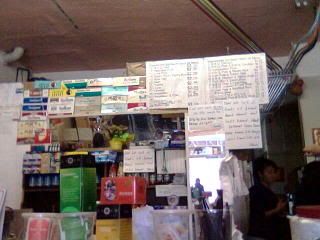 The space is a bit bigger than Saigon's and there are a couple of tables in the middle of it for you to actually sit at and enjoy your sandwich. They sold a lot more things here in this store than at Saigon. They even sell SamTrans and Muni passes. That's so rad.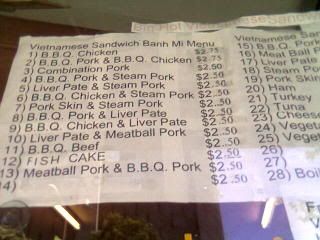 I also noticed another difference. You have WAAAAAAAAY more choices here than at Saigon. At Saigon, you have about 5, here you have at least 25. Well, maybe you can have that many choices at Saigon, but you have to special request it, but here, you just say the number. But what got to me was why there was hardly anyone here. My girl Rachael Ray says that if there is a line, that usually means that the food is good, but what does it mean if there is no line? Right when I got inside, the lady and gentleman behind the counter greeted me. They seemed very warm an friendly. I heard that the lady was a former employee over at Saigon. Interesting. I ordered my usual B.B.Q. pork ($2.50) and they went on and made it for me.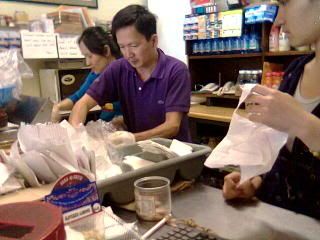 From the moment I set my foot in the door and the moment I sat my butt down in a chair at one of the tables, must not have been more than 5 minutes. Something that I also noticed while I was ordering was that you have a choice of breads here. You can either have it "hard" or "soft." I specify which bread I wanted, so I don't know if the bread I got was hard or soft. But this is what I got: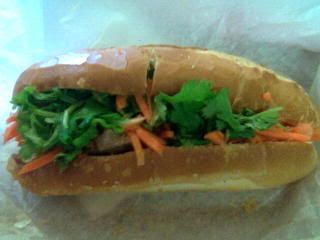 The size is about the same with Saigon's, but the bread was a bit more crusty. They piled on a lot of the pickled carrots, but what I loved was how much cilantro they put in there. What I also liked was that they cut it in half for me.
Now I will tell you the differences. You can tell in the picture that the components look real separated. I had to do a little maneuvering of the veggies so that I have a little bit of each in each bite. Like I said before, I liked the amount of cilantro they included; however, the carrots and the meat disappointed me a bit. The carrots were not as pickled as Saigon's. Once you do the pickling, the carrots get a bit sweeter and bit limp, but these almost seemed fresh or not pickled enough. When veggies get pickled, they seem to stay compact, but with each bite of this sandwich, mounds of carrot came toppling out, which made for a messy eating. I also noticed that they did not have other veggies in there other than the carrot. Saigon has onion and a white veggie that I am not too sure of. The meat has a different flavor as well. It had the undertone of roasted pork, not B.B.Q. pork. Since the flavor was too similar to Filipino lechon, I didn't seem to like it as much as Saigon's. Saigon's is a bit sweeter and much juicier.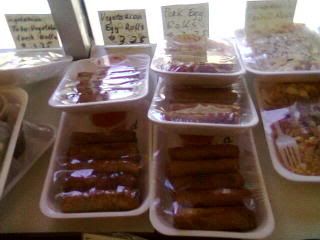 Yes, I am a loyal follower. I have stuck with Saigon Sandwiches from the beginning and I do not think that there is anywhere I would rather go if I was given a choice. As far as the pre-made lunches, Saigon and Wrap Delight seem to get them from the same distributor. They have the same fried bananas and pre-made shrimp spring rolls wrapped in cellophane on a Styrofoam dish.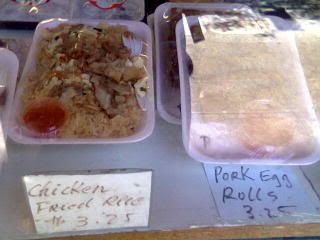 But the star here is most definitely the bahn mi. I can see why this can be a good alternative for Saigon because there is practically no line and no wait, but Wrap Delight is not at the same level as Saigon is for me. There IS a reason why Saigon is packed and always busy. Their stuff is good. Wrap Delight is good, but not for me.