Restaurant
: Memphis Minnie's
Address
: 576 Haight St., between Fillmore and Steiner, Lower Haight
Cuisine
: Southern Barbeque
Date Last Visited
: October 25, 2007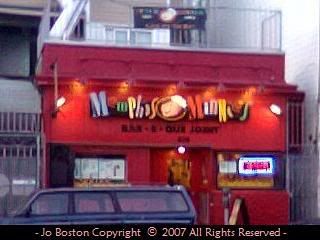 After a hard day at work, I knew that I needed something to eat. So I took the 22 Fillmore and rode it to Haight Straight. I was in limbo between Rosamunde Sausage Grill and Memphis Minnie's. Since I was already on Memphis Minnie's side of the street, I stayed there and walked in. It was between 5:30 and 6:00, but no one was in there except for me.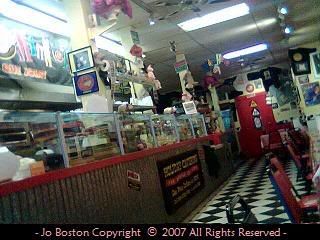 It being my first time in this establishment, I was so amused by all the hogs, swine, pigs, and boars EVERYWHERE. Literally a "Hog-Heaven." There was so much to choose from: Texas beef brisket, St. Louis Style Smoked Pork Ribs, Santa Maria Tri-Tip Steak, the list goes on and on. I ordered a Southern Star (I will explain why in a sec) which came with a choice of side, a macaroni n cheese for me, and a fountain drink. It ran me about 11 bucks.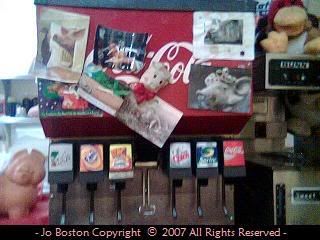 I swear this place is so cute. It totally reminded me of the stories my Inang (grandma) would say about me. Like the time when I was in the Philippines as a child and I was playing by the pig pens and I asked the pigs if they would give me some of their food. HA!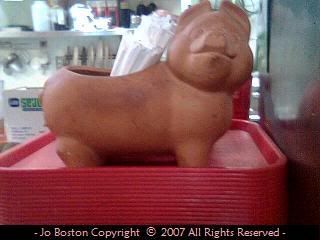 I sat myself down at the window table and relished in the restaurant's décor. I loved how they supply the patrons with rolls of paper towel instead of those measly napkins that don't even work in getting fingers clean.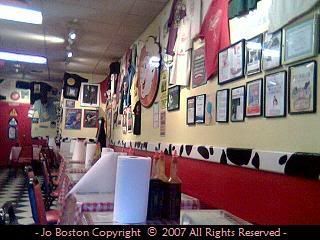 Finally they called my order up and I was ready to grub. From first look, I was rather disappointed with the size of the sandwich. I paid close to 10 bucks and I get a sandwich the size of a bahn mi which costs me less than 3 bucks in the TL.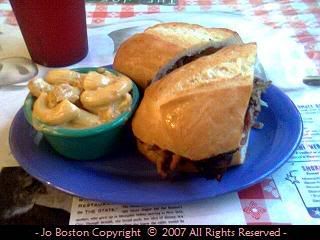 But then again, this is BBQ. You pay for the meat, not the bread. So this is the Southern Star: A Half Texas Brisket and Half Memphis Sweet Pork Sandwich. You can see in the photo below the two different meats enveloped in the bread. The beef brisket on the left and the sweet pork on the right. You can also see that they hollowed out the roll so they could pack the meat in. I also noticed that there was no form of vegetation. No lettuce, tomato, nothing. Like I said before, you are paying for meat.
At first bite, I was again disappointed. I found the meat to be very dry and bland. Yes, there is beautiful color to the brisket and it had a phenomenal bark on it, but I got no flavor out of it. I do not even know why they would consider the pork to be sweet. The reason why I ordered this sandwich was to get the best of two worlds; however, nothing in this sandwich particularly impressed me. I guess I had to resort to eating the sandwich with the sauces provided on the table.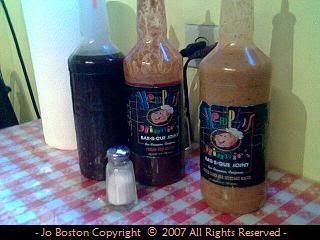 There are bottles of BBQ sauce, a mustard sauce and a bottle of I am guessing a vinegar, which I did not touch. You can tell that people eat with their hands here because those bottles were sticky-icky-icky. I do not even want to ask when was the last time they wiped them down with cleansing cloths. Anyway, the BBQ sauce was nothing special. I actually preferred the mustard over the BBQ sauce. It did lend some moisture to the sandwich, but not much. The whole thing was just dry, even the bread. Ho-hum.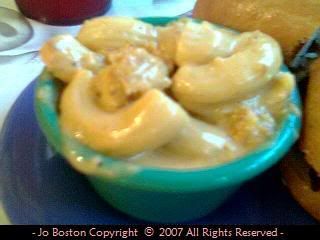 But I am happy to say that Minnie's Mac n' Cheese was the star of the meal. I never had mac n' cheese quite like this. It has your usual suspects: the elbow macaroni and cheese sauce, but they also mixed in some corn bread! It was so yummy! I would have never thought of doing that, but it works! I had to have bites of the mac in between bites of the sandwich because like I said before, the sandwich was dry. This mac n' cheese was awesome.
I am quite disappointed in this visit. As I was eating, I noticed a male patron grub on a plate of meat. Just meat. No sides. Nothing. Just meat. I do not even remember him having a beverage on-hand. Talk about carnivorous. Do people really like this place? Well I guess they do since it is still up and running. I do sound like a killjoy, but I was expecting so much more from this place. So many publications out there are saying this is the best BBQ in the City. Really now? THE BEST? Maybe I'll give them another chance and order something different. Maybe tonight was just an off night. Who knows. Hopefully they start making the meat a little less dry because if they continue to do that, you won't see me there much. Well…maybe for that mac n' cheese.