Restaurant:
Hard Knox Café
Address:
2526 3rd Street between 22nd and 23rd Street, Dogpatch/Potrero Hill, SF
Cuisine:
Southern, Soul Food
Dining Partner:
Ate Di
So this is a place that I would have never have gone to if I hadn't watched Check Please, Bay Area. Just so happens that At Di watched it, too. So after months of wanting to check it out, we finally made a date to. One reason why we didn't make plans immediately to go was because it is in the Dogpatch, the part of 3rd Street that is on the other side of Potrero Hill. Me, being a "tourist" of San Francisco and having been living under a rock for all my life, I am not particularly savvy on the different parts of the City and how to get there. But ever since the T-3rd Metro train came into existence, I have been given a chance to get there very easily.
We took the T from Powell Station. We could have taken the 45 or the 30, for example, down to the CalTrain Station, but I wanted to take the scenic route. I love how the T passes by a part of the Embarcadero, South Beach, King Street and the Ball Park. Pretty dope. So we took the short ride to 3rd and 22nd Street. Not as long as we initially thought, so that was pretty cool. The café is a right off the 22nd Street station, btw.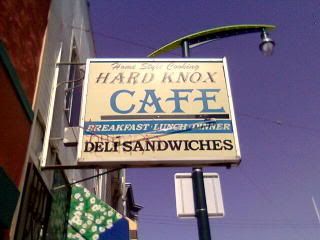 Oh dear, it was love at first sight. When we walked in, we weren't sure if we could seat ourselves or if we had to wait, but one of the owners saw us and told us to sit anywhere we wanted. If you are eating solo, you might want to sit at the counter.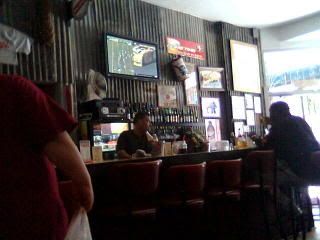 We were lucky enough to get a booth in the far corner. Once we took a seat, we got to taken in the scenery. I love LoVe LOVE the look of this place.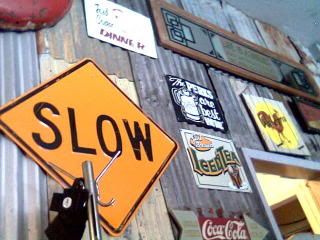 It seriously looks like we were in the middle of some roadhouse in the middle of nowhere in Leroy, Mississippi.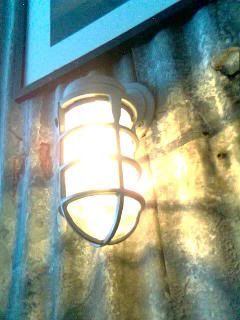 The walls were made with tin panels and random road signs, vintage posters, and just downright unusual things decorated them. So ridiculously charming.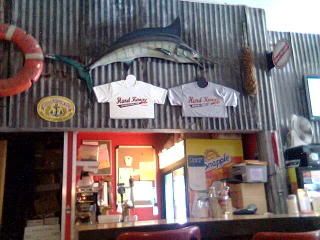 The reason why I am so impressed with this place is because you would think that the owners of this place are a couple of Southern folks that have their whole family involved: Cousin Addie at the registers, Cousin Betsy waiting the tables, Baby Bubba frying the birds, Pop in the back making the ribs, and Momma Big welcoming the guests who come in, but this place is owned by a young Vietnamese couple. WHAT? A VIETNAMESE couple? Yes, I kid you not, my friends. That is why I wanted to check this place out because, truth to God, that's pretty unusual.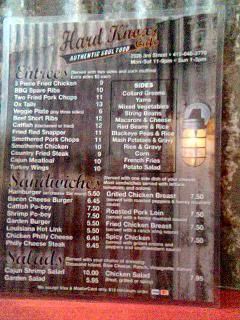 Enough talking and on to the food! The menu looked great. There are sandwich varieties like the Catfish Po-Boy and salads like Cajun Shrimp Salad, and you can get a big entrée plate for about 10 bucks. This plate of food includes your choice of great entrees such as:
BBQ Spare Ribs
Two Fried Pork Chops
Ox Tails
Beef Short Ribs
Catfish
Fried Red Snapper
Smothered Pork Chops
Smothered Chicken
Country Fried Steak
Cajun Meatloaf
Turkey Wings
…and 2 sides. I saw on SFWeekly's "Best Of" list that Hard Knox was voted to have the best fried chicken in the City, so that is what I got. Like I said before you get two sides. Their list includes:
Collard Greens
Yams
Mixed Vegetables
String Beans
Macaroni & Cheese
Red Beans & Rice
Mash Potatoes & Gravy
Rice & Gravy
Corn
French Fries
Potato Salad
I ordered an Arnold Palmer which is half lemonade and half ice tea, for my beverage:
I loved the presentation of this beverage, and it was incredibly refreshing. LOVE lemonade, period, and having it with iced tea was great. A couple of minutes later, our warm corn bread muffins came out: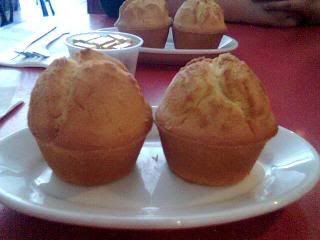 All we could think and say was, "Oh my God!" It was so effing good! What I really enjoyed about these muffins were that they were nice and crunchy on the outside, but so soft and moist and deliciously sweet and when we slathered the butter on it, GOOD LORD, that is what I call a "Southern Orgasm." It just put everything over the top. The butter and the nice corn flavor was just so awesome! Just when we thought we were safe from anymore orgasmic flavors, our entrees came out: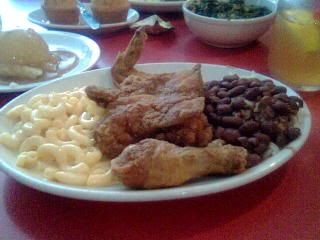 This was my 3-piece Fried Chicken plate with Macaroni & Cheese and Red Beans and Rice ($9), and below are the Mash Potatoes. Since the plate already comes with 2 sides, you can get extras for an additional $2.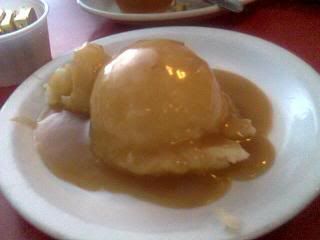 Doesn't it look like one of those scoops from your elementary school cafeteria? These potatoes were mighty good though! I really liked their gravy and the consistency of the potatoes were not pasty, which I appreciated. Below is Ate Di's bowl of collard greens: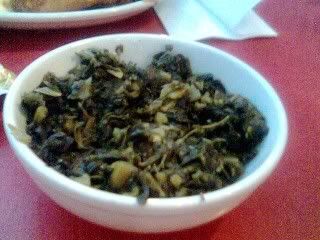 This was Ate Di's extra side because she basically ordered the exact same thing as I did for the fried chicken and the two sides. The greens seemed like they where chopped up finely and they had a nice smokiness which collards are supposed to have. Nice and tender also. I'm not much of a collard green enthusiast, but these were very good. Onto the actual entrée: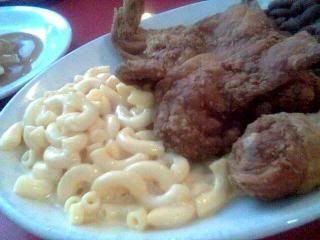 The mac n' cheese was off the hook. It was nice and super creamy, but not being too heavy. The taste of the cheese was mild and it must have been some of the best mac n' cheese I have had in a while. The chicken was OUTSTANDING. (What a way to steal my company's catch phrase, eh?) All I needed was hot sauce mixed in with some ketchup and I was set!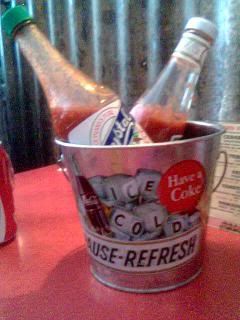 The chicken skin was wonderfully crispy, not greasy at all, and perfectly seasoned. No wonder this place was voted to have the best fried chicken in San Francisco!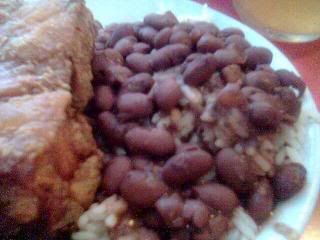 Beans and rice. I am not usually a red beans and rice type of a gal, but I really wanted to go out of my comfort zone and order something I wouldn't usually. With that said, I was pleasantly surprised when I found myself liking this. Again, not my favorite thing out there, but this was tasty.
What I love about this place is the vibe and the owners. The young Vietnamese couple who own this place are so nice. The lady came by to refill my beverage and the gentleman even bagged my leftovers and TIED the bag for me. That is customer service! I am so happy that Ate Di and I got to check out this place. We wanted to for the longest time and we finally did. I am so sad that Hard Knox is so out of the way for us though. But hopefully in the near future I will be able to come here again because this place is too good.