Restaurant:
Farina Focaccia & Cucina Italiana
Cuisine:
Italian
Address:
3560 18th Street, The Mission, SF
Date Last Visited:
September 14, 2007
Dining Partners:
Ate Di and BanYo
My "girls," Ate Di and BanYo, and I made a lunch date in The Mission. It was a beautiful, sunny, and warm day. Perfect for strolling around. We were intending on going to Tartine Bakery for lunch, but we were itching for "real food" and saved the bakery for dessert. We walked over to Pizzeria Delfina, and it was packed. I suggested Farina because as I passed it earlier, it didn't look full.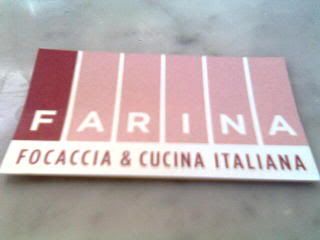 We were in luck that it was open for Friday Brunch. We walked inside and felt a coolness that relieved us from the warmth outside. Perfect. We were escorted to a table along the wall very close to the dough prep area where we could watch pasta being made. There were stools there as well, so it would be a treat for a solo diner to have a meal there.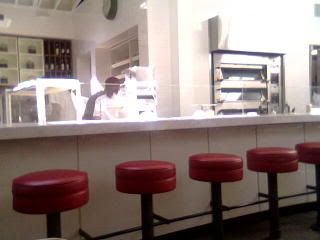 I liked how bright the room was with the sunshine. There is a bar on the left side of the restaurant, a wooden communal table in the middle, and the table we were sitting at was made with solid marble and I sat on a long wooden bench that stretched the length of the restaurant. It was a mix of modern stainless steel and Italian rusticity. I also likes the arrangement of glasses in the middle that divided the eating area from the bar.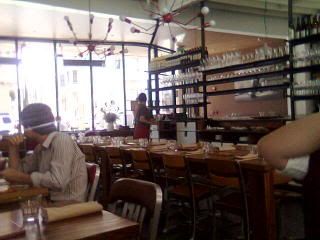 We ordered a bottle of Aqua Panna, which was cool, crisp, and refreshing. I liked how we didn't have to pour the water ourselves. The waiters did it for us most of the time, aside from the one time Ate Di did. =)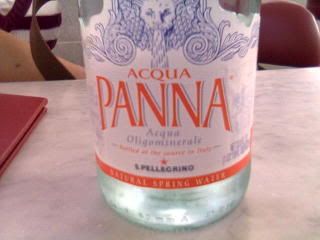 I also ordered a Midori Sour. I usually do not drink alcohol for lunch, but this was a special lunch, so why not? Midori Sours don't even phaze me anyway. I really liked their version here because they added fresh cherries as a garnish instead of the usual Maraschino cherries ($9-yikes).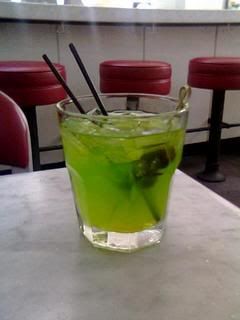 A waiter also came by and gave us some slices of the house bread.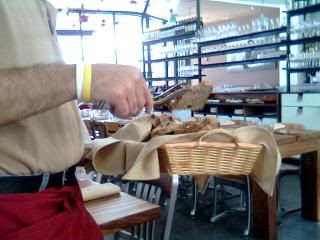 Don't you love the little board they put the bread on?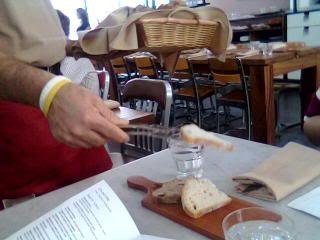 I didn't ask the waiter what kind of bread they were, but I am guessing one is a plain white bread and the other is a walnut raisin bread. Both were pretty basic, I wish they offered butter with it, but I'm guessing they want us to eat the bread in its pure form.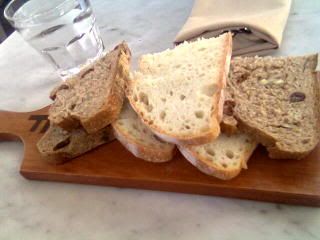 I looked over the menu and saw that it was varied. There were a couple pasta items, different egg preparations, and many different types of focaccia like chocolate chip, onion, and cherry tomato. We were waited on by a guy was very helpful when it came to explaining the items on the menu that were unfamiliar.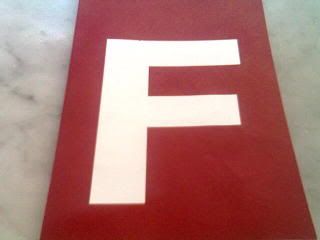 I decided to get the
Milanesine di vitello con insalata mista
: breaded veal Milanese served with mixed greens ($16). I never had veal before, as far as I know, so this was a good time to have it.
Ate Di and BanYo were going back in forth whether to get one of the panini con la focaccia or the meatballs or the lasagna. They decided to split the
Polpettine di carne con purea di patate:
baby meatballs with potato puree for appetizer ($16).
Ate Di ordered
Panini con la focaccia with Spek, brie, e rucola:
spek, brie cheese, and rucola sandwich ($9). This was explained to us by the waiter. If he hadn't, I don't think it would have been ordered.
BanYo ordered the
Lasagne Portofino:
hand made lasagne with basil pesto sauce. Our waiter said that they were known for their pesto sauce, so this was to be a treat. I saw in an insert in the SF Guardian a couple of days prior to this visit, and Farina was profiled for their handkerchief pasta and pesto sauce. I was excited about this one ($14).
A few minutes later, our appetizer,
Polpettine di carne con purea di patate,
was brought out. When it was brought to the table, the aroma of Parmesan cheese filled the air. There were about eight meatballs that are the same size of Swedish meatballs: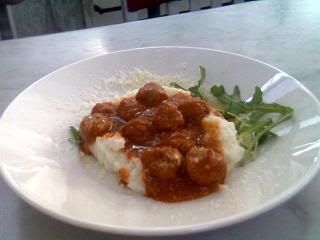 One thing that bugged me was that the waiter didn't seem to know much about the dish. He said that the meatballs did not have a sauce. Instead, the flavor would come from the meatballs themselves and the way they were cooked. He also didn't know how many meatballs there were and how big they were until he asked someone. I don't know about you, but it does look like there is a sauce to me. Tell me if you disagree.
Anyway, the meatballs themselves were very light. They were moist and the sauce was very good with the bread. I found the potato puree to be ordinary. Do not get me wrong, it was good, but it wasn't extraordinary. I wish it was indicated on the menu what type of meats went into the meatballs.
Shortly thereafter, our entrees came out to us:

Milanesine di vitello con insalata mista: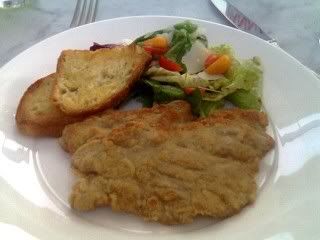 Personally, I thought it looked naked. Again I think they wanted me to eat it in a pure form. Like breading and frying is pure. Psh, sure. Besides that, it came with slices of oiled and grilled bread and a salad that was simply tossed in olive oil and vinegar and topped with freshly shaved Parmesan cheese and halved cherry tomatoes.
I took a bite of the veal, and it was nice and tender. The breading was not greasy, and the slice of veal was very thin. Like I said before, it looked naked. It screamed for me to squeeze some lemon on it or sprinkle salt and pepper on top. I'm a condiment whore, so anything to jazz up food is all good in my book. It did taste a lot better if I ate the veal and the salad together in one go ahead. At least the vinaigrette would flavor it a little. I became full off this dish, but my taste buds were unsatisfied. It might be special to most folks because it's, oh my gosh, VEAL! But to me, eh, not really. It's just baby cow to me.
Panini con la focaccia with Spek, brie, e rucola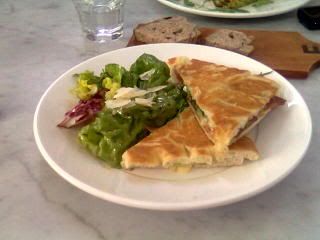 This was Ate Di's choice and what a good choice it was. It also came with a lightly dressed salad. Our waiter said that spek is a cured meat that is similar to prosciutto. The speck, brie cheese and rucola, a type of arugula, were pressed and warmed in between the focaccia. I loved how the bread crisped up and the brie cheese melted over everything. YUMMY! It's basically a fancy-shmancy ham and cheese sandwich. I liked it very much.

Lasagne Portofino: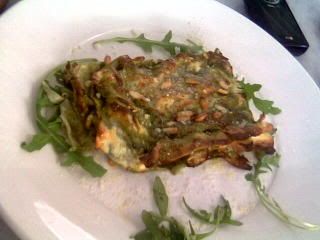 This was the winner for me. Too bad it was Banyo's. Hmph. Just kidding. I thought that they had burned the pasta, but it was one of the best parts. They turned out to be toasty and crispy. What a pleasant surprise. I took one bite and one word came to mind: lamuyot. If memory serves me right, lamuyot translates as "light" in my Philippine dialect, Ilocano. As in light as air. The hand made lasagna sheets were so light in my mouth. Nothing like those frozen lasagna meals that you nuke in the microwave. They were so thin: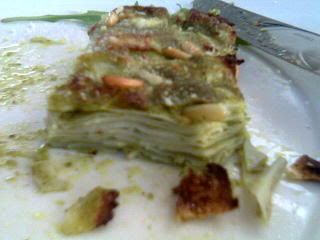 I know that my camera phone sucks, so the picture looks a bit fuzzy, but in one of my bites, I counted 8 sheets. I think I count 9 or 10 in this picture. The sheets blanket that lovely basil pesto sauce. There was cheese, but not too much. But that's for the better because it would be a shame for the cheese to overpower the delicate flavor of the basil and eradicate the lightness of the dish. I loved this! So good.
I think this was a good lunch. I got to have veal for the first time! Our check came to about 75 dollars. I forget exactly, but that sounds about right. Not a cheap lunch, but with friends like these, it's good to splurge now and then.
Overall, I think this place is cool. I liked how cold it was in there considering how warm it was outside. There were a couple slips, like the meatballs and the waiter's knowledge or lack thereof, but it's just the first visit. As we walked outside, I saw a diner with the handkerchief pasta and pesto sauce I saw in the SF Guardian "Feast" insert. If I knew I could order that during brunch, I would have tried that. Boo. Now that's something to come back for. =)