Restaurant
: Buca di Beppo
Address
: 855 Howard Street, SOMA, SF
Cuisine
: Family-Style Italian
Dining Partners
: Rox, Jen, SAM, Auntie Glo
Last Visited
: August 13, 2007
So the last time that I came here was for a field trip for my Food Class in high school back in 2002. No, my sweety K just corrected me and said "No, it wasn't." I just remembered that the last time I went there was for Cousins Day back in 2005, I think. That was still a while ago. All I remember was that I felt like rolling out of the restaurant after we were done eating.
What brought me to this dinner was this: I bought my Auntie Glo some ice cream from Ben & Jerry's one day and she promised me that she would take me to dinner. A few nights later, my Momma tells me to call Auntie Glo, and I thought I was in trouble, but I wasn't and Auntie Glo wanted to take me, my sis SAM, and my cousins Rox and Jen to dinner later that week. So we made plans and here we were. The day before though, I called Rox and Jen, who are Auntie Glo's daughters, and asked them where they wanted to go. Jen said Italian, and the first place that I could think of was Buca di Beppo. Like I mentioned before, I went there twice already and their food was consistent, good and filling. Auntie, SAM and the cousins never been there, so it was perfect.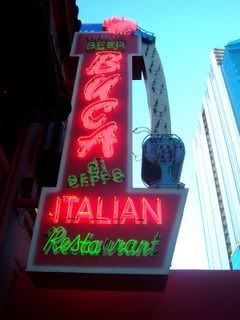 We met up with Auntie Glo at 4:45, but we had a reservation for 5:30, so we called in and asked if we could be bumped up to 5:00, which was no problem. We took the short walk from Union Square to 4th and Howard, and this lovely lady greeted us.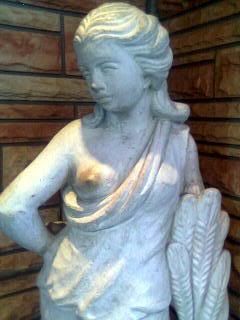 The Fam Bam were really excited because of all the "stuff" on the wall. Seriously, you had pictures of the Pope, Sophia Lauren, a bunch of fat guys, pussy cats, anything you can think of was in a frame on that wall. I think the atmosphere won them over.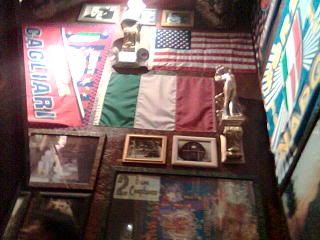 The two times I have been here, we were seated in the lower level, but I am guessing that they are renovations there, so we were escorted to the upper level, which I never knew existed. Yeah, it was pretty much empty besides a couple of families already eating.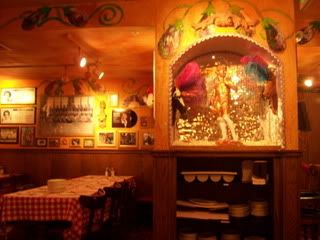 We noticed a statue of David on the wall and he was, well, pretty. Loved the stockings.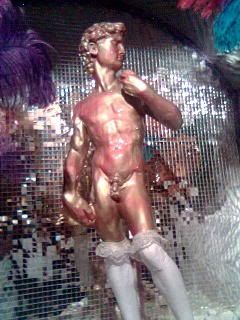 Then it was time to order. There are so many different pasta dishes, salads, appetizers, and entrees. So difficult to decide, especially with such an indecisive Fam Bam as I have. We decided on two pasta dishes, mozzarella garlic bread, and calamari for appetizer. But which pasta dishes? Each pasta dish came in two sizes, small and large. It said that the small feeds 2-4 people and the large is 3-5. When the waiter came, he informed us that it was a family-style restaurant, and that sharing is encouraged. He also suggested that we should get smalls instead of larges. So we got the Macaroni Rosa which I had on my high school trip and the Fettuccini Alfredo, which SAM is obsessed with. Our waiter also convinced us to order a chicken dish, so SAM ordered the Chicken Marsala.
I ordered an Orange Italian Soda for my beverage:
It did taste like orange, but it is different from Fanta Orange Soda which I love so much. I actually prefer Fanta over this soda. It might even be TOO artificially-flavored. Yeah, it was okay, but not something I would order again.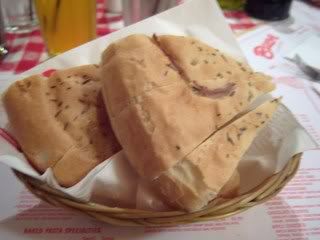 The complimentary bread came with some balsamic vinegar and olive oil. We mixed the vinegar and oil together to make a simple and delicious dipping sauce for the bread. The tartness of the balsamic was something to get used to for the cousins and SAM, but Auntie Glo sopped all of it off her plate.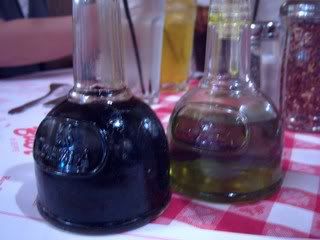 Next came the Mozzarella Garlic Bread: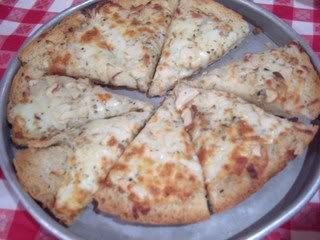 It actually looked more of a pizza than your usual loaf of garlic bread. The bread was nice and soft underneath the melted cheese and thinly sliced garlic. It was so yummy.
The Fried Calamari came next: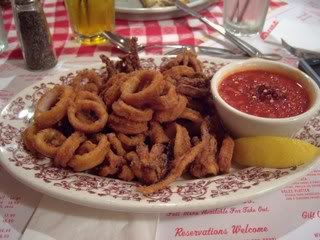 I LOVE fried calamari. A marinara sauce topped with red pepper flake came with it, which was to die for. We squeezed some lemon juice on top of the hot and crispy calamari, and we were practically fighting for each piece. I actually loved the tentacles. They were nicely fried, but it was still pretty tender when bitten into. The marinara sauce was great with it, but I also liked topping my garlic bread with it, too. Makeshift pizza! It was great because the sauce had chunks of sweet tomato, and the red pepper flake gave it some heat, which was delicious.
Our pastas came out next:
This was the Macaroni Rosa. This is the small! It was huge! We were about to order large size pastas! Good thing our waiter advised against it. It is macaroni pasta in a light tomato cream sauce, which chicken, peas, mushrooms, and broccoli. I loved this combination. The pasta was cooked perfectly and the ingredients went so well together.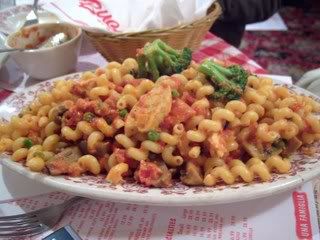 The platter of the Fettuccini Alfredo was huge as well. We took a taste and it was so rich. I mean, it was so rich that SAM could not even finish a helping of it. This is the girl who ate 4 bowls of pasta at Strings. The sauce was creamy, and they shaved lots of fresh parmesan cheese all over. I think it was a bit rich for me. I am more of a tomato-y sauce girl.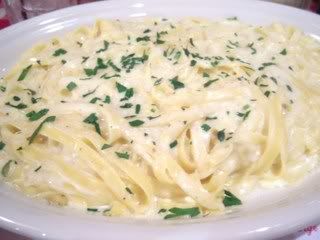 Our chicken came out shortly after the pasta. I was kind of turned off because two chicken breasts cost 17 bucks. Pretty pricy. The chicken had a Marsala wine sauce with mushrooms. I learned in this meal that I do not like the sweet reduced flavor of Marsala wine. I didn't hate it, but it was okay. Not something I would order again, though. Besides that, the chicken was cooked perfectly. Nice and juicy on the inside considering it was all white meat.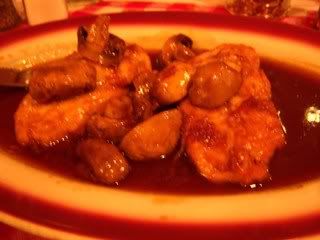 It was not surprising that 5 of us did not finish all the food. We didn't even want to order dessert! Okay, we did stuff up on two cheesy garlic breads. Yes, we killed the first one and then ordered another one. It was a delicious meal. We seriously could not get up for a while. I was ready to waddle out of there with our doggy bags. I am so happy that I had the chance to eat a nice Italian meal with my Fam Bam. This place is fun and humourous. A great place to share a great and filling meal. Lots of laughs and smiles, but most importantly full tummies and happy hearts. Thank you for the wonderful dinner, Auntie Glo!