Event
: Battle of the Chefs - Hill vs. Luym
Address
: Macy's Union Square Cellar,
Cuisine
: Asian and French
Viewing Partners
: Rox and Jenn
One month ago, I attempted to watch a battle between Chef Hopfinger and Tucker. I requested the tickets too late, so I wasn't able to get a seat. I went anyway, but ended up leaving early because I was jealous of the people who actually got seats and food samples. So I vowed to myself that I would get the tickets to the next battle the day they came out. And that is what I did.
So this battle between Luym and Hill was going to be the 3rd and last battle to the "Industry Nights" series which is hosted by Macy's and Rivera Public Relations. To avoid getting left out in the cold again, I went to the Rivera PR website to get tickets at around 10 a.m. on July 13. To my dismay, there was no option to get tickets, so I called them. Yes, I called them. I left a message telling them that I wanted these tickets. Later on that day, someone left a message on my voicemail saying I got them. Victory.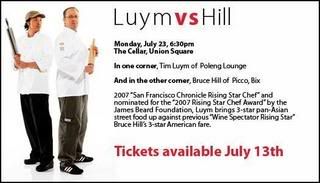 Here is some background info on each of the chefs:
Bruce Hill is the executive chef of Bix restaurant, where his cuisine focuses on American fine dining. His cocktails and martini's are award-winning, as well. His audience is more of the middle-class to wealthy *ahem* older European-ish crowd.
Timothy Luym leads the way at the Poleng Lounge, where small plates of Asian fare are the craze. His crowd is more of the younger, hip, trendy, hip-hop, cultured folks. Kinda like me. =) They have crispy adobo chicken wings on their menu. How awesome is that?
So you can already see the difference there.
So July 23 rolls around and I am beyond excited. I met up with my cuzzos in the City after school. We wasted time going to foodies places like Sur Le Table, Crate and Barrel, the Macy's Marketplace…etc…etc…Then 6:00 p.m. came and we were ready!
For 10 dollars, you get to sit in the audience, which only fits about 50 seats, hor d'ourves from each competitor, and a 10 dollar Macy's gift card. What makes me believe that this is actually a free event. Macy's is just making you buy the gift card just so that they trap your money. SMART.
There was a small crowd already forming when we got there, but after 5 minutes or so in line, we were allowed in. We sat on Chef Timothy Luym's side because, hey, he's a fellow Filipino. Gotta support our kababayans!
So once everyone was seated, reps from each side passed out hor d'oeurves. Bruce Hill's team served fresh mozzarella cheese curd, that was made that morning, wrapped in prosciutto, and skewered on bamboo sticks. The cheese was divine. It tasted so pure and fresh, and the consistency was beautiful. I never tasted anything like this. They also offered glasses of white wine to go along with that. I am not a wine drinker, so I passed on that.
Tim Luym's team served ceviche that had fresh pieces of meaty fish, tiny chili peppers, among other things. I love raw fish, but having fish "cooked" in acid was all good, too.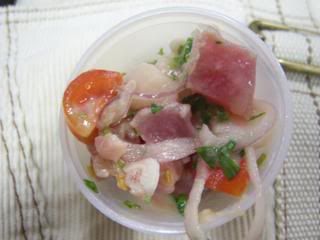 A strawberry mojito accompanied the hor d'oeurve. I had the mojito, and I loved the fresh strawberry in it, but I am not a rum drinker, so I didn't finish it. It was pretty strong, and it was already like an oven in there. So I didn't want to push it. BUT if they had a tequila-based cocktail, well, I'd drink the whole pitcher!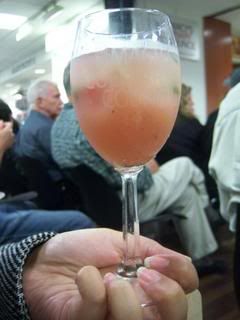 The host was Marisa Churchill, who you might have seen on Bravo's Top Chef. Tall, leggy woman. Definite eye candy for the gentlemen, and ladies, too. Hey, this IS SF! She went on to introduce the chefs, and what sucked was that Bruce Hill was not able to compete himself because of a leg injury. BOO! That is so not fair. So he had two of his prized chefs from his restaurants cook in his place. I think he should have forfeited. I guess you can tell who I was rooting for.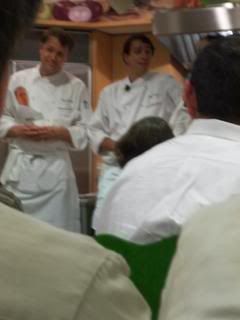 Then Miss Churchill introduced the secret the ingredient: EGGPLANT. They had Japanese eggplant, regular eggplant you find at Safeway. Those little green eggplants. Such a variety. She started the time and they were on their way making a delicious dish for the judges. They have 45 minutes to cook a single dish.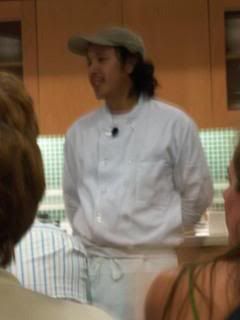 The kitchen is small, and the only way you can really see the cooking is through the television screens above the stoves. Even then, you can't really see everything that is going on. This can bore someone out real quick, so Miss Churchill did something cute. She played a guessing game with the audience.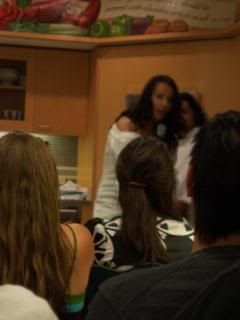 She had a Macy's bag full of questions. She said a fact about one of the chefs, and we had to guess which chef it was. If a person answered, another person can argue that they are wrong. Whoever is correct among the two gets a cupcake baked by Miss Churchill. Now this is a treat because she is a well-known pastry chef. She has worked at renowned San Francisco kitchens, like the Slanted Door, restaurant Lulu, and now at Ame as executive pastry chef. So did I want a cupcake? You're sure as hell I did.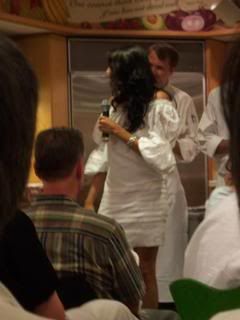 I mean, how often do you get a chance to win a cupcake baked by a television reality-star/the hottest pastry chef in San Francisco in a guessing game? Not often, so I was going to be the true competitor I am, and win myself a cupcake. So she asked the questions, and whoever's hand she sees first gets to answer. After two or three questions and answers, a question was asked that was along the lines of:
"Which chef dated Playboy playmate so-in-so, blah blah blah?"
I did a split-second thought process and analyzed that most of the Playboy playmates are blondes, so I raised my hand. Miss Churchill saw me first and came to me. I guessed Bruce. She asked me if I knew Bruce. I said no. This was the first time I ever heard of him. I did not say that to her, though. Ha! Then she said I won a cupcake! Holla!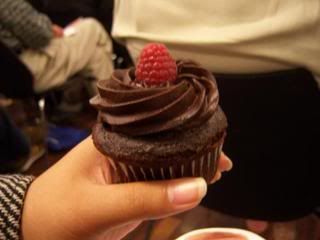 I ended up giving it to Jenn because she loved sweets. I didn't necessarily want to eat the cupcake. The cupcake was more of a trophy to me. Jenn KILLED it. Then this question was asked:
"This chef can be a food critic. When he was younger (10 or 12), he wrote a letter to the chef of a restaurant complaining that the milkshake was overpriced."
A couple of guys on the sidelines answered Bruce. Even Tim-supporters said that it WAS NOT Tim. I was sure they were right. Miss Churchill asked if there was anyone who disagreed. I hear, "I DISAGREE!" to my right. I look to see who would disagree. Jenn, my cuzzo, disagreed. OMG. This girl has ovaries. Seriously. Miss Churchill went to Jenn, asked for her name, and asked why she disagreed. Jenn answered, "I just want a cupcake." Good answer! The worse that could happen is that she did not get one, right?
WELL…JENN WAS RIGHT AND GOT A CUPCAKE!
Do the damn thang, girl. Yup, that's my cousin! Yeah, Jenn KILLED that cupcake, too. =)
Back to the battle. There were luscious smells in the air. The Bix team was working on lamb with eggplant. Tim's team wanted to keep things vegetarian and cooked up spicy tofu, lotus root and eggplant. I am very vague in my descriptions because there was no real close up on the dishes. In Iron Chef, Alton and Kevin are there with the chefs and asking about their every move, but here, not so.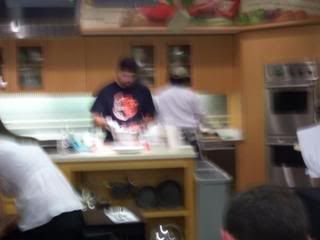 So at the end of the cooking, judging began. They liked the many uses of the eggplant done by Tim's team, but the sauce was a bit too spicy. They liked the lamb on the Bix side, but said that their dish is pretty common with the lamb and the mint pairing. It must have been hard for the judges to choose because this was like comparing apples and oranges. Their styles of cooking are so different.
But after deliberating, the winner, by just 2 points was…
Bruce and the Bix Team.
Boo.
I wanted Poleng to win. Poleng did have the best supporters, though. We were loud. Ah, next time Tim. After the battle, I got to taste the dish that Tim's team made, and it WAS a bit spicy. =( It was good, but I think I would have needed a bowl of rice and a glass of milk to go along with it. We went to Chef Tim Luym and asked for his autograph on his head-stick and a photograph. Miss Churchill even came and talked to us. He asked if I had ever been to Poleng, and I sheepishly said NO. Boo. But I did say that I would check it out. Their beef salpicao (tender pieces of meat accompanied by bone marrow) looks interesting. Tim was so nice, and I can't wait to go to Poleng with my sweetie, K. Maybe for our next anniversary. =)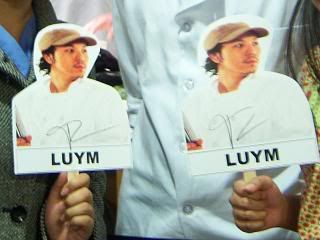 I was glad that I came to watch this battle. It is not as big as Iron Chef, but it was fun all the same. It was great to see supporters on each side of the battle ring. This is also a great way to get to know local chefs and their specialties. I have discovered the San Francisco restaurant/dining scene very recently, so watching this has opened my eyes to a wide spectrum of SF dining, from the chefs, the television personalities, and food critics. If they do this next summer, I will be the first to reserve tickets, for sure. This was a fun experience. And the cupcakes weren't shabby either. =) Do yo' thang, Miss Churchill, do yo' thang.
P.S. "Talong" in the title means eggplant in Tagalog.