Restaurant
: Bangkok Noodles and Thai BBQ
Address
: 110 Powell Street, Downtown SF
Cuisine
: Thai
I L-O-V-E Thai food. I don't know why. I just do. That curry has got to be my favorite out of all curries, and the food is generally inexpensive and filling. One day after school, I did not want to walk too far from school. I went on Powell, which is a hub for tourists who want to check out the cable cars or Union Square.
I always seem to pass by this place when I am in the area but I never been inside because King of Thai Noodle is just around the corner, and I always go there for Thai food. So I decided to mix things up a little bit and went in here to see how it compared to King of Thai Noodle.
-Visit 1: June 21, 2007-
They seat you rather quickly here. There are seats at the counter, so when I told them I was a single diner, I thought they would put me there, but they put me in regular table, which was good for a change. I usually get thrown at a counter.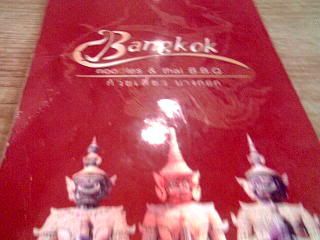 I was having a craving for rice and chicken. I initially thought about the Thai BBQ chicken with the steamed rice and salad, but I wanted something MORE Thai. I went to for the Pad Prik Sod ($6.50), which is stir-fried meat (your choice of chicken, beef or pork) with bell pepper and onion. I chose chicken this time.
This is one thing that I love about Thai places: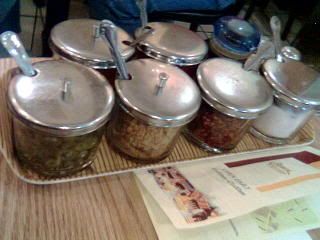 The condiments! You have soy sauce, red pepper flakes, peanuts, fish sauce…but my favorite out of all of those are the little chili peppers in vinegar.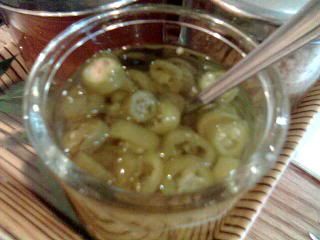 It brings brightness and kick to whatever you are eating. I eat it with everything at Thai places.
Then they brought out my Pad Prik Sod: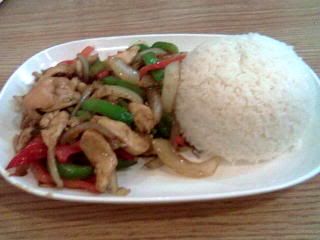 I was really pleased with how it looked. The vegetables looked nice, fresh and colorful. The amount of rice was just right.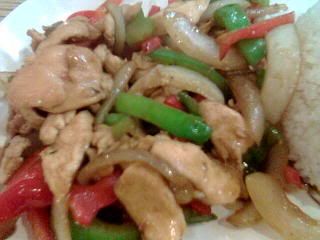 When I tasted it, I was somewhat disappointed because it tasted ordinary to me. I mean, it was good, don't get me wrong. But the flavors were nothing special. It's just a stir-fry with regular soy sauce. The chicken, which was all white meat, seemed a little dry for me. The veggies were crisp and fresh, which was good. I had to add soy sauce to everything and take a bite with some green chili to get it to my liking. It was okay. However, this may be good for people who are not into super pungent Thai flavors. This can be good for kids because it is not spicy and the flavors are not too out there.
Another comment I have on this place is that they are pretty lousy at refilling water. My mouth was burning from the chili peppers, and no one refilled my cup until I asked. Not cool. Also, when it came to pay, I had to pay eights dollars and five cents. I put five pennies on the tray because I had a bunch of them in my wallet. I proceeded to hand the waitress the payment tray, and she responded, "We do not take pennies."
ARE YOU FRIGGIN' KIDDING ME?
This place doesn't not take pennies? First they do not take plastic, and now they do not take pennies! Pennies are money, too! I put down a ten bill and a nickel so that I would get two dollars back. She came back with change if I had only paid with a ten. Ugh. They do not take pennies, and when I put down the nickel, they ignore it. My goodness. That's 5 cents off your tip, Miss.
-Visit 2: June 29, 2007-
I decided to give this place another shot because I read another food blog where the blogger wrote about Thai noodles. She had a picture of Pad Se-ew on her blog which looked so orgasmic. From the moment I saw that picture, I craved Pad Se-ew.
So I went back and checked the menu if they had it: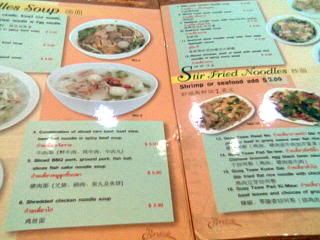 Of course they did. What place calls themselves Thai if they don't have it? Again, they seated me at my own little table. Which was odd during lunchtime because a slew of people came in, and I thought they would put singular patrons at the counter. So I ordered the Guay Taw Pad Se-ew ($6.50), which is stir-fired flat rice noodle, Chinese broccoli, egg, black bean sauce, with your choice of chicken, pork, or beef. Again I chose chicken. This was perfect because I love all the ingredients in it, especially the Chinese broccoli. Pad Se-ew noodles are similar to chow fun noodles, but the flavors added are different.
I LOVED THIS. The noodles were cooked just right. They were not mushy and it was steaming hot when it came to my table. The chicken was better this time because I think they put in more dark than white meat. The egg was almost unnoticeable, but the Chinese broccoli were nice an crisp and fresh. Lovely! I was afraid that the black bean sauce would be too overpowering, but it didn't at all. Of course, I added my special chilies and mixed them in. I liked this dish a lot more than the previous one I had here, and it totally suppressed my noodle craving.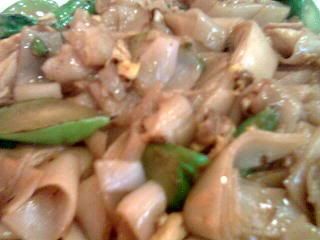 -Visit 3: August 7, 2007-
So on this day, I was really having a f*cked up day. The person who I was supposed to meet that night was being really difficult and they just screwed up my entire day. I was pissed, and I just want to go eat somewhere I could get in and out of there in a jiffy, yet be comfortable with my surroundings. I thought and thought. I was wondering what could possibly make me happy.
DUCK.
Yes, I love duck. I just love that tender meat and that flavorful skin. Yes. Duck. Oh, duck. I love you, duck.
They seated me quickly, as usual. I looked over the menu just because even though I knew what I wanted to get, but once I closed it, my waiter was right there to get my order.
DUCK.
The plate came out in about 5 minutes. Very fast service. They had the perfect amount of rice. The duck sat on some greens and it came with some type of sauce (which was pretty much flavorless, so I added pickled chilies and red pepper flake to it) and pickled ginger: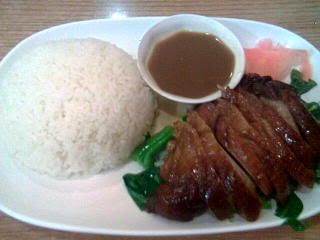 Oh DUCK. I love the duck. What I love about getting the duck at Thai places is that they usually serve you the duck breast only. If you go to a Chinese BBQ places, usually they give you the duck with bones. I am a very lazy person sometimes, especially at a crappy time like this was, and want the good stuff given to me. The skin was beautiful. The meat was succulent. I actually do not taste the difference between Thai and Chinese duck. The only difference might be the price because you can get a whole duck for the price of this plate. But man, this was good duck.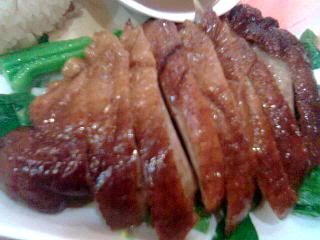 The duck was on some greens, I think they were gai lan, or Chinese broccoli. They were on the bland side because it looked like they were just boiled. So I added some soy and pepper to them. That solved the issue. And of course, I ate everything with my favorite little green chilies! I love duck dishes like this!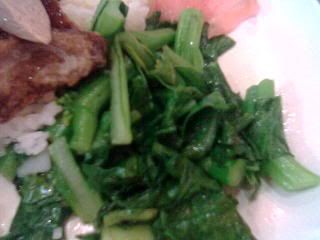 They are reasonable in their prices, and I always have enough to bring home for dinner. Though it is in the middle of tourist mania, the place doesn't become incredibly full, even at lunchtime. Usually I am in and out in about 20 or so minutes. The only thing I would complain about is the service. The girls at King of Thai Noodle are a lot sweeter, and at King of Thai Noodle, they put those little tamarind candies on your payment tray. I don't know. I'm so used to my glass being refilled with water every 2 minutes. The prices here are a dime to a quarter cheaper than King of Thai Noodle, and so far, the food has been good. =) Nothing to make your socks roll up and down, but it's good. =)